What's in the box:
1x Front Camera1x Rear Camera1x Wifi Dongle1x 64gb MicroSD Card1x Uninterrupted Fuse Cable1x Rear Camera Camera1x Guide/ Warranty Card
How To Claim Free Installation :
1. Purchase In Online Platform
2. After Received Parcel and Inbox Chat Us To Confirm Installation Location (Puchong and PJ Area)
IROAD X10 Dash Cam 4K UHD !
Surpass the moment, 4K quality dash cam that incorporates IROADs unique and multiple technology. Various built-in functions, and it is convenient to use through Wi-Fi connection with the app. One of the best things, the wide angle of view makes it easy to record without missing parts. Experience the new technology and wonderful features with the IROAD X10.
X10 Feature 4K Ultra High Definition (UHD) 8-MegaPixel Image Sensor 2Ch Front & Rear Cam Sony Exmor Rear Cam Time Lapse at Parking Mode OBDII Scanner F165 Super wide angle R145 Super wide angle Intelligent X-Vision Memory Supports Up to 1TB
Built-in Voice Guide Any Happening Voice Recording IROAD PC Viewer Date Auto Recovery High Temperature Protection LBP Low Battery Protection WI-FI Connection with Apps ADAS & Google Maps Security LED 24 Hour Parking Mode
1YEAR WARRANTY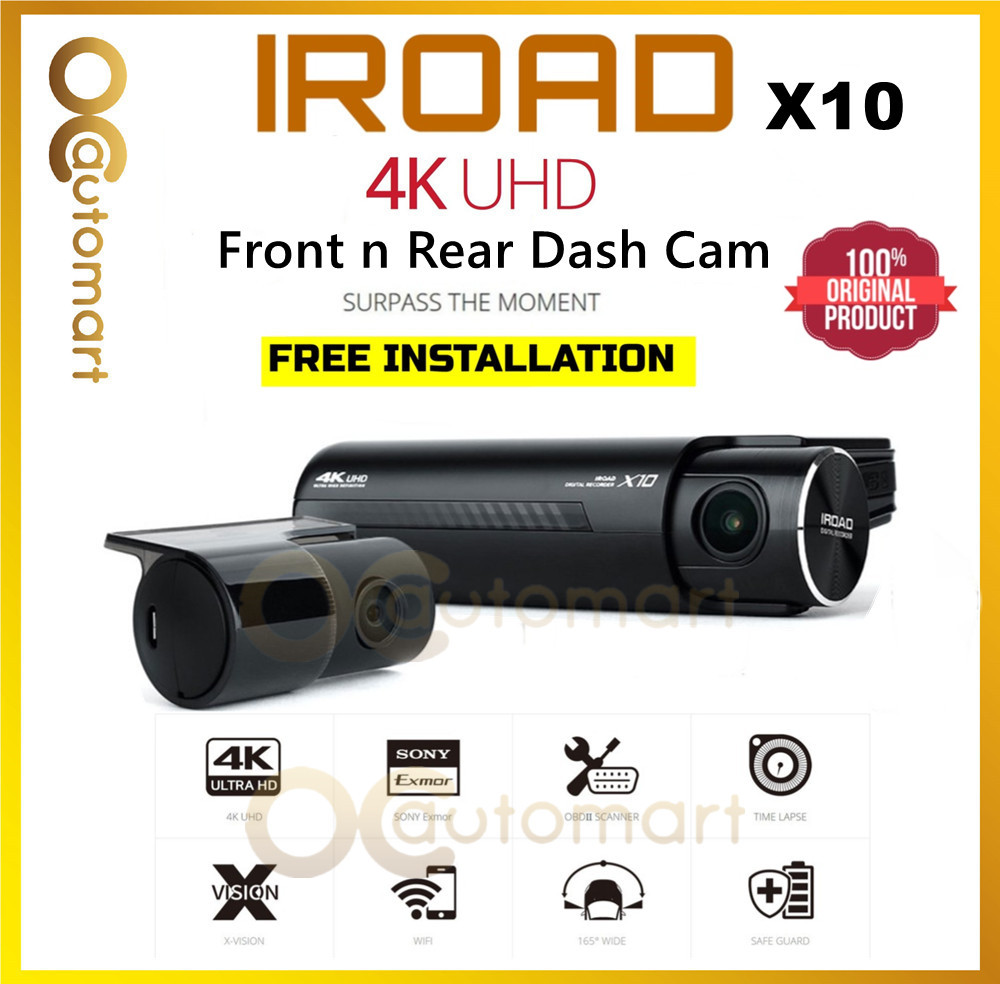 | Zone | Weight | Delivery Fee (RM) |
| --- | --- | --- |
| West Malaysia | First 1.00 kg | 4.99 |
| | Extra 1.00 kg | 2.00 |
| East Malaysia | First 0.50 kg | 14.30 |
| | Extra 0.50 kg | 5.10 |
| Australia, New Zealand | First 1.00 kg | 159.77 |
| | Extra 0.50 kg | 52.65 |
| Austria, Denmark, Finland, Ireland, Switzerland, Russia | First 1.00 kg | 157.78 |
| | Extra 0.50 kg | 34.31 |
| Brunei, Cambodia, Laos, Mongolia | First 1.00 kg | 175.10 |
| | Extra 0.50 kg | 81.95 |
| Belgium,France, Germany, Netherlands, Spain, U.K | First 1.00 kg | 150.94 |
| | Extra 0.50 kg | 30.46 |
| China | First 1.00 kg | 96.44 |
| | Extra 0.50 kg | 25.35 |
| Bangladesh, Brazil, Iraq, Pakistan, Qatar, S.Arabia, UAE, Sri Lanka | First 1.00 kg | 118.52 |
| | Extra 0.50 kg | 24.96 |
| South Africa | First 1.00 kg | 118.52 |
| | Extra 0.50 kg | 24.96 |
| Philippines | First 1.00 kg | 91.42 |
| | Extra 0.50 kg | 15.29 |
| Canada, United States, Mexico | First 1.00 kg | 162.58 |
| | Extra 0.50 kg | 35.90 |
| Hong Kong | First 1.00 kg | 80.63 |
| | Extra 0.50 kg | 29.06 |
| India | First 1.00 kg | 113.30 |
| | Extra 0.50 kg | 22.28 |
| Indonesia | First 1.00 kg | 107.35 |
| | Extra 0.50 kg | 24.87 |
| Japan | First 1.00 kg | 112.97 |
| | Extra 0.50 kg | 35.03 |
| Macau | First 1.00 kg | 92.93 |
| | Extra 0.50 kg | 13.82 |
| Singapore | First 1.00 kg | 74.75 |
| | Extra 0.50 kg | 21.49 |
| Taiwan | First 1.00 kg | 94.42 |
| | Extra 0.50 kg | 34.76 |
| Thailand | First 1.00 kg | 94.10 |
| | Extra 0.50 kg | 28.25 |
| Vietnam | First 1.00 kg | 98.94 |
| | Extra 0.50 kg | 14.34 |