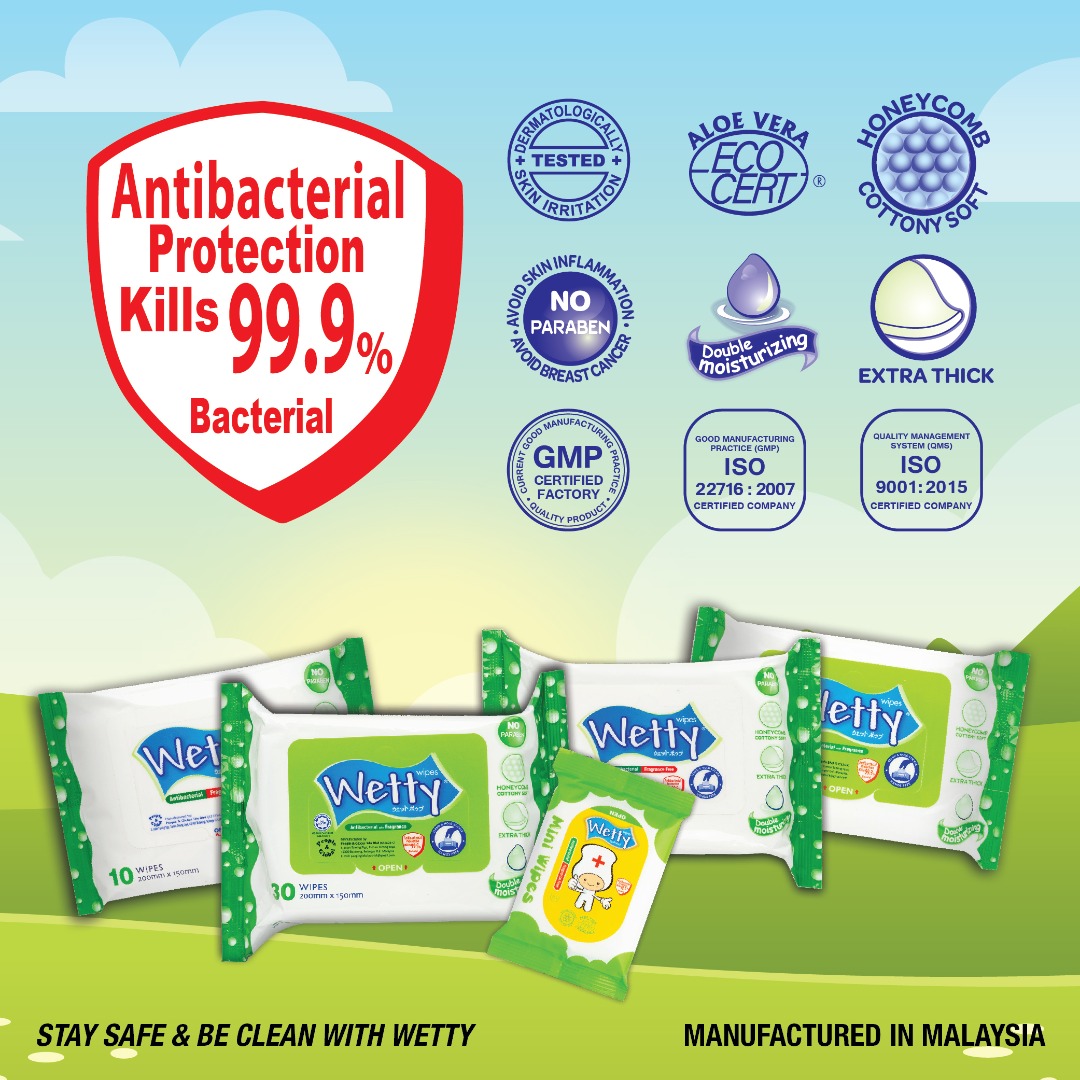 𝐖𝐄𝐓𝐓𝐘 𝐖𝐄𝐓 𝐓𝐈𝐒𝐒𝐔𝐄 : Made in Malaysia with GMP Certified and 𝐃𝐢𝐣𝐚𝐦𝐢𝐧 𝐇𝐚𝐥𝐚𝐥 (𝐉𝐀𝐊𝐈𝐌)
Approved by National Pharmaceutical Regulatory Agency from 𝐌𝐢𝐧𝐢𝐬𝐭𝐫𝐲 𝐨𝐟 𝐇𝐞𝐚𝐥𝐭𝐡 𝐌𝐚𝐥𝐚𝐲𝐬𝐢𝐚 (𝐊𝐊𝐌)
Safe for All Skin Type suitable for Baby Skin.
Type of Wipes:
12 Pack X 8pcs
Wetty - Antibacterial Fragrance Free
𝐖𝐄𝐓𝐓𝐘 𝐖𝐄𝐓 𝐓𝐈𝐒𝐒𝐔𝐄 are not only for changing diapers for babies, but also for a variety of needs such as cleaning up after breastfeeding, sticky countertops and high chairs, sticking pacifiers and toys, or going out with them. It's perfect. Dirt on food and drink. Believe it or not, moms use wipes as a daily make-up remover, and dads love to keep their daily wipes in the car. Wet wipes are very versatile and can do everything!
✅ Made in Malaysia
✅ Stand & Hold Sticker Design
✅ Does not give out sticky feeling
✅ Free from Paraben, Alcohol and Glycerin
✅ Wet Wipes Size: 80's (200mm x 150mm)
✅ Usage: Suitable for Baby & Adult, Dining, Office, Sports & Travel
✅ Dermatological Safety Certified Plant Based Baby Wipes & Eco Certified (Aloe Vera & Chamomile)
✅ High Standard Compliance:
Quality Factory Assurance:
👉 GMP Certified Factory
👉 MS2200 Part 1:2008 [HALAL CERTIFIED]
👉 ISO 9001 & ISO 22716
👉 Approved by: National Pharmaceutical Regulatory Agency from Ministry of Health Malaysia
🧻 𝐇𝐎𝐍𝐄𝐘𝐂𝐎𝐌𝐁 𝐂𝐎𝐓𝐓𝐎𝐍𝐘 𝐒𝐎𝐅𝐓
Wetty has textured honeycomb surface which provides traction and a smoother swipe.
🧻 𝐄𝐗𝐓𝐑𝐀 𝐓𝐇𝐈𝐂𝐊
Wetty Wipes has additional layers to decrease the risk of tearing the wipes with a fingernail or unintentionally scratch a baby's skin.
🧻 𝐃𝐎𝐔𝐁𝐋𝐄 𝐌𝐎𝐈𝐒𝐓𝐔𝐑𝐈𝐙𝐈𝐍𝐆 𝐀𝐍𝐃 𝐒𝐎𝐅𝐓
Wetty Wipes are made of thick and cottony soft honeycomb material for a pleasantly soft touch on skin.
The Aloe Vera Plant extract helps to double moisturize your skin.
🧻 𝐅𝐑𝐄𝐄 𝐅𝐑𝐎𝐌 𝐃𝐀𝐍𝐆𝐄𝐑𝐈𝐎𝐔𝐒 𝐂𝐇𝐄𝐌𝐈𝐂𝐀𝐋
Wetty wipes NO Parabens, NO Glycerin, NO ALCOHOL and all other hazardous chemicals.
🧻 𝐇𝐀𝐋𝐀𝐋 𝐂𝐄𝐑𝐓𝐈𝐅𝐈𝐄𝐃
Wetty are HALAL Certified as per MS2200 Part 1:2008.
🧻 𝐒𝐀𝐅𝐄 𝐅𝐎𝐑 𝐁𝐀𝐁𝐘 & 𝐀𝐃𝐔𝐋𝐓
Wetty Wipes are specifically formulated to be mild and gentle on your baby's gentle skin.
🧻 𝟗𝟗% 𝐏𝐔𝐑𝐈𝐅𝐈𝐄𝐃 𝐖𝐀𝐓𝐄𝐑
The water used in Wetty wipes undergo a 15 steps of filtration process to ensure high quality grade of purified water is used.
Instructions:
- Keep in cool, dry place.
- Keep lid closed when not in use.
- Do not flush into the toilet.
Caring Caution:
For external use only — please discontinue use if prolonged irritation or redness occurs. To avoid risk of choking or suffocation, keep away from children.
#babywipes #wetwipes #wetty #wettissue #tissue