What's in the box:
1 x Takada Multi Function Electric Thermos Pot -3.8L, 1 x User Manual, 1 x 1-Year Warranty from Takada Malaysia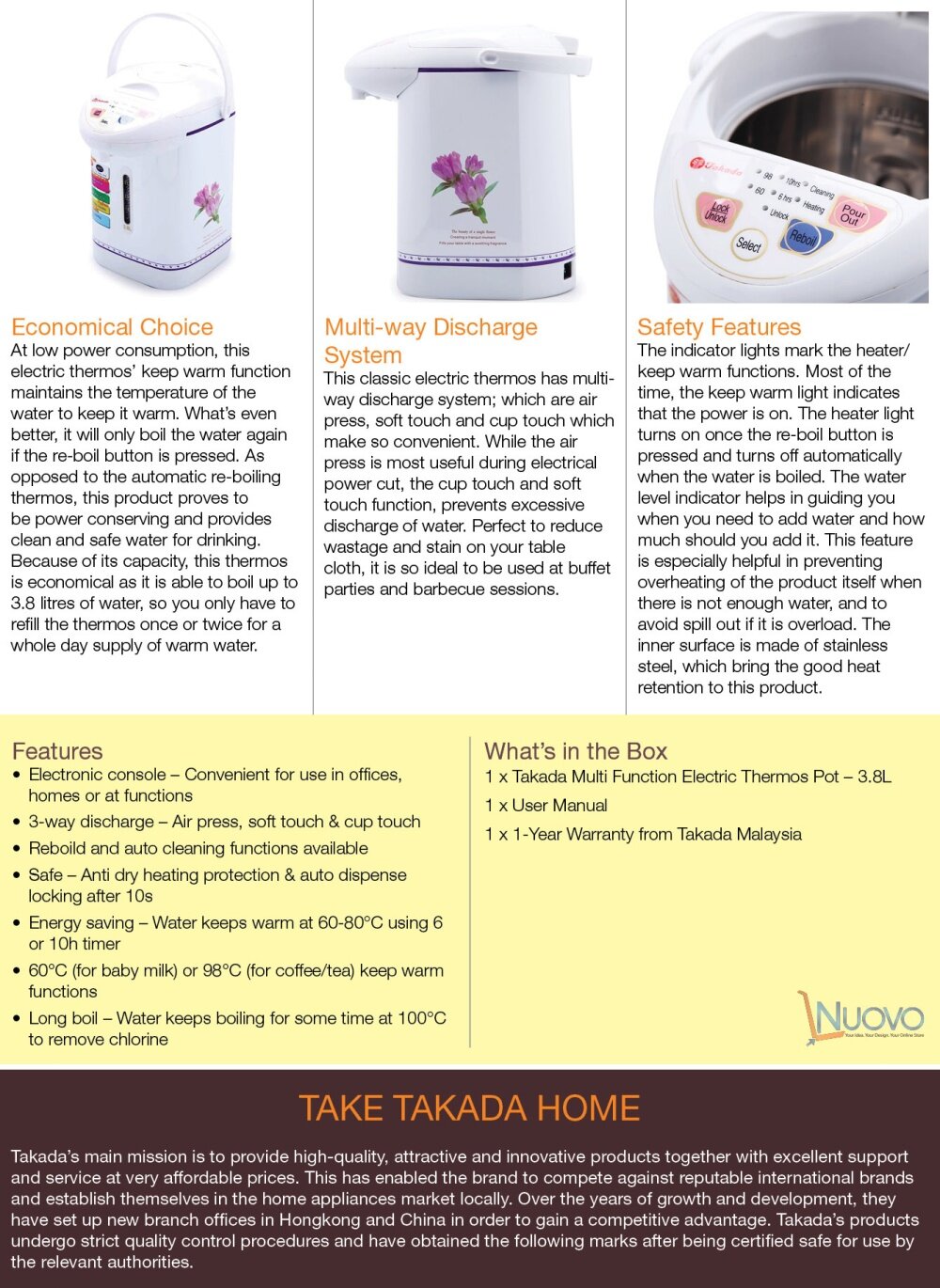 Takada ISB-38HM Multi Function Electric Thermos Pot - 3.8L
This Deluxe Multi-Function Electronic Thermos Pot by Takada has a 3.8 Litre capacity with an electronic console, perfect for offices, homes or even functions. Its multi-way discharge system (Air press, soft touch & cup touch) reduces wastage and increases usability. At low power consumptions, it keeps water warm at 60-80 degrees after boiling and has a re-boiling function to boil the water again if needed. Different temperature settings are available for various kinds of liquids- 60 degrees for baby milk or 98 degrees for coffee. It keeps boiling water at 100 degrees for some time to remove any chlorine content.
Economical Choice
At low power consumption, this electric thermos' keep warm function maintains the temperature of the water to keep it warm. What's even better, it will only boil the water again if the re-boil button is pressed. As opposed to the automatic re-boiling thermos, this product proves to be power conserving and provides clean and safe water for drinking. Because of its capacity, this thermos is economical as it is able to boil up to 3.8 litres of water, so you only have to refill the thermos once or twice for a whole day supply of warm water.
Multi-way Discharge System
This classic electric thermos has multi-way discharge system; which are air press, soft touch and cup touch which make so convenient. While the air press is most useful during electrical power cut, the cup touch and soft touch function, prevents excessive discharge of water. Perfect to reduce wastage and stain on your table cloth, it is so ideal to be used at buffet parties and barbecue sessions.
Safety Features
The indicator lights mark the heater/keep warm functions. Most of the time, the keep warm light indicates that the power is on. The heater light turns on once the re-boil button is pressed and turns off automatically when the water is boiled. The water level indicator helps in guiding you when you need to add water and how much should you add it. This feature is especially helpful in preventing overheating of the product itself when there is not enough water, and to avoid spill out if it is overload. The inner surface is made of stainless steel, which bring the good heat retention to this product.
Features
- Electronic console - Convenient for use in offices, homes or at functions
- 3-way discharge - Air press, soft touch & cup touch
- Reboild and auto cleaning functions available
- Safe - Anti dry heating protection & auto dispense locking after 10s
- Energy saving - Water keeps warm at 60-80°C using 6 or 10h timer
- 60°C (for baby milk) or 98°C (for coffee/tea) keep warm functions
- Long boil – Water keeps boiling for some time at 100°C to remove chlorine
What's in the Box
1 x Takada Multi Function Electric Thermos Pot - 3.8L
1 x User Manual
1 x 1-Year Warranty from Takada Malaysia
| | | |
| --- | --- | --- |
| Zone | Weight | Delivery Fee (RM) |
| West Malaysia | First 1.00 kg | 8.00 |
| | Additional 1.00 kg | 2.00 |
| East Malaysia | First 1.00 kg | 17.00 |
| | Additional 1.00 kg | 16.00 |
| India | First 1.50 kg | 120.00 |
| | Additional 0.50 kg | 25.00 |