ISBN:9789830112428
Book Title: Stay Away from Me, Covid-19!
Author: Editorial Team for the Pre-school Pictorial
Binding Type: Soft Cover, Coloured Printed, 28 pages


Synopsis:
A picture book that is specially written for children.
What is Covid-19?
Where does it come from?
How does it spread between humans?
What harm can it do to human health?
What do scientists, doctors and nurses do to fight the disease and cure the patients?
What should children do to protect themselves from the disease?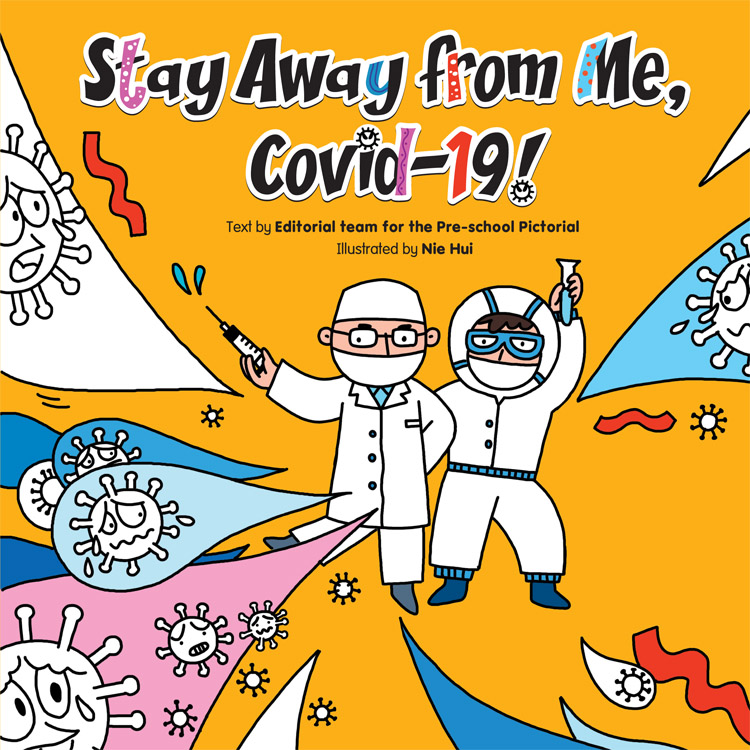 | Zone | Weight | Delivery Fee (RM) |
| --- | --- | --- |
| West Malaysia | First 1.00 kg | 4.80 |
| | Extra 1.00 kg | 2.00 |
| East Malaysia | First 0.50 kg | 14.30 |
| | Extra 0.50 kg | 5.10 |
| Australia, New Zealand | First 1.00 kg | 159.77 |
| | Extra 0.50 kg | 52.65 |
| Austria, Denmark, Finland, Ireland, Switzerland, Russia | First 1.00 kg | 157.78 |
| | Extra 0.50 kg | 34.31 |
| Brunei, Cambodia, Laos, Mongolia | First 1.00 kg | 175.10 |
| | Extra 0.50 kg | 87.14 |
| Belgium,France, Germany, Netherlands, Spain, U.K | First 1.00 kg | 150.94 |
| | Extra 0.50 kg | 30.46 |
| China | First 1.00 kg | 96.44 |
| | Extra 0.50 kg | 25.35 |
| Bangladesh, Brazil, Iraq, Pakistan, Qatar, S.Arabia, UAE, Sri Lanka | First 1.00 kg | 118.52 |
| | Extra 0.50 kg | 24.96 |
| South Africa | First 1.00 kg | 118.52 |
| | Extra 0.50 kg | 24.96 |
| Philippines | First 1.00 kg | 91.42 |
| | Extra 0.50 kg | 15.29 |
| Canada, United States, Mexico | First 0.50 kg | 52.55 |
| | Extra 0.50 kg | 35.90 |
| Hong Kong | First 1.00 kg | 80.63 |
| | Extra 0.50 kg | 29.06 |
| India | First 1.00 kg | 113.30 |
| | Extra 0.50 kg | 22.28 |
| Indonesia | First 1.00 kg | 107.35 |
| | Extra 0.50 kg | 24.87 |
| Japan | First 1.00 kg | 112.97 |
| | Extra 0.50 kg | 35.03 |
| Macau | First 1.00 kg | 92.93 |
| | Extra 0.50 kg | 13.82 |
| Singapore | First 1.00 kg | 74.75 |
| | Extra 0.50 kg | 21.49 |
| Taiwan | First 1.00 kg | 94.42 |
| | Extra 0.50 kg | 34.76 |
| Thailand | First 1.00 kg | 94.10 |
| | Extra 0.50 kg | 28.25 |
| Vietnam | First 1.00 kg | 98.94 |
| | Extra 0.50 kg | 14.34 |