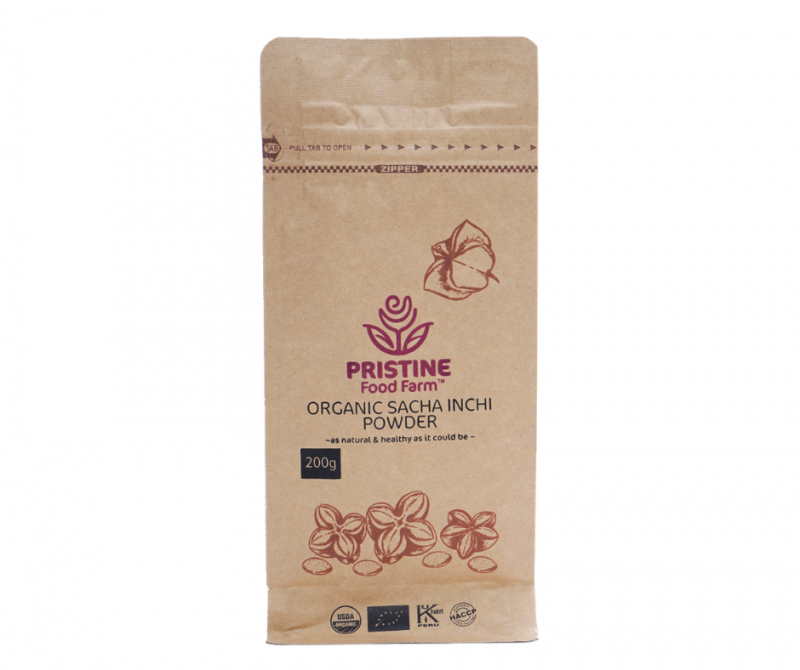 Product Description:
Sacha Inchi (Plukenetia Volubilis Linneo) plant, also known as "Sacha peanut" or "Mountain peanut" is native to the Peruvian Amazon. The nuts of the Sacha Inchi seeds are rich sources of Omega unsaturated fatty acids, various essential amino acids, vitamin E, calcium, iron, saponin, polyphenols and dietary fibre.
The health benefits of this naturally gluten-free, finely ground Sacha Inchi powder are aplenty. Consumption of unsaturated fatty acids is associated with reduced risks of cardiovascular disease and stroke. Clinical studies have also shown that saponin affects the immune system in ways that help to protect the human body against cancers.
Sacha Inchi powder has light nutty flavor that blends well in smoothies and baked products. Add on some of this wholesome powder into pancakes, waffles and muffins batter or mix with your beverage for an extra boost of nutrition.
Benefits:
•
An excellent plant-based source of Omega-3 fatty acids, as well as Omega-6 fatty acids, Omega-9 fatty acids and protein.
•
Highly beneficial for heart health and improving cholesterol levels, attributed particularly to the rich content of Alpha-linolenic Acid (ALA) which helps in lowering risk of heart attack, high blood pressure and hardening of blood vessels. In addition, ALA is also beneficial for maintain normal heart rhythm and heart pumping.
•
Great solution as alternative of sports supplement products as a plant-based protein powder with a rich profile of essential and non-essential amino acids, which is ideal for developing, repairing and maintaining lean muscle mass.
•
Plant-based protein powder for vegans/vegetarians and those who are not consuming sufficient omega-rich fish and vegetables in their diets.
•
Promotes and maintains healthy weight, attributed to the significant tryptophan content which plays a role in appetite regulation. Its nutrient density satisfies hunger and helps you feel fuller, longer.
•
Boost brain functions with increased brain activation related to the improvement of cognitive function in part of attention and memory.
•
Significant source of fiber which supports digestive health.
•
Contains Vitamins A, Vitamin E as well as minerals such as potassium, phosphorus, magnesium and calcium, hence it is considered by many to be "superfood" due to its excellent nutritional profile.
Product Features:
1) Certified Organic
2) Non-GMO
3) Vegan
4) Gluten Free
Ingredients: 100% Organic Sacha Inchi Powder
Origin: Peru
Recommended Dose & Usage: 1 tablespoon (approximately 5g) per day. Add to post work-out protein shake, smoothies, juices or water and use in baked products
Storage: Keep in airtight, cool dry place at temperature below 30C, away from heat sources.
Certifications:
Expiry Date: October 2022
| Zone | Weight | Delivery Fee (RM) |
| --- | --- | --- |
| East Malaysia (Sabah & Sarawak) | First 1.00 kg | 18.00 |
| | Extra 1.00 kg | 15.00 |
| Peninsular Malaysia | First 2.00 kg | 10.00 |
| | Extra 1.00 kg | 3.00 |
| Singapore | First 1.00 kg | 38.00 |
| | Extra 0.50 kg | 12.00 |
| Brunei, Indonesia, Philippines & Thailand | First 0.50 kg | 89.80 |
| | Extra 0.50 kg | 25.40 |
| Vietnam & Cambodia | First 0.50 kg | 149.60 |
| | Extra 0.50 kg | 36.00 |
| Laos & Myanmar | First 0.50 kg | 224.40 |
| | Extra 0.50 kg | 52.40 |
Order & Delivery Schedule
Delivery fee for each purchase will be determined by the weight and delivery destination based on the delivery rate and to be paid by the recipient.
All orders will be delivered via City-Link.
No delivery over weekends (Saturday and Sunday) and / or Public Holiday. Delays in delivering your order might be incurred due to holidays, extreme bad weather or any type of natural disaster.
No order accepted for delivery to any P.O. Box address.
We will deliver order to the delivery address specified in the online order form; hence, in the event of any unsuccessful delivery due to either absence in receiving order and / or wrong , incomplete delivery address; We will not be held responsible and / or bear any cost to re-route and /or to re-deliver parcel. It is therefore important to ensure delivery address filled in the form is correct.
We will also not be held responsible to refund full payment of order after paid and /or replace products if missing during the re-routing and / or re-delivery process due to wrong and /or incomplete delivery address given.
Delivery address cannot be changed / modified once order's transaction has been approved.
City-Link Express:
http://www.citylinkexpress.com
City-Link Express Hotline: 1-300-88-2489