ISBN:9789672296690
Book Title:Plants vs Zombies 2 ● Questions & Answers Science Comic: Amphibians - What Frogs Are Snakes Terrified Of?
Series:Questions & Answers Science Comic
Author:Xiao Jiangnan
Binding Type:Soft Cover, Coloured Printed, 176 pages


Synopsis:
Is "giant salamander" a fish? Does Nidirana adenopleura know how to play music? How does a mushroom-tongued salamander breathe? Does a caecilian have eyes? Who is the noble among the toads? Who is the giant among the frogs? There are many unknown secrets and interesting stories regarding the ancient and magical amphibians. Let us have a wonderful exploration journey with Bonk Choy, Sunflower, Wall-nut and other characters from the tower defence game Plants vs. Zombies!

This book introduces 53 facts about amphibians through relaxed and humorous comic stories. They include general characteristics of amphibians and specific characteristics of each species. Readers can discover the mysteries of this animal group from the perspective of exploration. This book also sparks the children's curiosity and brings them into the interesting world of science.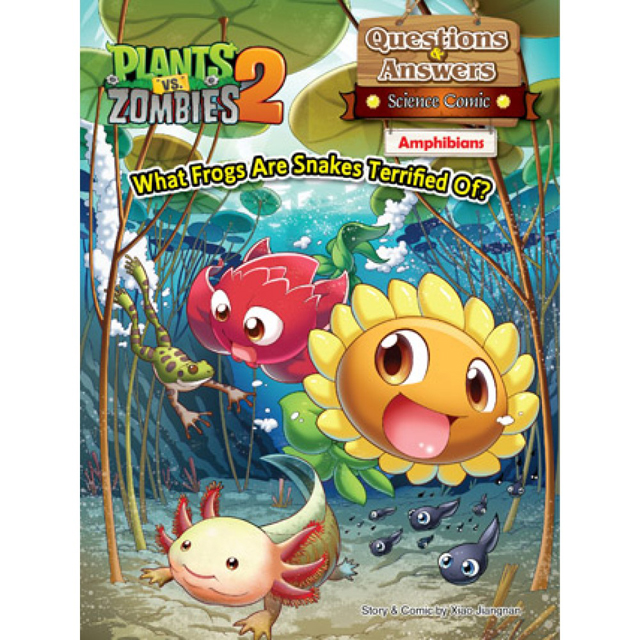 | Zone | Weight | Delivery Fee (RM) |
| --- | --- | --- |
| West Malaysia | First 1.00 kg | 4.99 |
| | Extra 1.00 kg | 2.00 |
| East Malaysia | First 0.50 kg | 14.30 |
| | Extra 0.50 kg | 5.10 |
| Australia, New Zealand | First 1.00 kg | 159.77 |
| | Extra 0.50 kg | 52.65 |
| Austria, Denmark, Finland, Ireland, Switzerland, Russia | First 1.00 kg | 157.78 |
| | Extra 0.50 kg | 34.31 |
| Brunei, Cambodia, Laos, Mongolia | First 1.00 kg | 175.10 |
| | Extra 0.50 kg | 87.14 |
| Belgium,France, Germany, Netherlands, Spain, U.K | First 1.00 kg | 150.94 |
| | Extra 0.50 kg | 30.46 |
| China | First 1.00 kg | 96.44 |
| | Extra 0.50 kg | 25.35 |
| Bangladesh, Brazil, Iraq, Pakistan, Qatar, S.Arabia, UAE, Sri Lanka | First 1.00 kg | 118.52 |
| | Extra 0.50 kg | 24.96 |
| South Africa | First 1.00 kg | 118.52 |
| | Extra 0.50 kg | 24.96 |
| Philippines | First 1.00 kg | 91.42 |
| | Extra 0.50 kg | 15.29 |
| Canada, United States, Mexico | First 0.50 kg | 52.55 |
| | Extra 0.50 kg | 35.90 |
| Hong Kong | First 1.00 kg | 80.63 |
| | Extra 0.50 kg | 29.06 |
| India | First 1.00 kg | 113.30 |
| | Extra 0.50 kg | 22.28 |
| Indonesia | First 1.00 kg | 107.35 |
| | Extra 0.50 kg | 24.87 |
| Japan | First 1.00 kg | 112.97 |
| | Extra 0.50 kg | 35.03 |
| Macau | First 1.00 kg | 92.93 |
| | Extra 0.50 kg | 13.82 |
| Singapore | First 1.00 kg | 74.75 |
| | Extra 0.50 kg | 21.49 |
| Taiwan | First 1.00 kg | 94.42 |
| | Extra 0.50 kg | 34.76 |
| Thailand | First 1.00 kg | 94.10 |
| | Extra 0.50 kg | 28.25 |
| Vietnam | First 1.00 kg | 98.94 |
| | Extra 0.50 kg | 14.34 |