Main Action of Intensive Pigmentation Reducing Oil

Powerful Antioxidants

Diminish Discoloration

Skin Whitening

Rejuvenates Dull and Dry Skin

Skin Regeneration

Natural Vitamin C and E

Visibly Improving Skin's Clarity and Skin Tone









Intensive Pigmentation Reducing Oil Blend

contains a proprietary blend of these

essential oils:-








Cucumber Essential Oil


Cucumber Essential Oil – Very helpful in

reducing skin pigmentation fades freckles

and blemishes.



Sandalwood Essential Oil


Sandalwood essential oil works wonders

for skin brightening. It is the most popular

oil that is used in various types of skin

care products. Sandalwood essential oil

has anti-aging properties; it rejuvenates

dull and dry skin. It moisturises

dehydrated skin and it has a soothing

effect on the skin. Sandalwood essential

oil has astringent properties, thus it is

used as a skin tightening agent. It

removes excessive oil from the skin to

make it look brighter and softer.



Aloe Vera Essential Oil


Aloe Vera effectively treats pigmented

skin, clears dark spots and blemishes,
resulting in the older skin cells to slough

off, thus leaving us with clearer-looking

and rejuvenated skin.








Lemon Essential Oil


Lemon is one of the best natural skin

brighteners out there. It's high citric acid

content effectively exfoliates the skin and

lightens and brightens hyper-pigmentation

after just a few uses.



Jojoba Essential Oil


This oil used to lighten and fade acne

scars and pigmentation. Even those with

sensitive skin can safely use jojoba oil as

it is hypoallergenic and hence does not

trigger any irritation or sensitivity.



Bergamot Essential Oil


Bergamot is a natural antiseptic meaning

that it encourages wound healing and skin

regeneration. If you have old acne scars,

eczema, psoriasis, or even cold sores, this

oil can help the skin heal faster. Even

better, it can help prevent new scars and

fade old ones. In fact, bergamot is a

reputed treatment for scars and stretch

marks, as it helps regulate the distribution

of skin's natural pigment, melanin, while

evening out skin tone.



Suggested Usage for Intensive

Pigmentation Reducing Oil



Pour 5 to 10 drops of Intensive

Pigmentation Reducing Oil between hands

and massage gently onto cleansed face

moisturizing.

Use twice daily apply it to the face, neck

and chest area.










Product Shelf Life :


2 years under well storage situation and

stored away from direct sun light.



Recommended Skin Types:


All Skin Types.









祛斑复方精油

100%纯精油共混物


祛斑复方精油的主要功效


强劲的抗氧化剂

减少变色

恢复暗沉和干燥皮肤

皮肤再生

天然维生素C和E

明显改善皮肤的清晰度和肤色









祛斑复方精油的成分介紹











黄瓜精油

黄瓜精油 - 减少皮肤色素沉着,非常有帮助淡化雀

斑和瑕疵。



檀香精油

檀香精油可以创造奇迹的皮肤增白。它是一种用

于在多种类型的皮肤护理产品中最流行的油。檀

香精油具有抗老化性能;它恢复暗沉和干燥的皮

肤。它滋润缺水肌肤,它具有对皮肤有舒缓的作

用。檀香精油具有收敛性,因而它被用作皮肤收

紧剂。它消除了过多的油从皮肤,使它看起来明

亮和柔和。



芦荟精油


芦荟精油有效治疗色素性皮肤病,清除色斑和瑕

疵,导致旧的皮肤细胞脱落,从而使我们更清晰

的前瞻性和皮肤焕发青春.










柠檬精油


柠檬精油是最好的天然皮肤增白剂。其高柠檬酸

含量有效地去除角质的皮肤,减轻和提亮色素沉

着。



荷荷巴精油


这种油用于减轻和淡化痤疮疤痕和色素沉着。敏

感皮肤可以放心地使用荷荷巴油,因为它是低过

敏性,因此不会触发任何刺激或敏感。



佛手柑精油


佛手是一种天然防腐剂的含义,它鼓励伤口愈合

和皮肤再生。如果你有旧的痤疮疤痕,湿疹,牛

皮癣,甚至是唇疱疹,这种油可以帮助皮肤愈合

得更快。更妙的是,它可以帮助防止新的伤痕和

褪色旧的。事实上,佛手柑是一个著名的治疗疤

痕和妊娠纹,因为它可以帮助调节皮肤的天然色

素,黑色素的分布的肤色。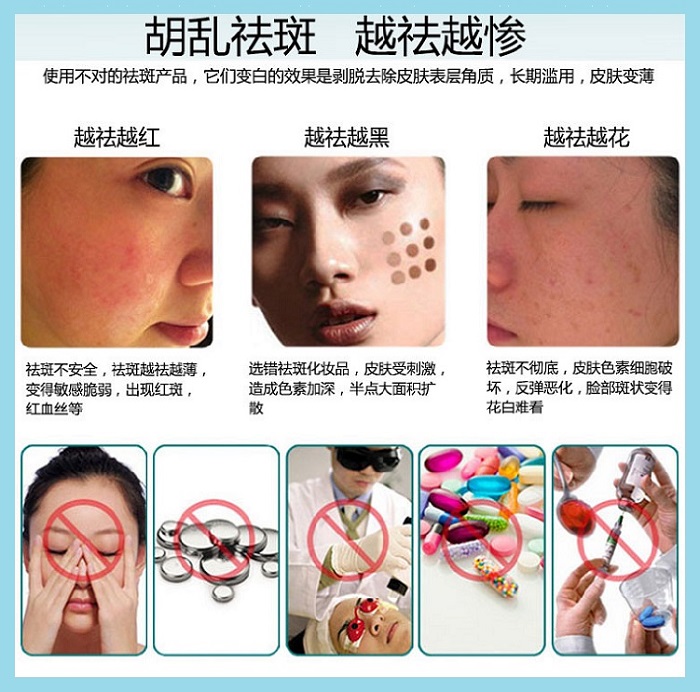 祛斑复方精油的使用方法:


将5至 10 滴祛斑复方精油滴在手内,轻轻地按摩

在洁净的面部及颈部。

每天使用两次,在早晨和晚上.(它适用于面部,

颈部和胸膛 )



推荐肤质: 适合所有皮肤类型


保质期限: 2年存放在远离阳光直射
| | | |
| --- | --- | --- |
| Zone | Order Total (RM) | Delivery Fee (RM) |
| West Malaysia | Above 20.00 | 3.00 |
| East Malaysia | Above 20.00 | 5.00 |