Size (length*width*height): 23cm x 11cm x 10cm
What's in the box:
1 x laser scanner
1 x usb cable
1 x stand
1x skrew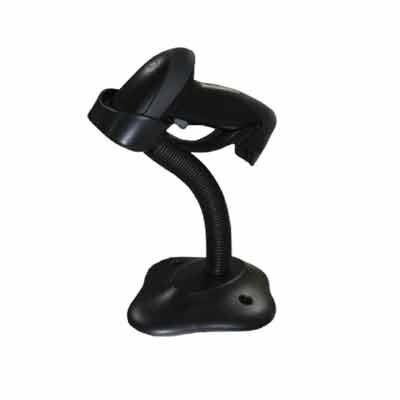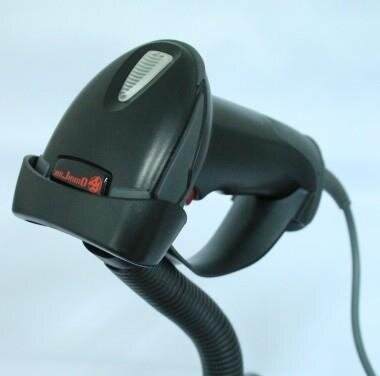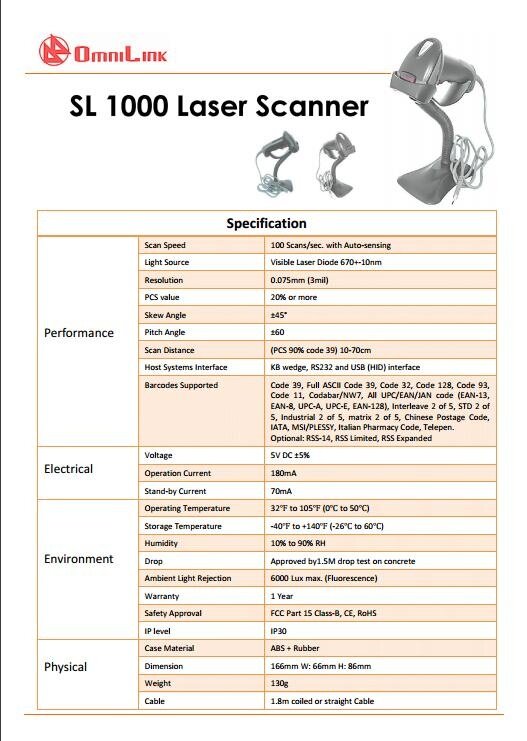 Fast, easy, and accurate scanning with incredible reliability, low cost.
The SL1000 Laser Scanner puts more productivity into checkout lines, shop floors, and documentation centers, by accelerating processes and eliminating scanning errors, especially when barcodes are printed closely or poorly.
The SL1000 Laser Scanner delivers 100% productivity in a hard-working, reliable tool.
| Zone | Weight | Delivery Fee (RM) |
| --- | --- | --- |
| West Malaysia | First 1.00 kg | 9.50 |
| | Extra 1.00 kg | 2.50 |
| East Malaysia | First 1.00 kg | 25.00 |
| | Extra 1.00 kg | 25.00 |
| ZONE 8 | First 1.00 kg | 166.00 |
| | Extra 0.50 kg | 75.00 |
| ZONE 13 | First 1.00 kg | 423.00 |
| | Extra 0.50 kg | 139.00 |
| ZONE 5 | First 1.00 kg | 118.00 |
| | Extra 0.50 kg | 60.00 |
| ZONE 2 | First 1.00 kg | 85.00 |
| | Extra 0.50 kg | 33.00 |
| ZONE 1 | First 1.00 kg | 59.00 |
| | Extra 0.50 kg | 17.00 |
| ZONE 3 | First 1.00 kg | 113.00 |
| | Extra 0.50 kg | 92.00 |
| ZONE 4 | First 1.00 kg | 102.00 |
| | Extra 0.50 kg | 28.00 |
| ZONE 6 | First 1.00 kg | 144.00 |
| | Extra 0.50 kg | 49.00 |
| ZONE 7 | First 1.00 kg | 156.00 |
| | Extra 0.50 kg | 70.00 |
| ZONE 9 | First 1.00 kg | 214.00 |
| | Extra 0.50 kg | 49.00 |
| ZONE 10 | First 1.00 kg | 177.00 |
| | Extra 0.50 kg | 70.00 |
| ZONE 11 | First 1.00 kg | 354.00 |
| | Extra 0.50 kg | 97.00 |
| ZONE 12 | First 1.00 kg | 375.00 |
| | Extra 0.50 kg | 134.00 |