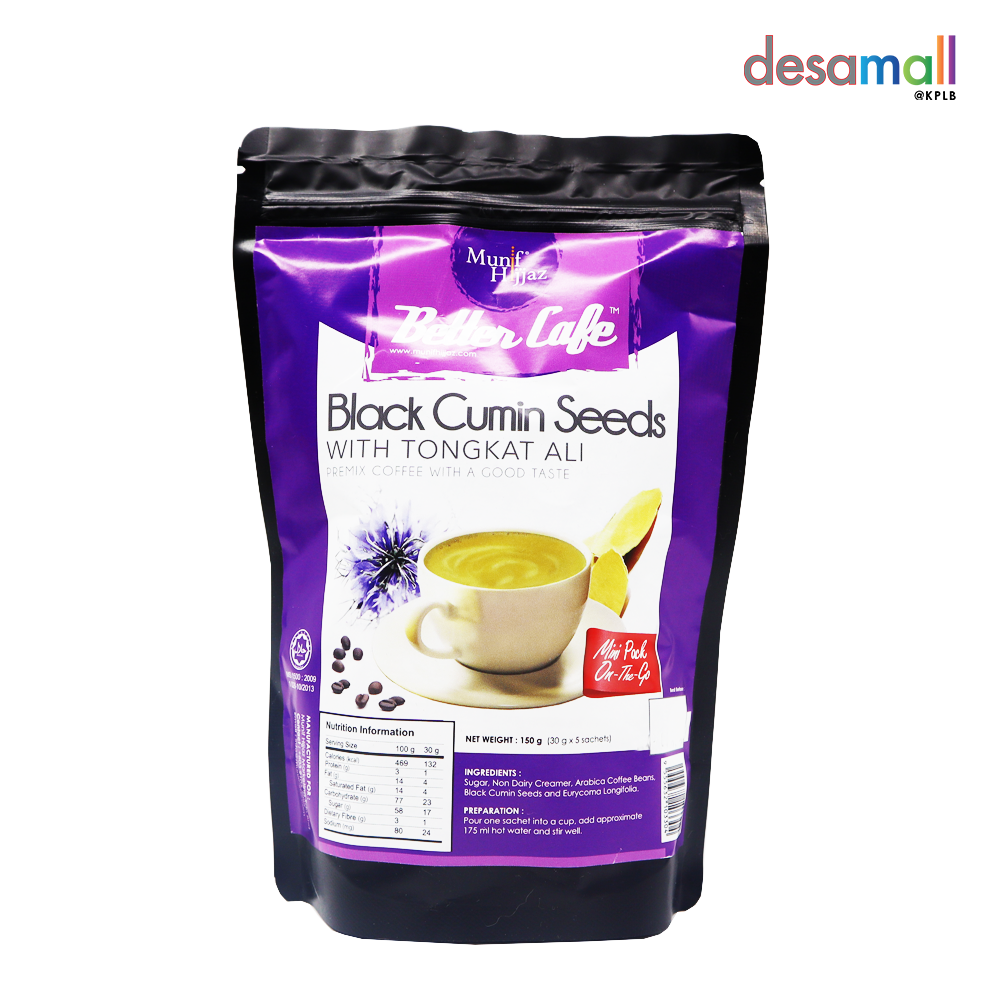 What's in the box:
1 x MALEEQ CAFE Mini Pack On-The-Go Better Caf Black Cumin Seeds (Habbatus Sauda) with Tongkat Ali (150g)
Ciri-ciri Produk
Menguatkan sistem imunisasi dalam badan manusia. Mambantu mengurangkan tekanan darah dan meningkatkan kesihatan jantung secara menyeluruh Mampu mengawal penyakit diabetes dan boleh membantu mengurangkan tahap gula dalam darah. Mengurangkan risiko kanser kerana kandungan Thymoquinone dalam habbatus sauda' mempunyai potensi untuk menyembuhkan keradangan dan kanser.
Deskripsi Produk
Kopi pra campuran bersama Arabic Gum dan Habbatus Sauda yang diperkayakan dengan pelbagai khasiat serta dirumus khas sebagai minuman keluarga
Keterangan Produk
Habbatus sauda juga dikenali sebagai jintan hitam (Nigella Sativa) yang banyak terdapat di Timur Tengah dan banyak digunakan dalam bahan masakan terutamanya masakan orang India. Ia mengandungi banyak kelebihan dari segi kesihatan kerana kaya dengan kalsium, zat besi, serat, kalium, protein, karbohidrat dan lemak yang sihat. Habbatus sauda didapati mempunyai analgesik, bahan anti-kulat, antispasmodik, antioksidan, anti-bakteria, anti-radang, bahan yang mampu mengeluarkan udara yang berlebihan seperti halia, anti-ulser, anti-hipertensi dan harta antikholigernik.
| Zone | Weight | Delivery Fee (RM) |
| --- | --- | --- |
| West Malaysia | First 1.00 kg | 4.80 |
| | Extra 1.00 kg | 2.00 |
| East Malaysia | First 0.50 kg | 14.30 |
| | Extra 0.50 kg | 5.10 |