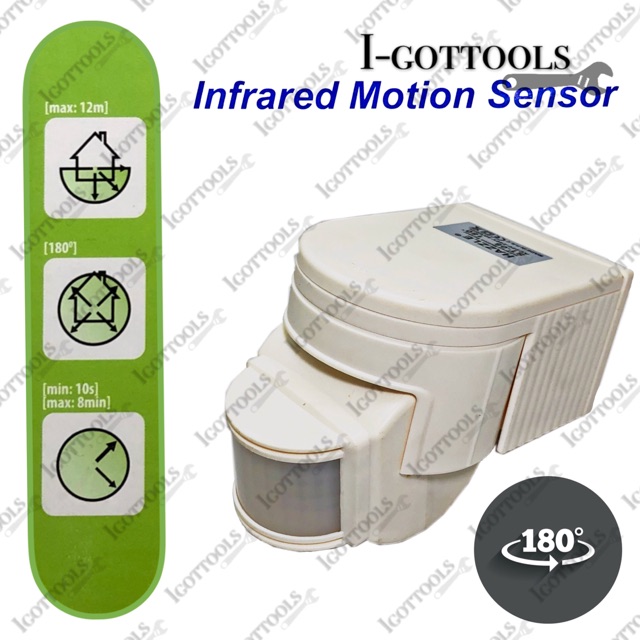 Watt: 220
Energy-Saving Time and Lux adjustable 220v-240v / AC 180 Degree PIR Infrared Motion Detector Motion detector Switch Max 12m
Article type: Switches
Material: Plastic
Model Number: ST-08
Brand Name: HAZZLE
Features: 220V / AC-240V / AC
Cutting type: Proximity switch
Currnet: Infrared motion sensor
Certification: infrared motion sensor Switch
Working temperature: -20 + 40degree
Rated load: 800w (incandescent lamp) 200w (energy-saving lamp)
Ambient light: 3-2000lux (adjustable)
Time-delay: mini 10sec + 3sec. max. 8min + _2min
Power frequency: 50Hz
Distance detection: 12m max
Detection range: 180 degree
Power source: 220V / AC-240V / AC
Height: 1.8m-2.5m installation
Detection moving speed: 0.6-1.5m / s
Function
1. identify day and night automatically. Can adjust the ambient light according to your desire: when his turn to SUN (max), he will work in the day and night. When its turn to MOON (min), it only works under less than 3LUX circumstance. As for the setting, please refer to: ing way.
2. time-delay is added continuously: when it receives the second induction signal after the first inductance, it will calculate time once again on the rest of the first-time base delay (time set).
3.Time-setting delay: It can be fixed according to your desire. The minimum is 10 & plusmn; 3 sec; the maximum is 7 & plusmn; 2 min.
Installation
1. turn off the power.
2. in motion the transparent vinyl cover what is in the bottom of the sensor.
3. lose the screw in the terminal connection, power-up and load-connected terminal load sensor based on connection sketch card.
4. tighten the screw; put the transparent vinyl cover in the original station.
5. Folding the metal spring of the sensor to the up, until they are in & ldquo; I & rdquo; position with sensor, then put the sensor in the hole or installation box that is in the ceiling, the size is similar with point. Releasing the spring, the sensor will be together in this installation position.
6. After finishing the installation, the sensor can be connected the power
| Zone | Weight | Delivery Fee (RM) |
| --- | --- | --- |
| West Malaysia | First 1.00 kg | 4.80 |
| | Extra 1.00 kg | 2.00 |
| East Malaysia | First 1.00 kg | 13.00 |
| | Extra 1.00 kg | 9.00 |