Bayangkan nak bawa carton air yang berat, dengan banyak mesin lagi nak singgah. Seksa, memang seksa. Kami pun pernah rasa kot. Dah tak sanggup lagi nak dengar keluh kesah komplain pasal sakit pinggang..sakit tangan..hanya sebab isi air dalam vending machine!
Jom dapatkan HANGER CARTON HOLDER sekarang.



Hanger ini sangat tahan beban kerana kami 'bend' kan steel plate tersebut dan kami welding untuk kemasan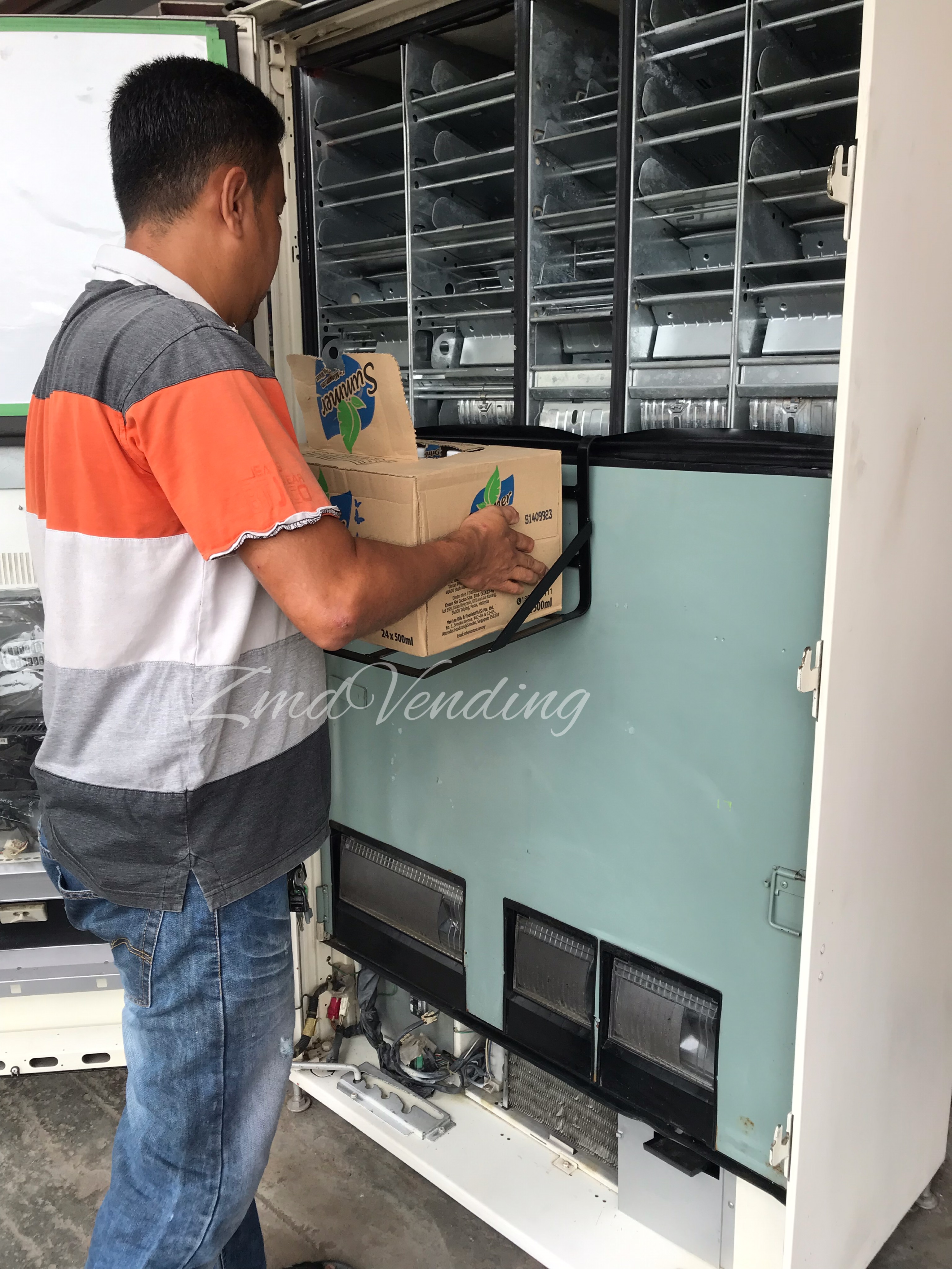 Gantung jer besi hanger tu, letak carton air atas holder, start isi air tin/botol dalam mesin tanpa perlu tampung carton lagi..klu dah pro, boleh guna dua tangan.
Cepat dapatkan sekarang. Cepat, Mudah dan mudah-mudahan, mengisi air dalam mesin tidak lagi membosankan..
Material : Steel plate
Thickness : 0.3mm
Saiz : 30cm(W) x 40cm(L)x 25cm(H)
Berat : 1.5kg
* Harga termasuk postage (SM: RM15 ; SS: RM20)
STORE DELIVERY
Purchase everything you want - we charge the same delivery fee regardless of the weight or size of the order!
When placing your order, we consider these factors when calculating the Estimated Delivery Date :
Order Processing: The amount of time it takes for us to prepare your order for shipping. This typically takes 3 – 4 days however, some orders may ship within as few as 2 days and some may take up to 5 days.




Transit Time: The amount of time it takes your order to leave our distribution center and arrive at the said location.
When our delivery provider receives your order and is ready to schedule a delivery date, they will attempt to contact you at the telephone number that you provided in your order. At that time, they will let you know what time they are able to deliver to your area. Deliveries will be made between the business hours of 10am to 4pm on the delivery day you select. Extra charges will be applicable for special services such as delivery requests on Sunday & Public Holidays.
VENDING MACHINE DELIVERY CHARGES
SELANGOR
Warehouse to Banting/Jenjarom : RM150
Warehouse to SabakBernam/SungaiBesar : RM280
Warehouse to Kuala Kubu Baru : RM300
Warehouse to Semenyih/Kuala Selangor/TanjungKarang : RM250
Warehouse to Rawang/Klang/Kajang : RM250
PAHANG
Warehouse
- Kuantan/Muadzam : RM700
Warehouse
- Maran/Jengka/Bera : RM650
Warehouse
- Kuala Lipis : RM650
Warehouse
- Jerantut: RM650
Warehouse
- Temerloh : RM550
Warehouse
- Bentong : RM300
Warehouse
- Pekan / Cherating : RM800
Warehouse
- Kuala Rompin : RM900
NEGERI SEMBILAN/MELAKA
Warehouse
- Nilai/Labu/KLIA : RM200
Warehouse
- Seremban : RM250
Warehouse
- Port Dickson : RM300
Warehouse
- Bahau/Gemas/Gemencheh/BtgMelaka : RM400
Warehouse
- Tampin/Alor Gajah/Kuala Pilah : RM350
Warehouse
- Melaka Tengah/Ayer Keroh : RM450
Warehouse
- Jasin/Merlimau : RM500
JOHOR
Warehouse
- Tangkak/Muar/Pagoh : RM600
Warehouse
- Batu Bahat/YongPeng/Segamat : RM680
Warehouse
- Simpang Renggam/AyerHitam/Kluang : RM750
Warehouse
- Kulai/Kahang/Benut : RM820
Warehouse
- Johor Bharu/Pontian/Kota Tinggi : RM850
Warehouse
- Mersing/Tg.Sedili/Endau/Pengerang : RM950
PERAK
Warehouse
- Tanjung Malim/Behrang/Slim River/Trolak : RM280
Warehouse
- Tapah/Bidor/Sungkai/HutanMelintang : RM450
Warehouse
- Gopeng/Kampar/Telok Intan : RM500
Warehouse
- Ipoh/Setiawan/Cameroon Highland : RM600
Warehouse
- Bota/Beruas/Parit : RM650
Warehouse
- Kuala Kangsar/Taiping/Pantai Remis/Trong/Lenggong : RM650
Warehouse
- Bagan Serai/Parit Buntar/Gerik/Selama : RM700
Warehouse
- Pengkalan Hulu : RM800
KEDAH
Warehouse
- Bandar Baharu/Kulim : RM800
Warehouse
- Sungai Petani/Baling : RM900
Warehouse
- Pendang/Gurun : RM1000
Warehouse
- Alor Setar/Langgar : RM1100
Warehouse
- Jitra/KepalaBatas/PokokSena : RM1150
Warehouse
- Canglun/Kordiang/Bukit Kayu Hitam : RM1300
Warehouse
- Tasik Pedu/KualaNerang: RM1200

PULAU PINANG
Warehouse
- NibongTebal/SimpangAmpat/Juru : RM800
Warehouse
- Bukit Mertajam/Butterworth/KepalaBatas : RM850
Warehouse
- Bahagian Pulau/Georgetown/BalikPulau/BayanLepas : RM900
PERLIS
Warehouse
- Seluruh Bahagian Negeri Perlis : RM1300
KELANTAN
Warehouse
- Gua Musang : RM700
Warehouse
- Kuala Krai/Dabong : RM800
Warehouse
- Jeli/Machang/TanahMerah : RM900
Warehouse
- Kota Bharu/PasirPuteh/Tumpat/Bachok : RM1000
TERENGGANU
Warehouse
- Kemaman/Cukai : RM750
Warehouse
- Dungun/Kerteh/Paka : RM850
Warehouse
- KualaBerang/Marang/Kuala Terengganu : RM1200
Warehouse
- Setia/Pemaisuri/TasekKenyir : RM1100
Warehouse
- Jerteh : RM1000