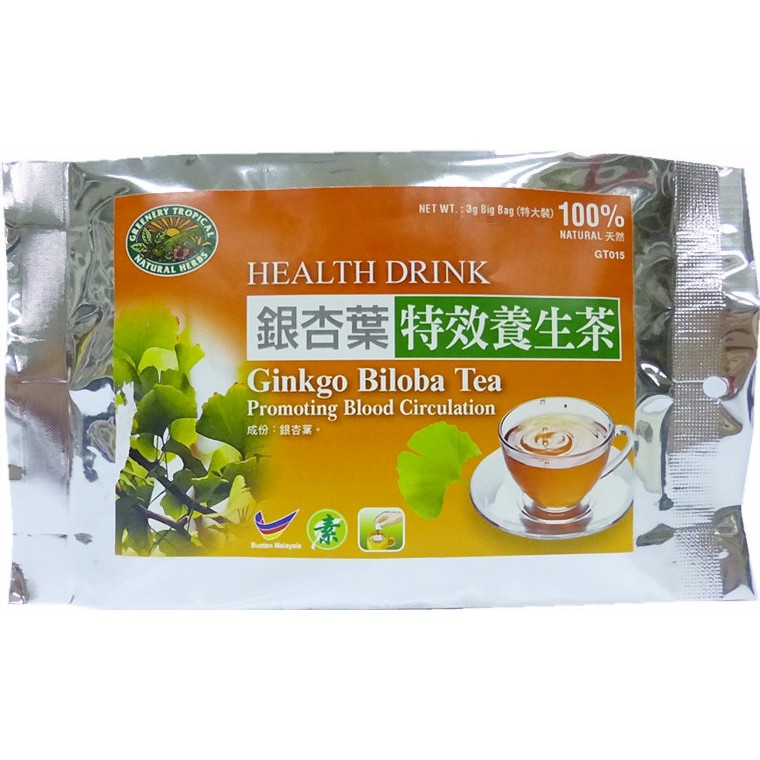 Size (length*width*height): 20cm x 2cm x 12cm
Expiry Date: Normal Expiry
Function: Improve Blood Circulation + Energy
Formulation: Tea Bags
Scientific Name:Ginkgo biloba L.
English Name:Ginkgo,maidenhair tree,fossil tree.
Malay Name:Ginkgo,pohon maidenhair.
Family & Genus:Ginkgoaceae,Ginkgo.
Pharmacology:Coronary-sclerosis curing,angina-relieving,cholesterol & blood-pressure lowering.
Properties:Sweet,bitter,astringent in taste. Mild in nature.
Benefits:Astringe lung & calm wheezing,dredging & collaterals & relieve pain,activate blood circulation & dispel blood stasis.
Indications:
·High cholesterol
·Coronary heart disease
·Angina pectoris(chest pain)
·Lung deficiency & cough with asthma
*Pregnant women are refrained from consumption.
**The recommended daily dosage for ginkgo leaf is 3g ~ 5g.
Preparation:
·1 sachets tea bag each time. One or twice daily.
·Steep a tea bag in 200ml boiled water for 10 minutes.
·Each tea bag may rebrewed 2-3 times,or until light taste.
学名:Ginkgo biloba L.
英文名:Ginkgo,maidenhair tree,fossil tree.
马来名:Ginkgo,pohon maidenhair.
科属:银杏科,银杏属。
药理作用:治疗冠状动脉硬化性心脏病,舒缓心绞痛,降低胆固醇及血压。
性味:味甘、苦、涩;性平。
功能:敛肺平喘,通络止痛,活血化瘀。
适用于:
·冠心病
·心绞痛
·高血脂
·肺虚咳喘
*孕妇忌服。
**银杏叶日常用量为3g~5g。
用法:
·每次一包茶袋,每日1包~2包。
·将茶袋浸泡于200毫升沸水,10分钟后即可饮用。
·每个茶袋可重复冲泡2-3次,或直至淡味为止。
Nett weight:3g x 13 Tea Bags
Information provided herewithin is intended for REFERENCE only.Please consult with your doctor, or other qualified health care professional before using any product discussed within this website.
注:以上保健信息仅供参考,不能作为诊断医疗依据,任何健康问题应咨询专业医护人员,任何疾病治疗请遵医嘱。
#ginkgo #ginkgobiloba #ginkgoleaf #ginkgoleafbenefits #ginkgoleafdosage #ginkgoleafherb #ginkgoleaves #ginkgoleavesbenefits #ginkgobilobaleaves #bloodcirculation #银杏 #银杏叶 #银杏叶茶包 #银杏茶功效 #银杏叶泡茶 #银杏叶美容