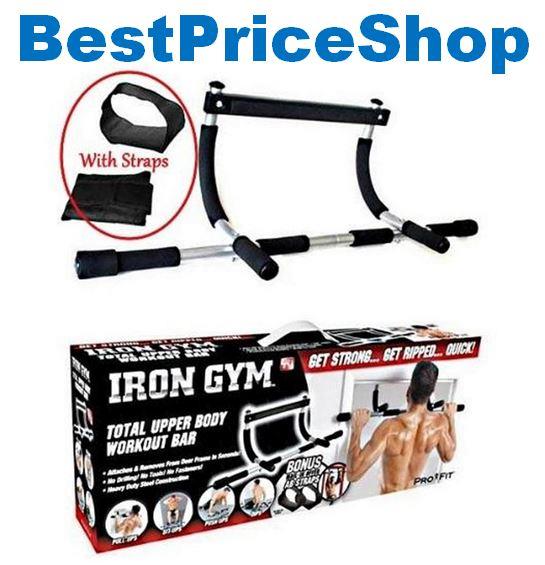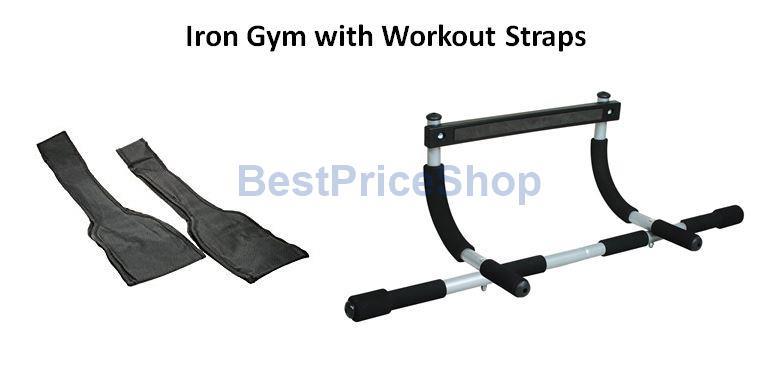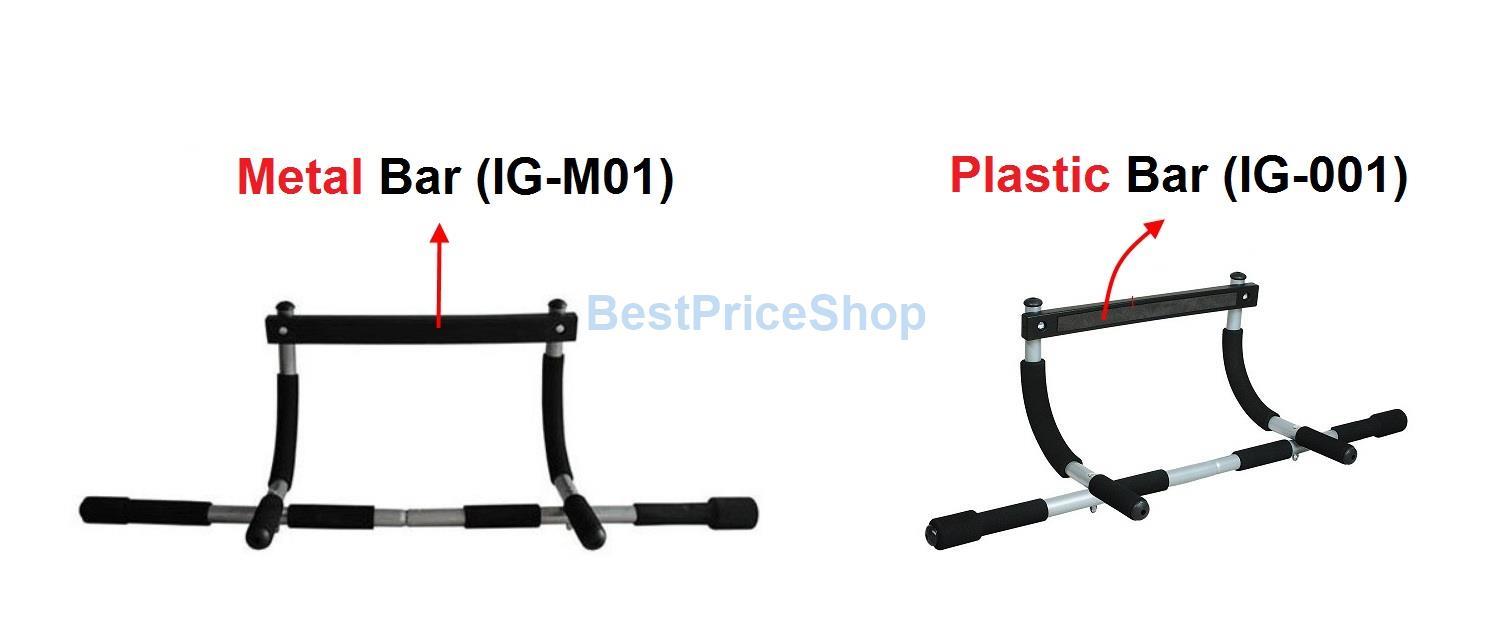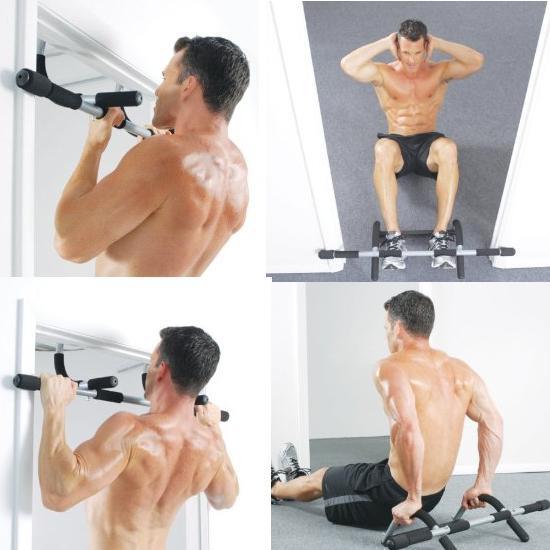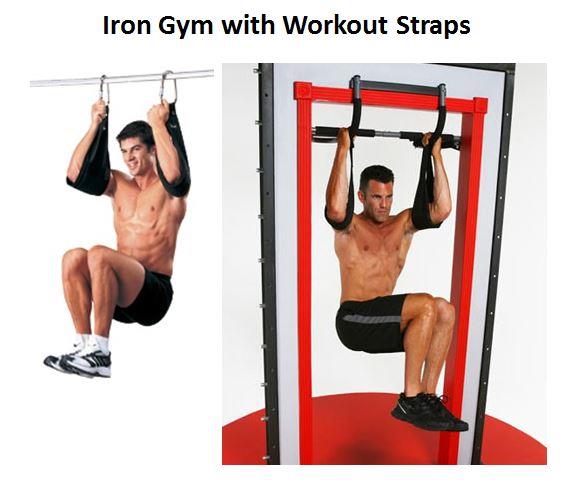 Features:
Dimensions: 46cm (H) x 32cm (W) x 95cm (L)

Gross Weight: 1.5kg

Max. weight capacity: 300lbs

Fits doorways from 61cm – 81cm wide with trim or molding from 10cm – 16cm

Suitable for pull-ups, chin-ups, push-ups, sit-ups, dips, and arm and shoulder exercises

Tones biceps, triceps, chest, back, shoulders, and abs

Instantly attaches to door frames without tools or drilling

Durable steel frame with heavy duty construction

Non-slip rubberized feet and protective foam

Easily disassembled to save space
Package Includes:
1 x Upper body workout bar

1 x Instruction manual

1 x Workout DVD Guide
Choose From
Also Available
Iron Gym with Workout Straps
Add this Workout Straps for Leg Raise Fast Six Packs Abs Exercise
Requirements:
Before you order an Iron Gym, make sure you have a doorway it will fit into: under about 32″ wide, with a molding above it that's less than six inches wide and at least a half-inch thick. The top piece of the Iron Gym needs that molding above the door to "grab," and the wide part of the bar sits across both sides of the door frame so that on your first pull-up you don't fall on your head.
INSTALLS IN SECONDS!
No Drilling, Tools or Fasteners!

Fits All Standard Door Frames.

Professional Quality!
The Iron Gym is made with heavy duty steel construction, and attaches & removes from your door frame in seconds!
Iron Gym is the multifunction training system that raises the bar on upper body exercises. Iron Gym turns any door into your own personal gym
in just seconds. Its unique design wraps around your door frame and uses leverage so there are no screws and no damage to your door.
Features 3 different grip positions - narrow grip, wide grip and neutral - so you can switch up your routine and keep challenging your muscles.
Iron Gym is great for pull-ups, sit ups, push ups, dips and crunches. In just minutes a day, you will build lean muscle and get ripped.
** Choose: Iron Gym with Workout Straps in the Option
The Iron Gym Workout
---
The box and manual hype four different exercises: pull-ups, push-ups, sit-ups and dips. The most effective use of the Iron Gym by far is pull-ups. You can use three different grip positions, all with soft foam hand grips that didn't seem to cause slippage, at least for me—but it's best not to use it with sweaty hands. The only grip you can't use is the extremely wide grip that you often see people using at the local fitness club—but that's not a grip you should be using. Chalk one up to the Iron Gym for saving people from themselves.
Because the bar is only held on by gravity, you'll have to do strict, smooth pull-ups. No kipping or swinging. And I wouldn't venture to try knees-to-elbows unless I really enjoy skull fractures.
Which brings us to the sit-up "function" of the Iron Gym: you move it to the bottom of the door and put the long bar on the opposite side of the door, stick your feet under it and have at it. The problem here is that it won't stay precisely in place. You're better off anchoring your feet under the sofa, buying the "free" ab straps to do reverse crunches, or not worrying about sit-ups at all in favor of concentrating on keeping your core tight during other exercises.
The Iron Gym makes a comeback for push-ups. The foam grips keep your hands and wrists more comfortable than just putting your hands against the floor, and also enables a little wider range of motion since you can dip your chest below your hands. I definitely enjoyed the Iron Gym push-ups more than regular push-ups on my hardwood floor.
You may interested in the latest version of IronGym:: IronGym Xtreme
::Know the Different::
Get faster and greater results with IronGym Xtreme Here::
| | | |
| --- | --- | --- |
| Zone | Weight | Delivery Fee (RM) |
| West Malaysia | First 2.00 kg | 7.50 |
| | Additional 1.00 kg | 1.50 |
| East Malaysia | First 2.10 kg | 9.80 |
| | Additional 1.00 kg | 4.50 |