遇到以下情況時......
擔任公司尾牙聚餐的指定駕駛、想送客戶別具意義的創新產品、聚會場合不擅喝酒但想與大家同樂、為全家人買好喝又沒有添加物的飲品
你會需要「台灣真水果氣泡麥汁」
「台灣真水果氣泡麥汁」禮盒(6入)

使用台灣在地水果原汁

無香料、非濃縮汁、100%無添加物

氣泡與德國大麥的香醇,讓您享用啤酒的暢快感卻無酒精成分

適合全家享用的安心飲品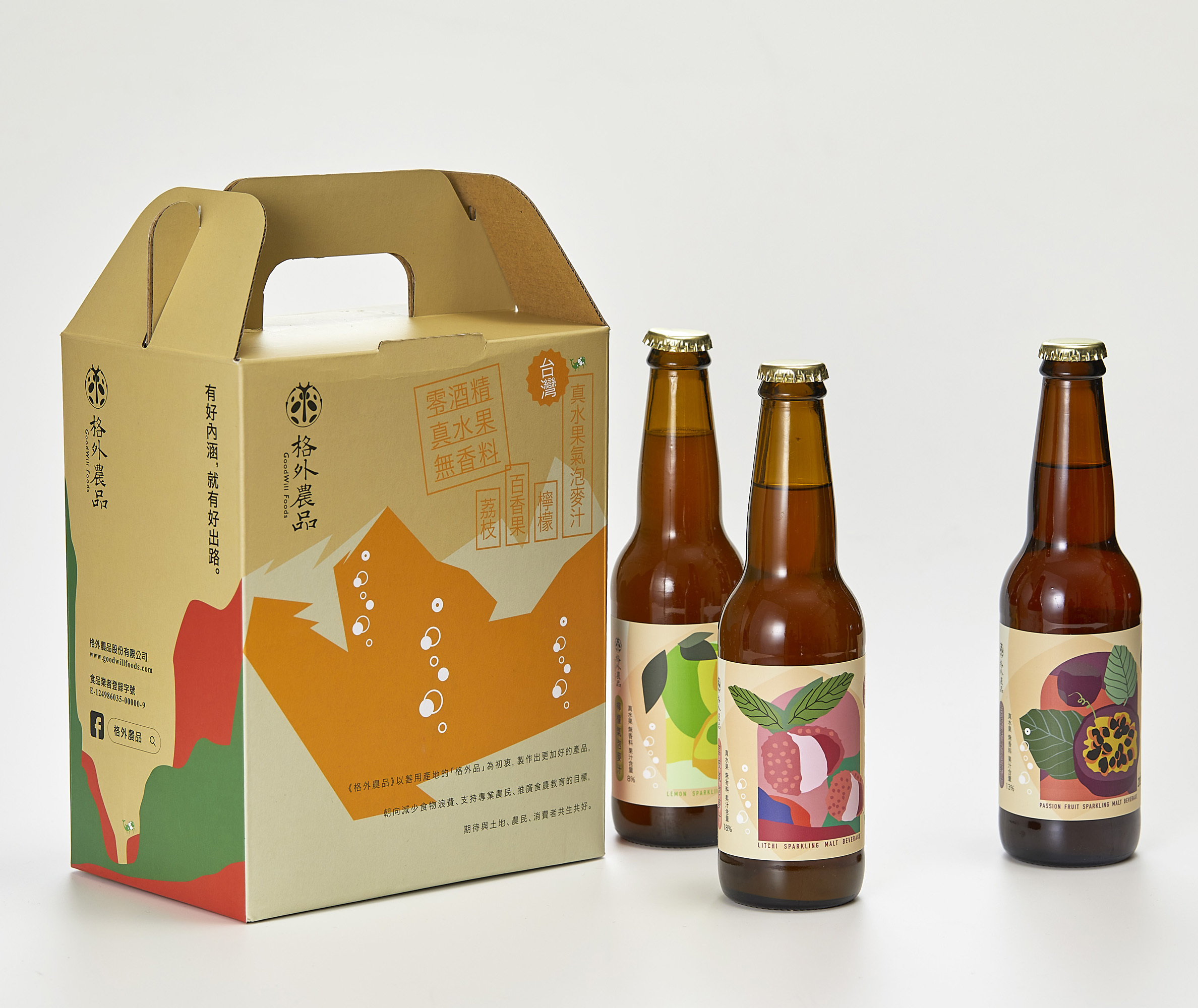 【商品介紹】
台灣真水果氣泡麥汁:檸檬、百香果、荔枝氣泡麥汁
選用台灣的代表性水果:檸檬(果汁含量6%)、百香果(果汁含量10%),荔枝(果汁含量13%),開瓶時果香撲鼻而來,入口後氣泡刺激味蕾帶來絕佳的清涼感,果汁尾韻與與德國大麥汁完美融合,為您帶來無酒精的暢快氣泡感,最適合親友相聚的闔家飲品!
【成分介紹】
【原料介紹】
荔枝原汁:品種為黑葉荔枝、香氣充足甜度高、農藥殘留檢驗合格
檸檬原汁:產地屏東、產銷履歷驗證、2019年美國加州電商KUDO盲測評比冠軍
百香果原汁:產地南投埔里、農藥殘留未檢出、外銷美國
德國大麥:釀製過程完全不使用其他副原料,釀造後停止發酵,將澱粉轉換為單醣,所以沒有酒精成份,卻保留了啤酒的香味。
Lemon (6% juice content), passion fruit (10% juice content), and Litchi(13% juice content) are the representative fruits of Taiwan. When the bottle is opened, the fragrance of fruit comes to the nose. In the mouth, the sparkle stimulate the taste buds and bring a great cooling sensation, and the juice blends perfectly with German barley to give you a smooth, alcohol-free effervescence. It's the most suitable drink for family and friends to get together!
➢Introduction of raw materials
Litchi juice: the variety of black-leaved lychee, strong aroma and high sweetness, pesticide residue test passed.

Lemon juice: origin in Pingtung, TAP verification, 2019 California E-commerce KUDO Blind Test Winner.

Passion fruit juice: origin in Puli, Nantou, pesticide residues were not detected, exported to the United States

German barley: No other by-products are used in the brewing process. After brewing, fermentation is stopped and the starch is converted into simple sugars, so there is no alcohol content, but the aroma of the beer is retained.
小叮嚀:
1.本商品底部會有些微沉澱物為果汁纖維,屬正常現象,建議飲用前先搖晃,即可安心食用。
2.建議飲用前先冷藏、或飲用時加入冰塊,風味更佳。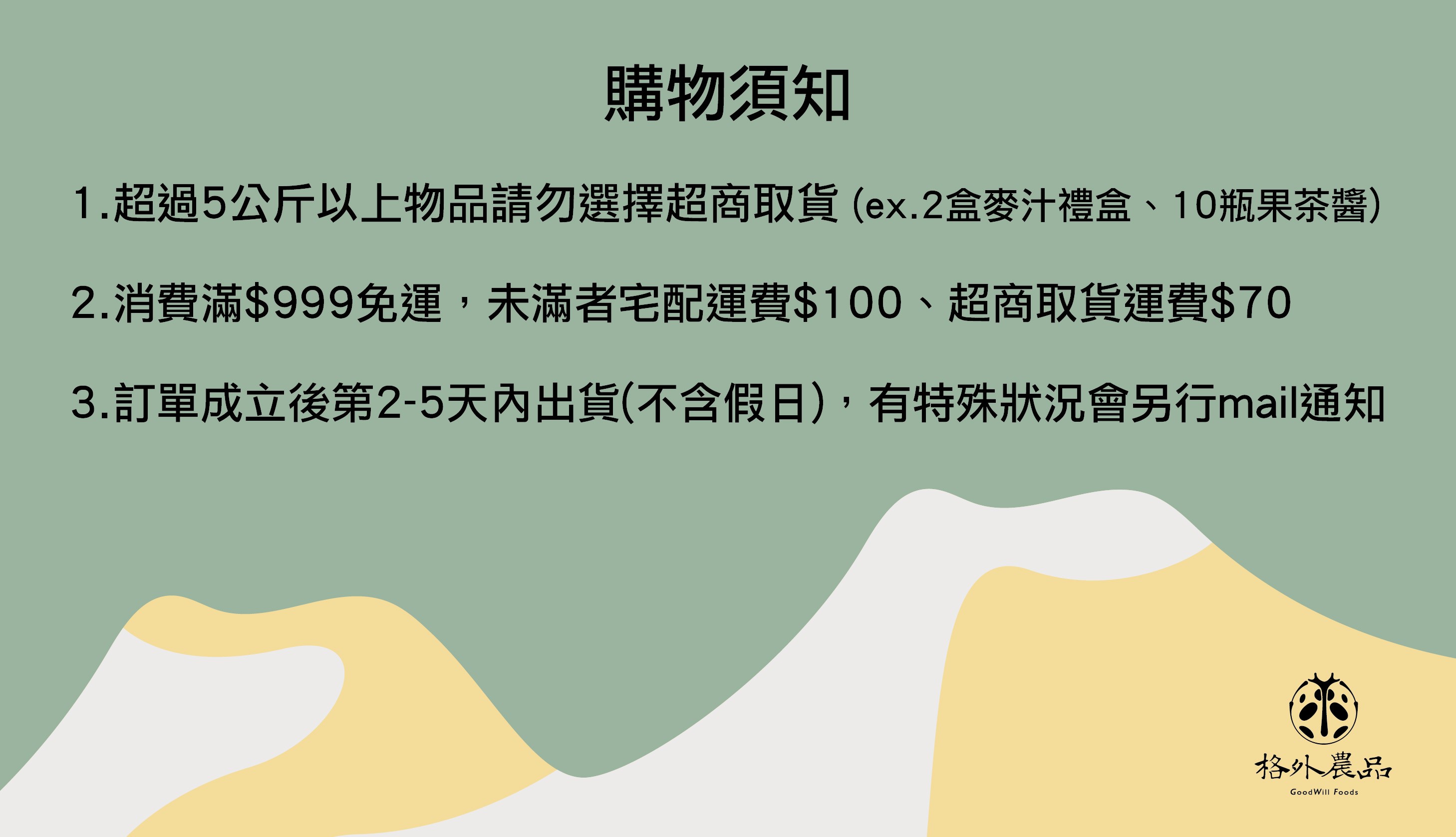 | Zone | Weight | Delivery Fee (RM) |
| --- | --- | --- |
| West Malaysia | First 3.00 kg | 5.00 |
| | Extra 1.00 kg | 2.00 |
| East Malaysia | First 0.50 kg | 14.30 |
| | Extra 0.50 kg | 5.10 |