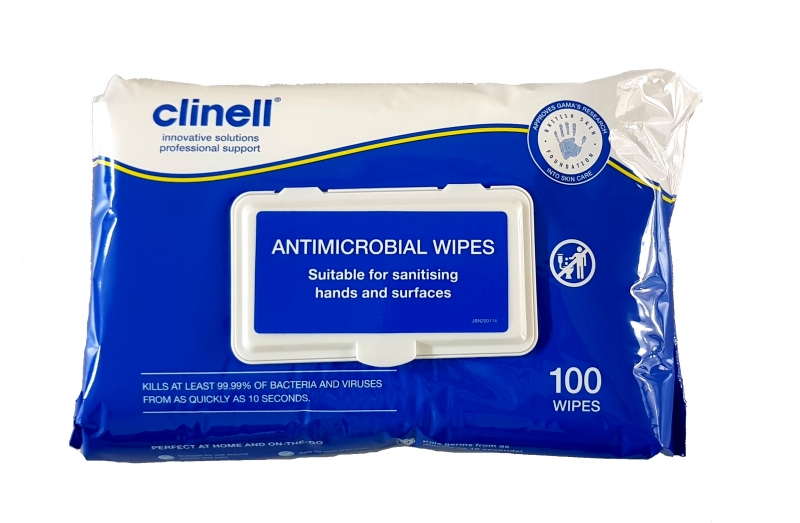 ANTIMICROBIAL WIPES FOR CLEANING & DISINFECTING HANDS AND SURFACES
- 99.9% kill rate against wide range of bacteria, fungi & viruses
- Suitable for household & office use
- Safe for wiping packaging of groceries
- Thick heavy-duty absorbent material
- More gentle on skin and is suitable to be used as hand wipes
- Product of GAMA Healthcare Ltd., UK
- Wipe size: 180mm x 260mm, Weight: +/- 60g/metre sq
COMPOUNDS:
i) Phenoxyethanol (<0.6%) - Generally use as preservatives in cosmetics, pharmaceuticals and also to preserve liquid protein concentrates
ii) Biphenyl-2-ol (<0.1%) - Is used as biocide for human hygiene, disinfection, veterinary hygiene, foods and animals industry
iii) Benzalkonium chloride (BAC <0.6%) - Widely used in formulation of disinfectants and sanitizers for the hospital, livestock, food & dairy and personal hygiene sectors
iv) Didecyldimethylammonium chloride (DDAC <0.6%) - Used commonly as disinfectant in humidifiers and swimming pools
KILLS GERMS FROM AS QUICKLY AS 10 SECONDS!
*MRSA (10 seconds)
*Klebsiella (10 seconds)
*S. aureus (10 seconds)
*E. coli (10 seconds)
*Listeria (10 seconds)
*Campylobacter (10 seconds)
*Pseudomonas (10 seconds)
*Salmonella (10 seconds)
*Candida (10 seconds)
*Norovirus (10 seconds)
*Adenovirus (10 seconds)
*Human coronavirus (10 seconds)
Efficacy of this product as surface disinfectant is not compromised when used in non-medical facilities environment
Clinell Hands & Surface Wipes is unlikely to cause significant skin irritation or allergic reaction based on toxicological assessment conducted by the manufacturer. However, for individuals with known skin allergy / disease(s), please do consult your doctor before using as hand wipes. For prolonged usage as a surface disinfectant, wear gloves to prevent drying of skin.
HOW TO USE:
1. Wear glove to protect hand, especially for prolonged use (to avoid drying of the skin).
2. Remove one wipe from the pack.
3. Working from clean to dirty, wipe in an "S" shape pattern, taking care not to go over the same area twice.
4. Change the wipe if it becomes dry/soiled and discard. Let the surface air dry.
SAFETY, HANDLING & STORAGE INFORMATION:
1. For external use only. Keep away from children.
2. If irritation or allergic reaction develops and persist for >72 hours, seek medical advice.
3. For prolonged use, wear gloves to avoid drying of the skin.
4. The product is water based, therefore not flammable or explosive.
5. Store in a cool, dry, well-ventilated place, away from direct sunlight.
6. Do not allow to freeze. Keep container closed when not in use.
7. Do not macerate. Do not flush.
| Zone | Weight | Delivery Fee (RM) |
| --- | --- | --- |
| East Malaysia (Sabah & Sarawak) | First 1.00 kg | 18.00 |
| | Extra 1.00 kg | 15.00 |
| Peninsular Malaysia | First 2.00 kg | 10.00 |
| | Extra 1.00 kg | 3.00 |
| Singapore | First 1.00 kg | 38.00 |
| | Extra 0.50 kg | 12.00 |
| Brunei, Indonesia, Philippines & Thailand | First 0.50 kg | 89.80 |
| | Extra 0.50 kg | 25.40 |
| Vietnam & Cambodia | First 0.50 kg | 149.60 |
| | Extra 0.50 kg | 36.00 |
| Laos & Myanmar | First 0.50 kg | 224.40 |
| | Extra 0.50 kg | 52.40 |
Order & Delivery Schedule
Delivery fee for each purchase will be determined by the weight and delivery destination based on the delivery rate and to be paid by the recipient.
All orders will be delivered via City-Link.
No delivery over weekends (Saturday and Sunday) and / or Public Holiday. Delays in delivering your order might be incurred due to holidays, extreme bad weather or any type of natural disaster.
No order accepted for delivery to any P.O. Box address.
We will deliver order to the delivery address specified in the online order form; hence, in the event of any unsuccessful delivery due to either absence in receiving order and / or wrong , incomplete delivery address; We will not be held responsible and / or bear any cost to re-route and /or to re-deliver parcel. It is therefore important to ensure delivery address filled in the form is correct.
We will also not be held responsible to refund full payment of order after paid and /or replace products if missing during the re-routing and / or re-delivery process due to wrong and /or incomplete delivery address given.
Delivery address cannot be changed / modified once order's transaction has been approved.
City-Link Express:
http://www.citylinkexpress.com
City-Link Express Hotline: 1-300-88-2489