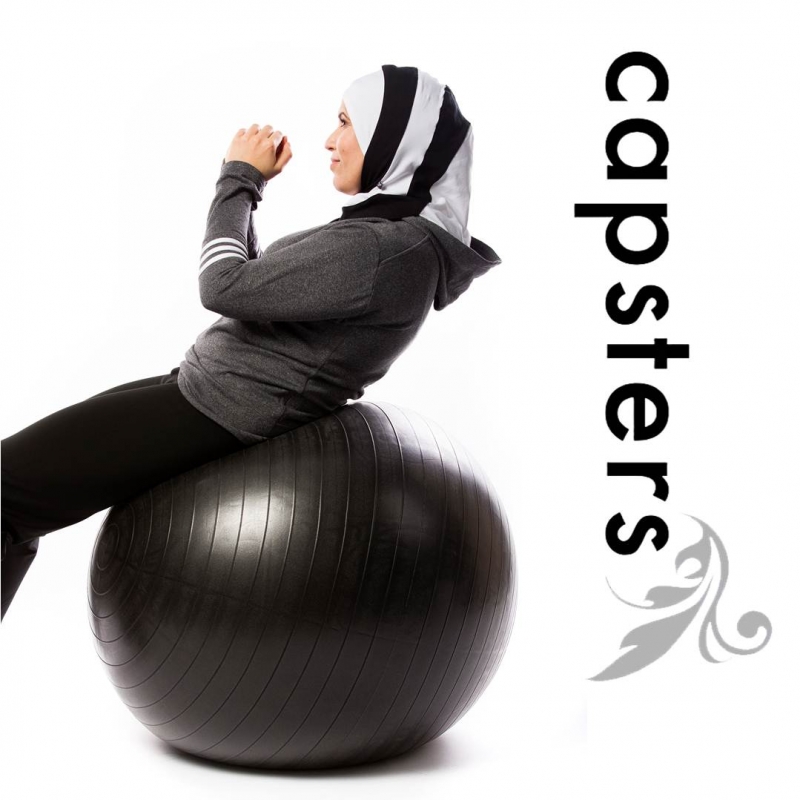 Hightlights:
Product Type:

Sports Hijab

Model: Fitness
Material: 96% viscose, 4% elastane / Lightweight Dry Muslimah Sports Wear
Size: Free Size / Fits to all
Colour: Black & White

Code:

CPS010101

Category:

Muslimah Sports Wear

Feature:
it's a ready-made fit

the comfortable designs

the strectchable material

no need for an undercover, pins or knots

one-size-fits-all
Discription:
Capsters
Fitness
is a good choice if you like natural fibers. It is made of a soft and light jersey, which is suitable for low or medium intensive sport activities. Or match your casual outfit with this sport hijab for an easy day!
Capsters is an established reseller of high quality Capsters sports hijabs. Back in 1999 Capsters designer Cindy van den Bremen graduated on a series of sport hijabs for a girl who got expelled from gym class because of her supposedly unsafe hijab. To her surprise the problem of sports & hijab appeared to be universal. Orders started coming in and she decided to launch the brand Capsters in 2001.
Capsters became a Ltd. in 2008 and works with a network of local resellers in over 15 countries worldwide. Capsters believes the hijab should not limit girls and women to practice sports wherever, whenever. In 2012 Capsters worked closely with the team of Prince Ali Bin Al Hussein of Jordan to lift the FIFA hijab ban on the football field. Capsters designed the Capsters Football which is officially approved by FIFA and has a fastening device that has been tested and approved on safety.
We believe in the empowerment of women through sports. We showcase and work with role models worldwide through our social media to inspire other women and girls and to smash stereotypes. We work together with international organisations to showcase successful Muslim women.
Our business is built along the lines of trust and integrity and we hope that reflects in our communication with our wearers and fans. TThe Capsters designs have won a Good Design Award and are part of the permanent MoMA in NYC, USA.
Capsters® - The original sports hijabs. Since 2001.
Capsters® offers a comfortable and ready-made fit. You don't need an undercover, pins or knots.
Capsters® creates modern designs in a variety of stretchable materials and different colours.
We also accept customised orders.

Brought to you by Capsters
capsters.com
www.instagram.com/capsters
www.facebook.com/capsters
[email protected]
| Zone | Weight | Delivery Fee (RM) |
| --- | --- | --- |
| West Malaysia | First 1.00 kg | 8.00 |
| East Malaysia | First 1.00 kg | 15.00 |
| Brunei & Singapore | First 1.00 kg | 35.00 |
| China, HK, Indonesia, Myanmar, Philippines, Thaila | First 1.00 kg | 45.00 |
| Bangladesh, S.Lanka, Rest of ASEAN, Macao, Taiwan | First 1.00 kg | 65.00 |
| Australia,Japan,India,Pakistan,Qatar,UAE,Saudi | First 1.00 kg | 75.00 |
| Rest of the World | First 1.00 kg | 100.00 |
Shipping Details:
WM- West Malaysia, EM- East Malaysia

Via Pos Laju or others courier services

The order process time is from 1 to 3 working days and the delivery usually takes up another 3 days

Please email us at [email protected] should you are having any difficulties