What's in the box:
Caboki Hair Building Fiber Black 25gram ( Improved Formula) x1
Our Page : https://www.facebook.com/cabokimalaysia88/?fref=ts
We have certificate and testing report for this hair building fiber.
Also we are direct authorized from china manuficature
EU MICROBIAL TESTING REPORT

NON PARABEN CERTIFICATE

STABILITY TESTING REPORT
For the result I am sure everyone will know it, By the way i will show again the picture as reference =)
This is for doing roadshow reference :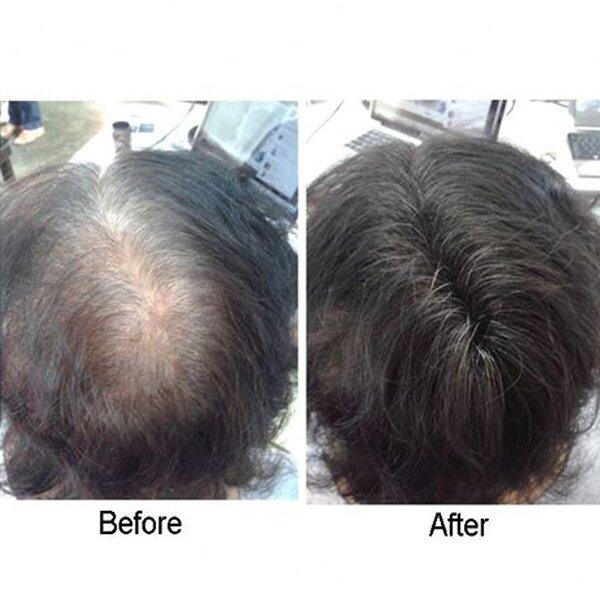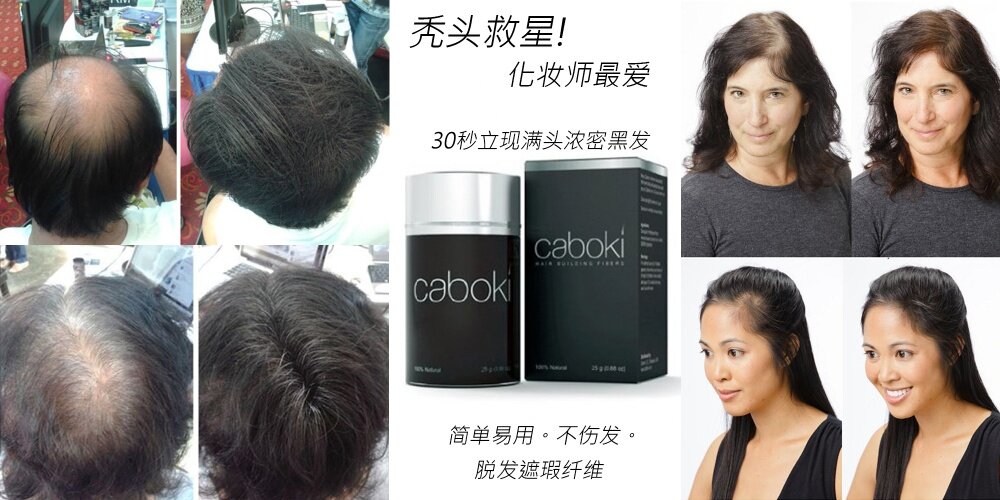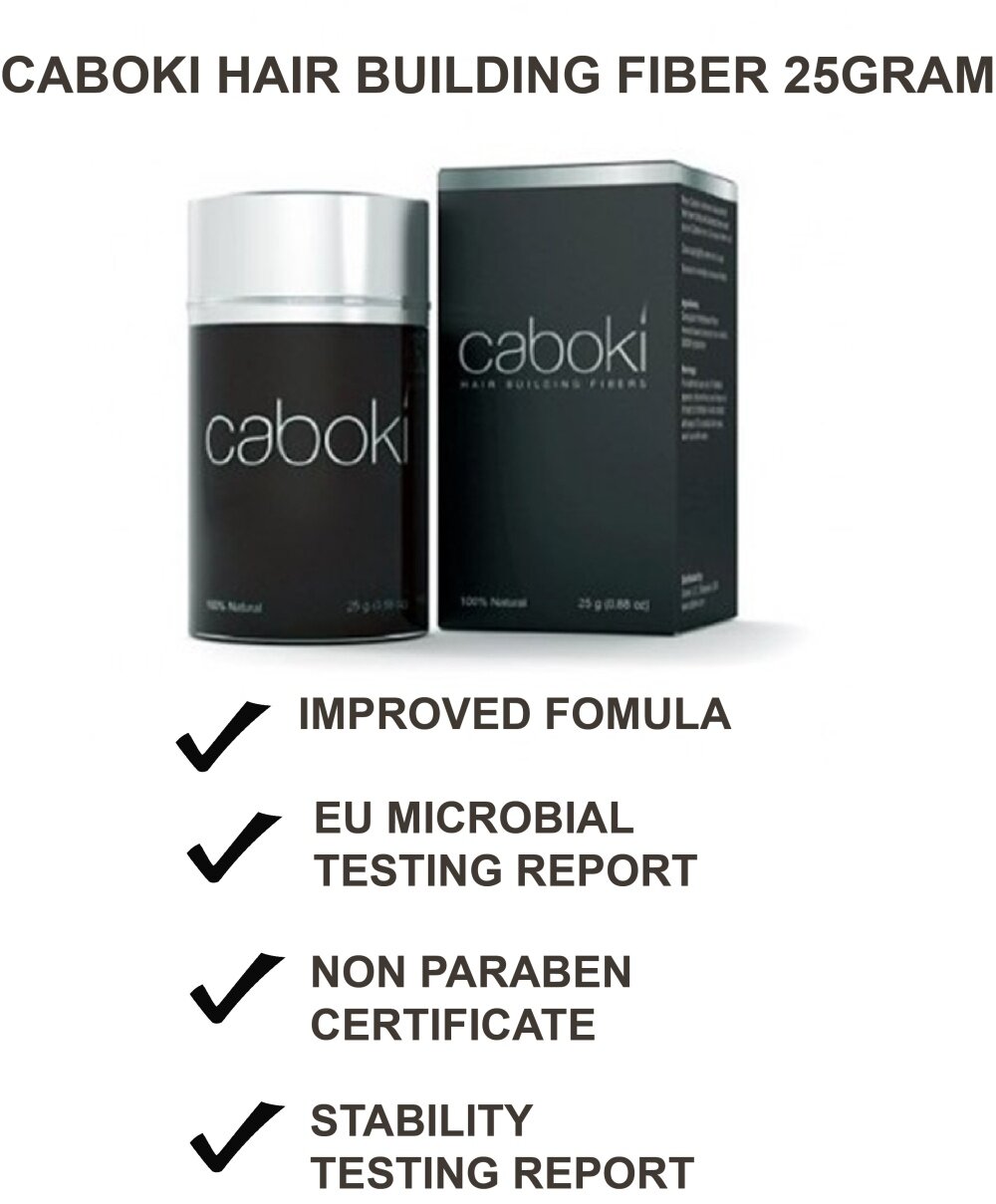 THE MAGIC OF CABOKI
CABOKI HAIR BUILDING Fibers USA
Look years younger and feel more confident now!
For Men and Women
Caboki is not what you think it is.
It is neither a "spray paint" nor a "shoe polish" type of hair products invented in the 80s.
It is like nothing you have used before.
RECLAIM YOUR CONFIDENCE, IN SECONDS.
Caboki is a breakthrough product for hair loss sufferers that- Instantly eliminates bald spots or appearance of thinning hair.
- Gives you a perfectly natural look. No one will know you're using Caboki unless you tell them - even if they get a close up view, outdoor, under bright sun light.
- Last all day, all night, through wind, rain and sweat.
- Will not smear or stain your skin or clothing.
- Works for both men and women.Unlike ordinary products on the mass market, Caboki is:- Made of natural fibers from plants, safe even for sensitive scalp.
- Bonds to hair more securely.
- Free of animal ingredients, synthetic dyes, fillers and preservatives.How Caboki WorksWhen you sprinkle Caboki into a thinning area of your hair, the fibers automatically cling to your hair like millions of tiny magnets. Each thin wisp of your hair instantly becomes thicker and fuller, eliminating those embarrassing thinning areas.No more flashes of shiny scalp showing through where there should only be hair!IngredientsUnlike similar products, Caboki is totally natural.Ingredient list: Moroccan Gossypium Herbaceum, mineral-based colorants (natural iron oxide)There are no synthetic dyes or chemicals, no artificial fillers and preservatives, and no animal ingredients. The fibers in Caboki are not synthetic, man-made fibers cooked up in a lab. Instead, Caboki fibers are taken from plants, courtesy of Mother Nature.Even the most sensitive of scalps will be completely comfortable with Caboki.
Can Caboki be used with any hair type or any hairstyle?
Caboki works for any hair type, ranging from normal coarser hair to vellus hair (fine, non-pigmented hair, often called "peach fuzz") and everything in between. Caboki application is flexible to accommodate any hair style including shaved, short, long, curly, kinky, wavy, braided, frizzy, straight, colored, highlighted or frosted hair.
How long does it take to apply Caboki?
It varies, from a few seconds to a few minutes, depending on the size of thinning area and your skill level. You will get better at applying Caboki after a few uses.
What is the minimum hair length for it to work?
For best results, we recommend 0.5 inch (1 -2 cm) or longer. Caboki will NOT work on shaved head, use it after your hair grows out.
Will Caboki fall out?
Not if you follow the instructions (come with the product) and apply correctly. Caboki bonds to your hair 200% more secure than any other fiber based thickening products on the mass market. It better withstands wind, sweat and rain.
Does Caboki stain?
Absolutely not. Caboki fibers are 100% colorfast, it will never stain clothes, bed linen or your scalp. If the fibers accidentally drop onto a surface, simply dust them off.
Can I comb my hair after applying Caboki?
Yes. For best results, you should dry and style your hair before applying Caboki. However you can still comb your hair afterwards, just use a wide toothed comb. It is more for shaping than fine grooming. You can also use your hand and fingers to pat their style into place.
How long does one application last?
Each application can last for days until you decide to remove it by shampooing your hair.
Do I need special shampoo to remove Caboki?
No. You can use regular shampoo.
How long does one bottle of Caboki last?
Depending on the size of the thinning area, the 25 Gram size last approximately 50 - 75 days, 9 gram 25 days. On average, each application costs around 50 cents (again it varies with the size of the balding area).
How do I use Caboki and Minoxidil at the same time?
Apply Minoxidil (or any topical treatment) first, wait for your scalp to dry completely and then apply Caboki.
What about Propecia? Can I continue to take it while using Caboki?
Absolutely. Caboki does not interfere with Propecia whatsoever.
Can I use hairspray, hair gels or hair oil?
Hairspray - use it AFTER Caboki.
Hair gels - wait for hair gel to dry BEFORE applying Caboki.
Hair Oils - It depends on types of hair oil. You can experiment. If you do, use hair oil BEFORE using caboki.
Does Caboki change normal hair growth pattern?
No. Caboki is not a medicine or drug, it consists of natural fibers extracted from plant, it does not promote or slow down normal hair growth.
Does it work for women?
Caboki is equally effective for women as for men. In fact approximately 30% of our customers are female. Check out the video demo for women.
Does Caboki work for facial hair, like beard and mustache?
No. Caboki is for scalp hair only, not recommended for hair on other parts of your body. We are working on a new product for facial hair. The ETA on that is early 2013.
How many colors are there?
Caboki offers seven colors. One of them will match your hair color.
How to choose a color for my hair?
(1) Look in the mirror. Look at your hair root color in the thinning area. This is the color to order.
(2) If you have highlighted ends with darker roots, match the root color.
(3) When in doubt, choose the darker shade. For example if you have trouble deciding between medium brown and light brown, choose medium brown.
What if the color I have chosen does not match my hair?
You can
1) Return the product for exchange to a different color, or
2) Get refund. We offer 60-day money back guarantee, no question ask.
Can I mix two colors, how?
Yes. Follow the following steps:
Step 1: Apply a thin layer of darker shade Caboki, lightly pat your hair to disperse the product, and then
Step 2: apply the lighter shade caboki, again gently pat your hair to disperse the product.
Step 3: Repeat step 1 and 2 if necessary to get the desired coverage.
Can I use a curling iron or hair straightener with this product?
Yes, but you should use styling iron first before applying Caboki.
1805 Reviews from verified purchasers
| | | |
| --- | --- | --- |
| Zone | Weight | Delivery Fee (RM) |
| WM | First 2.00 kg | 7.00 |
| WM | Additional 1.00 kg | 5.00 |
| EM | First 2.00 kg | 12.00 |
| EM | Additional 1.00 kg | 10.00 |