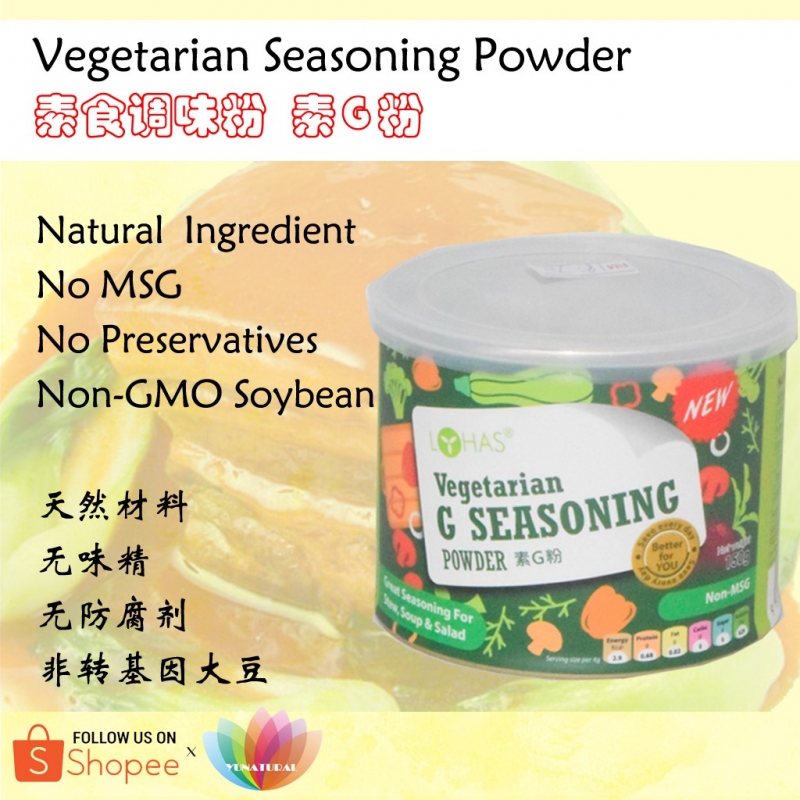 Origin: Imported
Expiry Date: More than 15 months
Product name/產品名字: Vegetarian Seasoning Powder 素食调味粉
Brand 牌子:Lohas
Ingredient/成份: Natural amino acid of soybean,Yeast extract,Seaweed extract,Natural hydrolyzed Vegetable protein ,3 Roasted Bamboo Salt ,Natural sea salt大豆天然氨基酸,酵母提取物,海藻提取物,天然水解植物蛋白,3烤竹盐,天然海盐
Net weight/內容量:150g
Application/用途:Great Seasoning For Fried Food ,Soup & Salad 炒菜,羹汤,凉拌
Country of Origin/產地:Taiwan
Precautions/注意事項:Store in cool dry place/請放置陰涼處
Calories 卡路里(per每100g):255
Glycemic Index (GI)/ 升糖指数:-
--------------------------------------------------------------------------------------------------------------------------------------------------------
Product introduction/产品介绍:
lohas G powder, made from excellent raw materials, with yeast will be soybean leaven, add sea salt, fructose and natural spices, with lactic acid decomposition after the cold, solidification, the final drying. Pigment G powder from natural plant fermentation, meat edible, especially suitable for the vegetarian community, less than a spoonful, you can let vegetable food production effect.
lohas素G粉,由優質原料製成,用酵母將大豆發酵,加入海鹽、果糖與天然香辛料,同經乳酸分解的過程後冷卻、凝固,最後乾燥製成。素G粉由天然植物發酵製成,葷素皆可食用,特別適合素食族群,少少的一匙,就可以讓蔬食料理產生提鮮效果。
Nutritional value /营养价值:
lohas vegetarian G powder only uses yeast to make the soybean leaven, adds the sea salt fructose and the fragrance material, does not add any artificial pigment, spice, MSG and antiseptic.
lohas素G粉只用酵母將大豆作發酵,加入海鹽果糖與香辛料,沒有添加任何人工色素、香料、味精與防腐劑 。
Suitable for people/适宜人群:
The average person can eat it.
Note: Because there is no addition of anticoagulant ingredients, an open seal will be placed in the refrigerator refrigeration, so as not to develop the end of the image, if accidentally happened to the quality will not change, but also please continue to use with peace of mind
一般人都能食用
注意:因為沒有添加抗凝結的成份,一開封就要放在冰箱冷藏,以免發生結塊現象,倘若不小心發生結塊了品質不會改變,也請安心繼續使用
#Vegetarian #Seasoning #Powder #素食 #调味 #粉 #g #素
| Zone | Weight | Delivery Fee (RM) |
| --- | --- | --- |
| West Malaysia | Extra 1.00 kg | 1.50 |
| | First 1.00 kg | 8.00 |
| East Malaysia - Sarawak | First 1.00 kg | 15.00 |
| | Extra 0.50 kg | 5.00 |
| East Malaysia - Sabah | First 1.00 kg | 17.00 |
| | Extra 0.50 kg | 6.00 |
| East Malaysia - Labuan | First 1.00 kg | 17.00 |
| | Extra 0.50 kg | 6.00 |