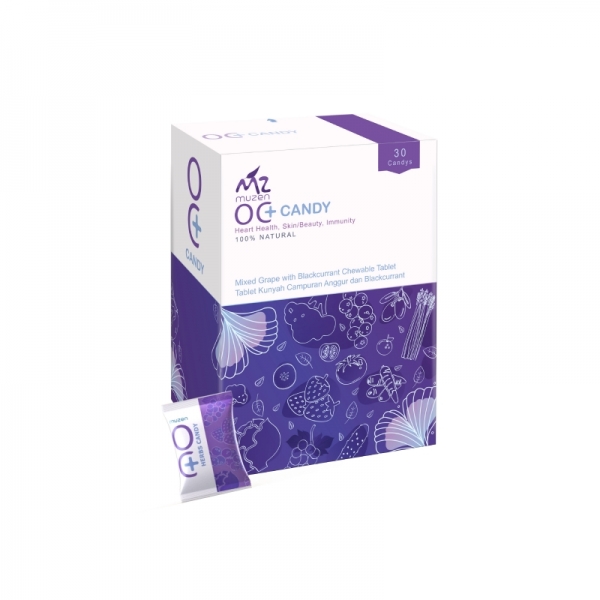 Balanced nutrition = A comprehensive healthcare
Introducing New Heart Health Technology OC+ Candy. The complete concentrated Mediterranean Diet lifestyle

OC+ is the concentrated natural essences from various vegetables, fruits, and plants. It may simplify the process of nutrition absorption for your daily life routine. The formulated product of the mixture of
milk thistle

olive extract (O'live)

Oxxynea® (11 type of fruits and 11 type of vegetables)
be able to coordinate effectively by supplying 6 powerful concentrated nutrients & Antioxidant




Muzen OC+ candy is composed of complexes with multiple ingredients that are in low and dry temperature of 50 degrees below zero, Fresh fruits and vegetables contain 90% extra moisture and it extracted by using cryogenic technology without heating. Therefore, OC+ the concentrated nutrients of fruits and vegetables able to be kept.

offers multiple of natural essence benefits:
low in sodium fat and calories

​no cholesterol

the best source of iron, vitamin C, magnesium, and calcium.
Top 16 Product Features:
- Anti-cancer
- Antiviral, anti-inflammatory, antibacterial and antifungal
- Treatment of alcoholic liver disease
- Reduce cardiovascular disease
- Anti-acidic body
- Whitening skin
- Protect your skin from UV rays
- Inhibit melanin synthesis
- Promote digestion and absorption of the stomach
- Reduce constipation
- Anti-aging properties
- Maintain healthy blood lipids
- Hypertension
- Enhance brain power
- Diabetes glycemic control
- Weight management
The Benefits of Health
Muzen OC+ / OC plus, The Mediterranean diet able to reduce the risk of coronary artery disease, and is well known in the scientific community.

According to the WHO, there's convincing data show that fruits and vegetables able to reduce the risk of coronary artery disease.
The recommended dosage is 400-500g daily, which is similar to the intake of 5 or 6 servings of fruits and vegetables.
The Anti-oxidant the only way of health maintenance.
The International Recognition Welfare – Mediterranean Lifestyle and Diet UNESCO recognized the Mediterranean diet is an intangible cultural heritage. WHO (World Health Organization) recommended that a minimum of 400g of fruits and vegetables should be eaten a day, as part of the global strategy on diet, physical activity, and health. The Mediterranean lifestyle and Diet has been widely supported by the Modern Nations Public Health Plan.
3 SPECIAL ANTIOXIDANT INGREDIENTS
1) O'LiveTM: Source of health
(Herbal extracts deriving from Olive leaf and fruit rich in Hydroxytyrosol)
The Mediterranean diet has been associated with a lower incidence of

cardiovascular disease and certain cancers. Being the olive oil, one of the major component of this type of diet.​

Leaves and drupes from the olive tree are rich in "bio-phenols". In olive oil,

Hydroxytyrosol is the most important phenol responsible for the highest

oxidation resistance of the oil.​

O'LiveTM compounds have shown several biological activities such as

antioxidant, antithrombotic, and even skin photoprotective properties.

Furthermore, O'LiveTM compounds have demonstrated antimicrobial activity by inhibiting the growth of a wide variety of bacteria, fungi, and viruses, it helps maintain blood lipids.

2) Oxxynea® - Antioxidant
Oxxynea® is powerful yet effective as all of its concentrates are extracted
from 11 recommended fruits and 11 recommended vegetables.
It also offers a unique combination of biologically active antioxidant
polyphenol that contains more fruits and vegetables, to prevent the free
radical damage. Polyphenol may improve the multiple metabolic through cardiovascular health synergy.
It bloomed from an innovative product development strategy allied to an
uncompromising scientific methodology.
A placebo-controlled study involving 36 hamsters was conducted for 12
weeks.
The improvement of the following parameters was measured:
- The Increase of the Plasmatic Total Antioxidant Capacity (+10%).
- Anti-aging benefits: Decrease of the cardiac Reactive Oxygen Species
overproduction (-45,5%).
- Cardiovascular benefits: Decrease of the total cholesterol level (-11,7%) and aortic fatty streak accumulation (-77%).
3)Milk thistle
Milk thistle is a herb with thousands of years of history. After the leaves of milk thistle are crushed, it will release some milky white juice, therefore, it is called milk thistle.
It contains Silymarin, one of which is active in protecting the liver, antioxidant, anti-viral and anti-inflammatory.

Silymarin can also be used to treat alcoholic liver disease, acute and chronic viral hepatitis, and toxin-induced liver disease.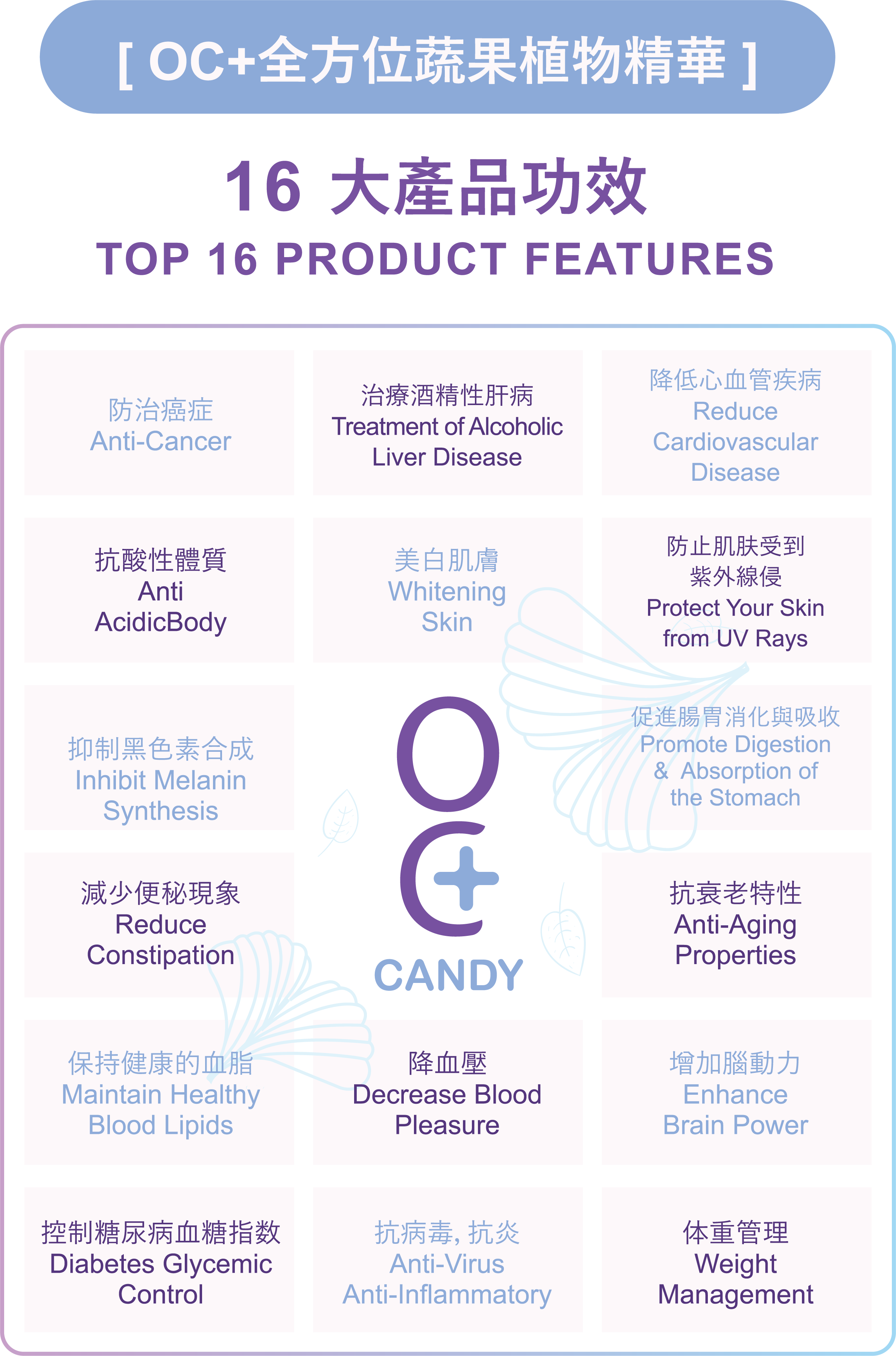 Alkaline food

Rich in antioxidants

Source of vegetable protein (The major source of 5 color fruits and​

vegetables)

Easy to be digested and absorbed
Who needs OC+?
People who are prone to illness

People who do not eat fruits and vegetables

People who often eat fast food

Picky Eater

People who have digestive problems

suitable for everyone
Ingredients List:
Isomaltitol, Grape Powder, Blackcurrant Powder, Blueberry Powder, Oxxynea® (Antioxidant), Orange, Grapefruit, Bilberry, Papaya Pineapple, Strawberry, Apple, Apricot, Cherry, Blackcurrant, Tomato, Carrot, Green Tea, Broccoli, Green Cabbage, Onion, Garlic, Wheat Germ, Cucumber, Asparagus), Milk Thistle, Olive Extract (O'LiveTM), Vitamin A, Vitamin C, Vitamin E.
Suggested Use:
Take 1-2 candies in daily.
Storage direction:
Store in cool, dry places

Keep out of reach of children
Net Weight:
600mg x 30 candies
| Zone | Weight | Delivery Fee (RM) |
| --- | --- | --- |
| West Malaysia | First 1.00 kg | 4.80 |
| | Extra 1.00 kg | 2.00 |
| East Malaysia | First 1.00 kg | 13.00 |
| | Extra 1.00 kg | 9.00 |