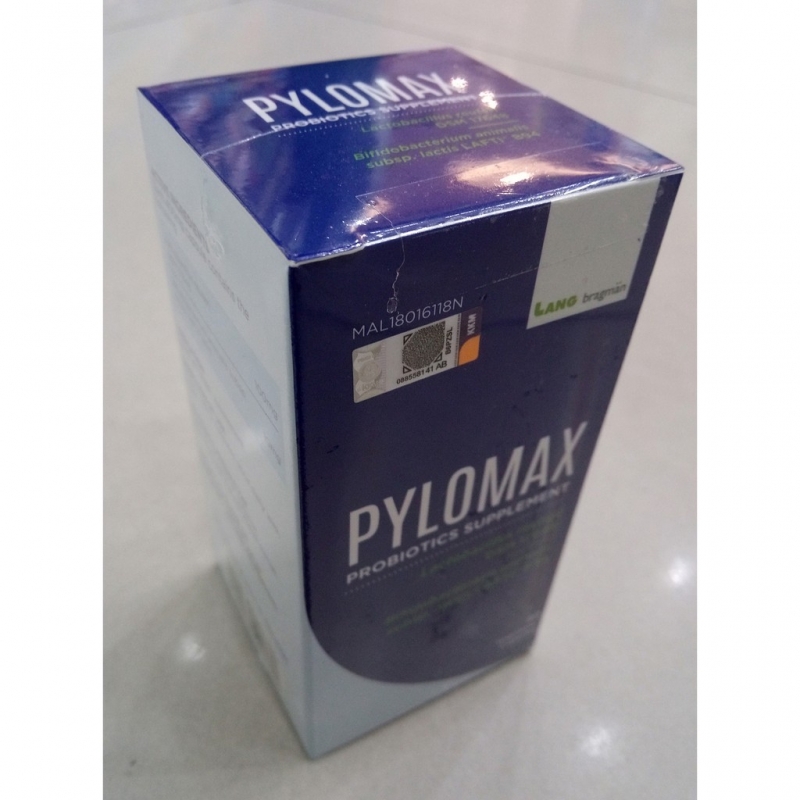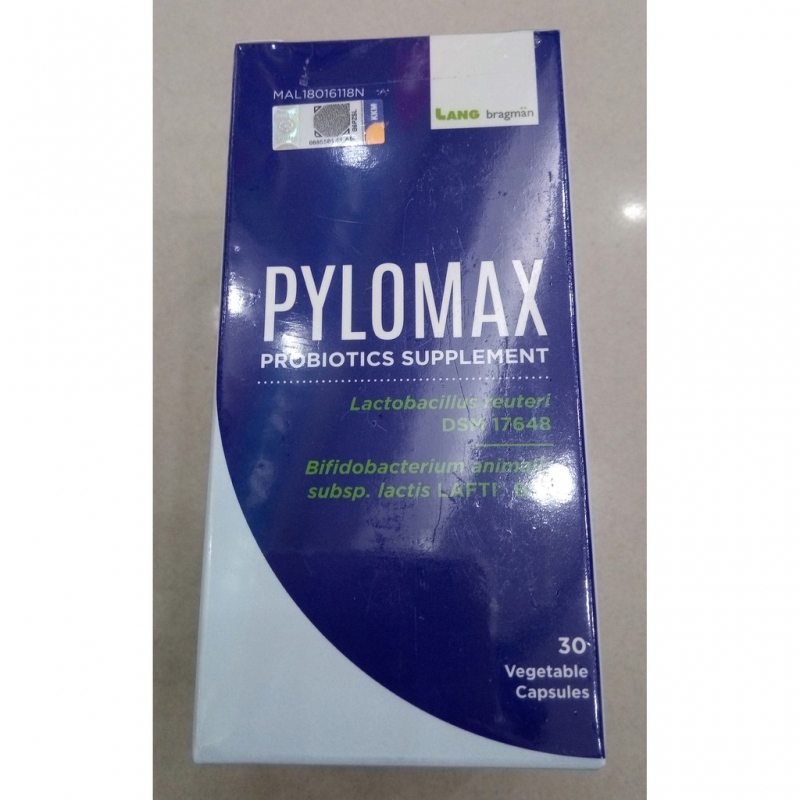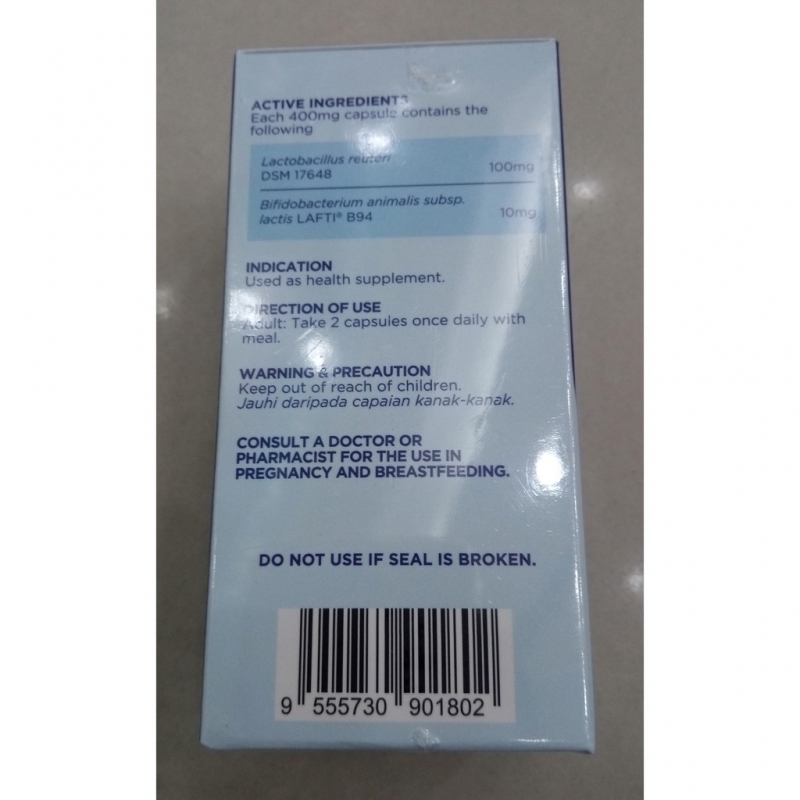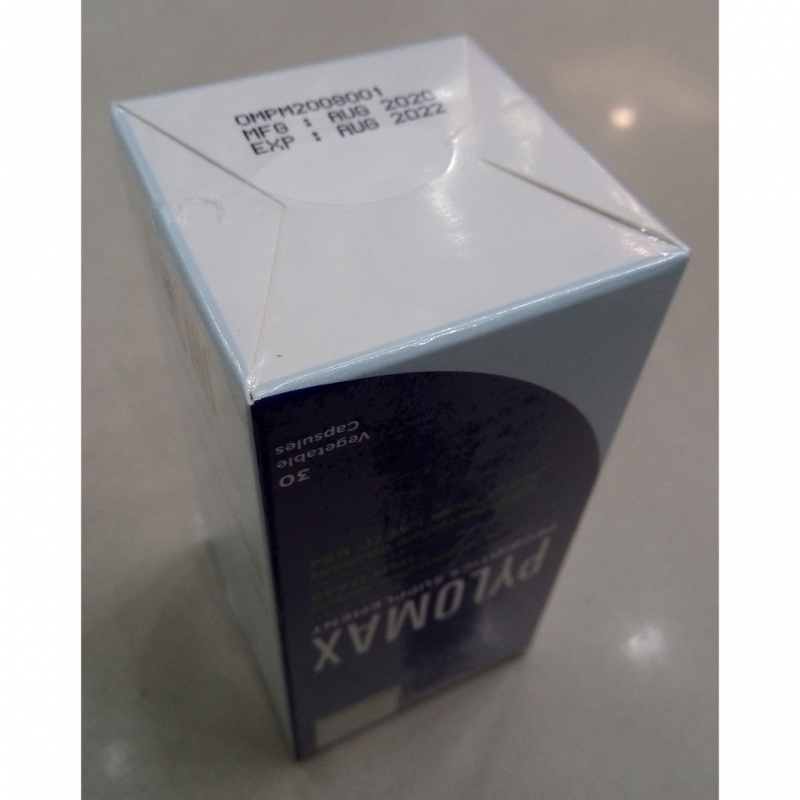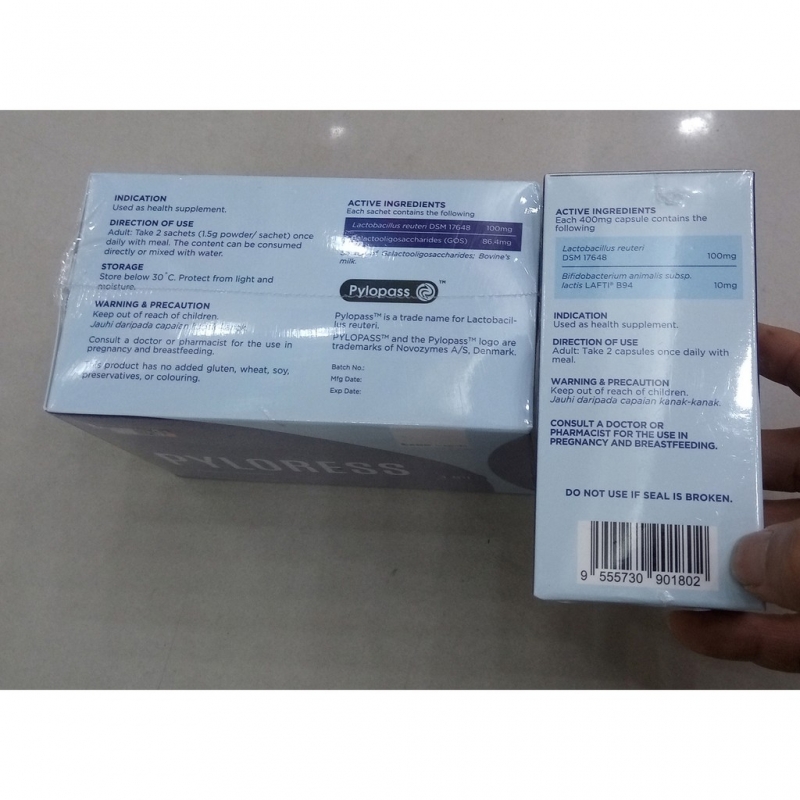 1/5
Lang Bragman Pylomax Capsule 400mg, 30pcs - Minor Gastric Cure, Restore Gut Health, Gastrik Usus
Product Information
Size (length*width*height): 15cm x 20cm x 13cm
Expiry Date: Normal Expiry
Function: Intestinal Problems
Formulation: Capsules
Lang Bragman Pylomax Capsule 400mg, 30pcs - Minor Gastric Cure, Restore Gut Health, Gastrik Usus
- SKU: PYLOMAX-LANGBRAGMAN-400MG-30PCS
- Specification:
(01) Color: White
(02) Dimension: 54mm(W) x 54mm(D) x 109mm(H)
(03) MAL 18016118N
(04) 400mg Each capsule, 30pcs vegetable capsules in a bottle, packed in a box, simple air sealed.
(05) Pylomax is a high strength probiotic health supplement under Pylopass trademark which is made up of 2 types of different probiotic strains throughout our gastrointestinal tract.
(06) Pylomax is carefully formulated with evidence based probiotic Lactobacillus reuteri DSM17648 and Bifidobacterium animalis ssp. lactis - LAFTI® B94.
(07) Lactobacillus reuteri DSM 17648, is obtained through microbial fermentation. Scientists in Germany succeeded in identifying a strain of Lactobacillus reuteri after a detailed, screening process. It showed to promote balanced gut microbiota.
(08) Bifidobacterium animalis ssp. lactis - LAFTI® B94 is resistant to gastric & bile acidity, able to survive through human gastrointestinal tract.
(09) PRODUCT HIGHLIGHTS :
- Promote normal gastrointestinal health
- High stability in gastric condition
- Good tolerability
- No added gluten, wheat, soy, chemical preservatives and colouring
(10) DIRECTION OF USE :
- Adult: Take 2 capsules (800mg, 400mg per capsule x 2) once daily after meal.
(11) ACTIVE INGREDIENTS :
- Lactobacillus reuteri DSM 17648 - 100mg
- Bifidobacterium animalis ssp. lactis - LAFTI® B94 - 10mg
(12) Malaysia READY stock.
(13) Please allow slight dimension difference due to different manual measurement.
(14) Package include: Capsule x 30pcs.
(15) Value Added Service: We are 100% guarantee that, OFFICIAL INVOICE will be issued and attached together with the purchase for customer's future claim purpose if have any. Please state clearly the billing party and delivery details. Bewared and put highly alert with the invoice documents attached in the packaging upon goods receiving. Hence, kindly feel hassle free with the purchase.
(16) For more details, please contact us.
#langbragmanpylomax #pylomax #pylopass #digestive #supplement
Shipping Information
| Zone | Weight | Delivery Fee (RM) |
| --- | --- | --- |
| West Malaysia | First 3.00 kg | 6.00 |
| | Extra 1.00 kg | 2.00 |
| East Malaysia | First 0.50 kg | 14.30 |
| | Extra 0.50 kg | 5.10 |