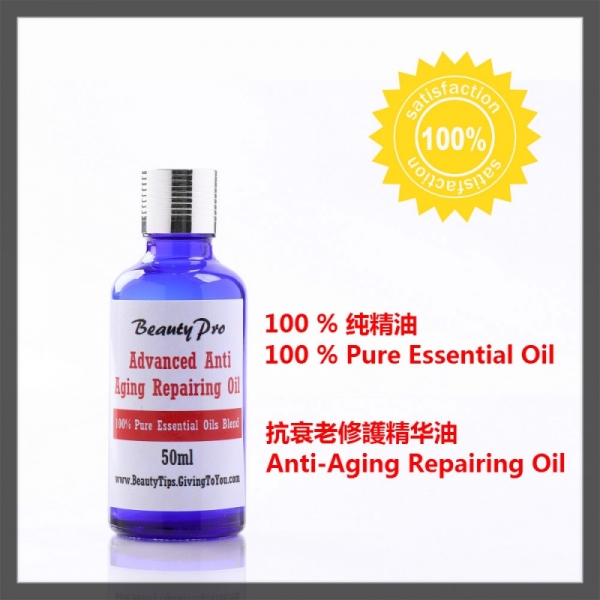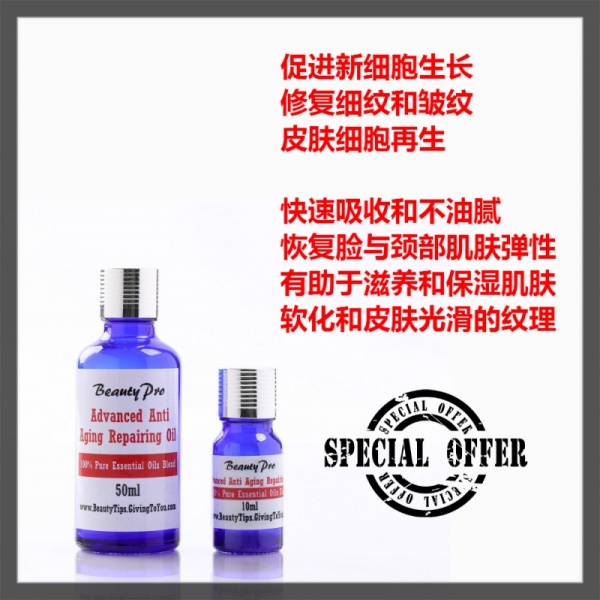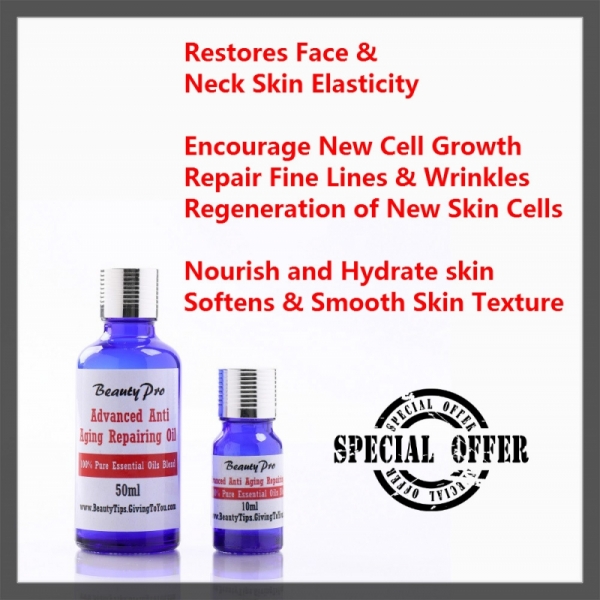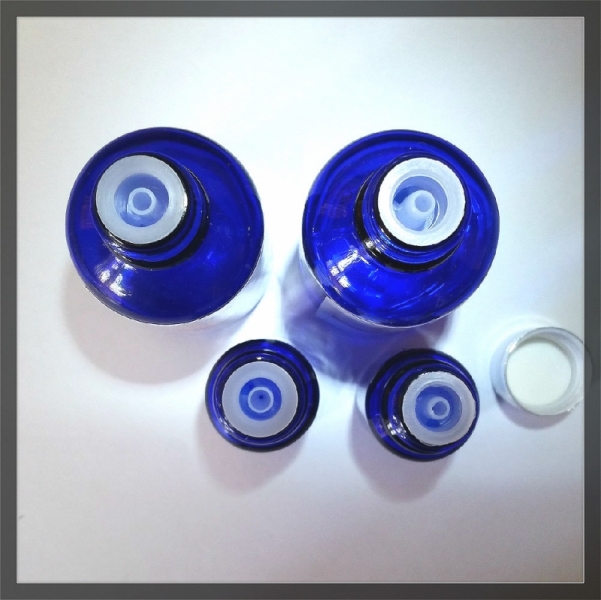 1/4
Anti-Aging Repair Essential Oil -50ml- Restore Wrinkles Fine Lines Skin Toning Lifting Firm Collagen
Product Information



Advanced Anti-Aging Repairing Oil
抗衰老修護精华油
100 % Pure Essential Oil Blends


Main Action

Restores Face and Neck Skin Elasticity
Encourage New Cell Growth
Repair Fine Lines and Wrinkles
Regeneration of New Skin Cells
Fast Absorbing and Non-greasy
Helps Nourish and Hydrate skin
Instantly Softens and Smooth Skin Texture


Advanced Anti-Aging Repairing Oil Blend contains a proprietary blend of these essential oils:-






Rosemary Oil:

Rosemary oil is a natural skin care ingredient that can help improve skin elasticity and firmness, reduce the appearance of fine line, deep wrinkles, and brown age spots on face. Rosemary essential oil encourages the growth and regeneration of new skin cells making it really helpful for anti- aging skin care.


Frankincense Oil:

Frankincense is a truly unique essential oil, with a rich, aromatic scent that is calming to your senses, your emotional state, and overall sense of well-being. Frankincense essential oil is cytophylactic, which means that it helps protect existing cells and encourage new cell growth. Its anti-aging properties are best for reducing wrinkles and tightening loose sagging skin. This natural oil reduces chapped and dry skin, and removes scars and stretch marks from the skin.


Patchouli Oil:

Patchouli aromatherapy oil is an essential oil made from the leaves of the patchouli bush. Its anti-aging properties make it a good additive for all skin types. Many body lotions and wrinkle creams include patchouli essential oil as a key ingredient in their formulas.


Myrrh Oil:

The reputation of myrrh essential oil in aromatherapy is unassailable. Myrrh essential oil can be used to rejuvenate aging skin. This anti-aging skin care product works by giving your complexion a fresh new glow while at the same time helps to reduce deep wrinkles.







Neroli Essential Oil

Neroli essential oil is extracted from the flower petals of the orange tree. Neroli essential oil is ideal for dry, sensitive and mature skin, and beneficial to aging and sagging skin. Used regularly, it may help to smooth out wrinkles on face and helps improve dry and crepey looking skin on neck.


Clary Sage

Clary sage essential oil has antioxidants that help reverse signs of aging, like wrinkles and skin discoloration. These antioxidants provide your body with natural protection against free radicals that damage skin cells, causing aging.


Suggested Usage for Advanced Anti-Aging Repairing Oil

Pour 5 to 10 drops of Advanced Anti-Aging Repairing Oil between hands and massage gently onto cleansed face and neck morning and evening before moisturizing.
(Apply it to the face, neck and eye area)







Other Usage Guidelines for Advanced Anti-Aging Repairing Oil

Added/Mix to Skin Cream or Skin Lotion
Added/Mix to Body Cream or Body Lotion
Added/Mix to Face Mask or Body Mask
Added/Mix to Face or Body Scrub
Added/Mix to Massage Cream or Massage Oils
Blending with Others Essential Oils
Ingredients for Homemade Skin Care
Ingredients for Homemade Soap


Product Shelf Life :

2 years under well storage situation and stored away from direct sun light.


Recommended Skin Types:

Mature, Sensitive, Dry, Oily, Combination/Normal Skin
Shipping Information
| Zone | Order Total (RM) | Delivery Fee (RM) |
| --- | --- | --- |
| West Malaysia | From 20.00 | 3.00 |
| East Malaysia | From 20.00 | 5.00 |