Mall

[TAITRA] [OPUS] 3D Metal Puzzle, DIY Educational, Building Toys (B22235 Chongli Gate)
Product Information
Material: stainless steel, brass alloy (non-prime material) Dimensions: 95mm x 38mm x 65mm Operation: snap phase, without glue production tools: scissors, tweezers (with the goods included) Assembling Difficulty: ?????? ? ?
Plastic box comes with scissors, tweezers, brochures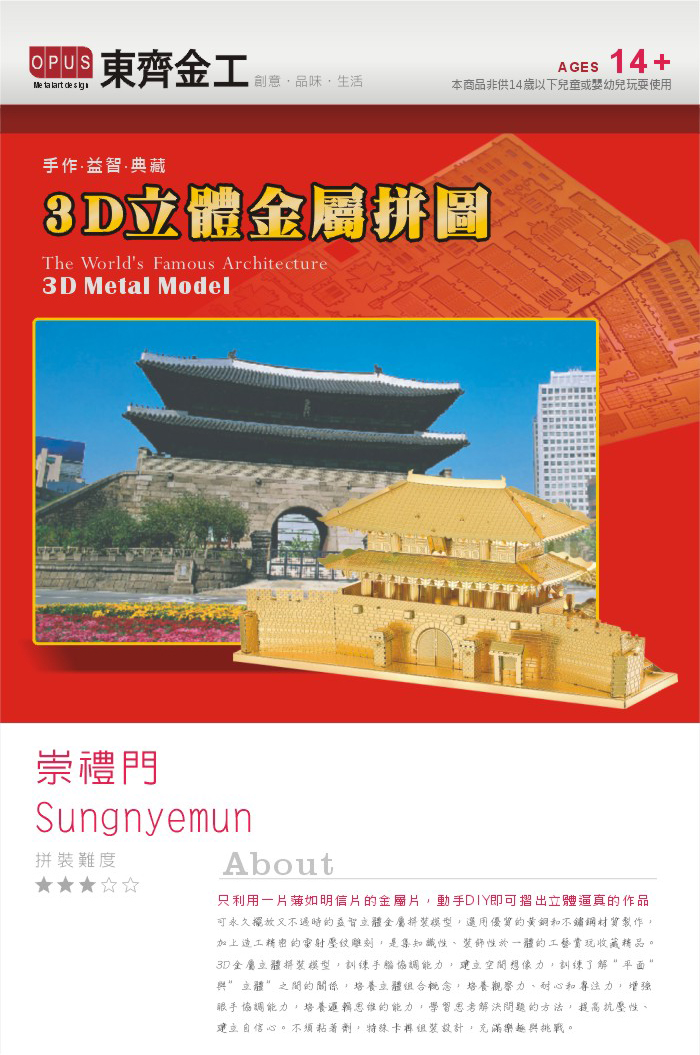 ●關於崇禮門
崇禮門是早年漢城四度城門之中規模最大的城門,曾經是首爾歷史最悠久的木造建築物。於1395年起建造,
於1398年朝鮮王朝時代落成,於1447年進行過大型的改建工程。日治時期,為了配合市區重建,
有關單位於1907年將城牆拆除,只餘下城門,不對外開放。韓戰期間,南大門遭受戰火破壞,
其後於1961年進行過一次大型的修復工程,於1963年5月14日完成。
城門於2005年至2006年3月3日重開放前進行過修復工程。在修復工程進行的同時,
當局作出了一份長達182頁的城門藍圖以備不時之需,因此,於2008年焚燬後,當局就計畫依此藍圖重建崇禮門。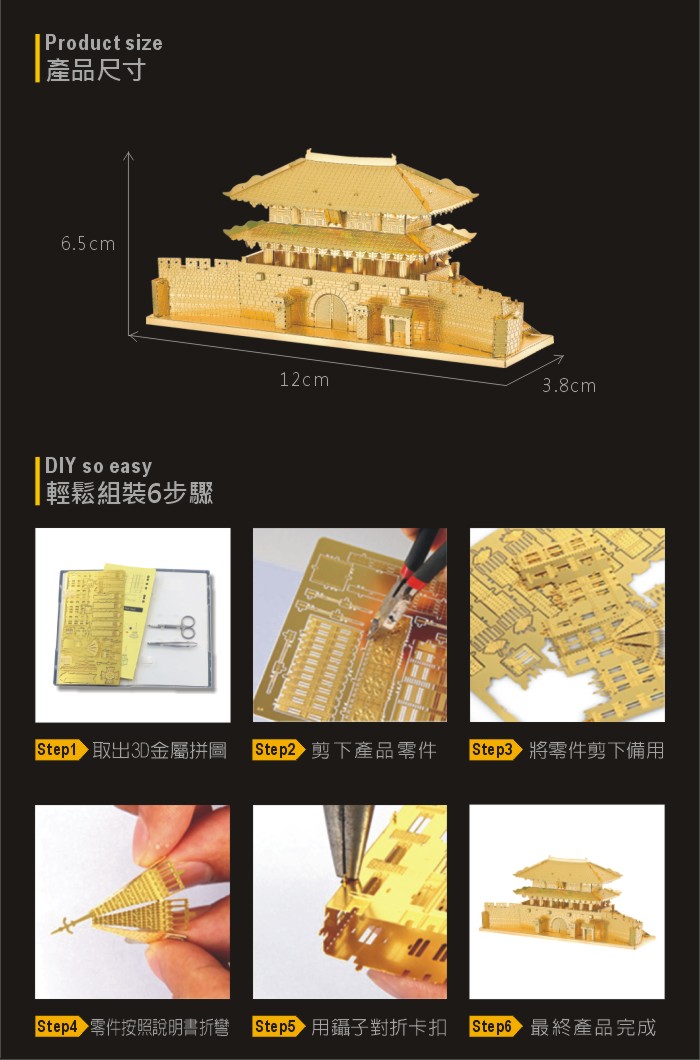 只利用一片薄如明信片的金屬片,動手DIY即可摺出立體逼真的作品
可永久擺放又不過時的益智立體金屬拼裝模型,選用優質的黃銅和不鏽鋼材質製作,
加上造工精密的雷射壓紋雕刻,是集知識性、裝飾性於一體的工藝賞玩收藏精品。
3D金屬立體拼裝模型,訓練手腦協調能力,建立空間想像力,訓練了解"平面"
與"立體"之間的關係,培養立體組合概念,培養觀察力、耐心和專注力,
增強眼手協調能力,培養邏輯思維的能力,學習思考解決問題的方法,
提高抗壓性、建立自信心。不須粘著劑,特殊卡榫組裝設計,充滿樂趣與挑戰。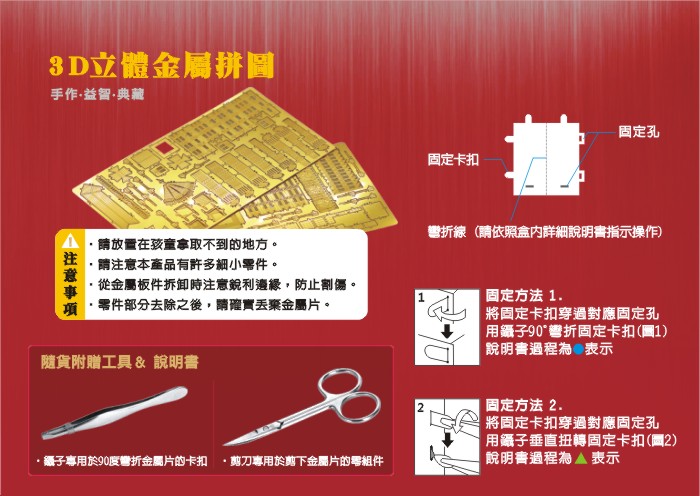 ★3D立體金屬拼圖是金屬工藝品,精密而且脆弱,組裝時間因產品難度分別從10幾分鐘到3個小時才能完成,
組裝時請小心施力,請善用剪刀、鑷子,避免直接用手去折,否則容易造成零件斷裂或刮傷手指。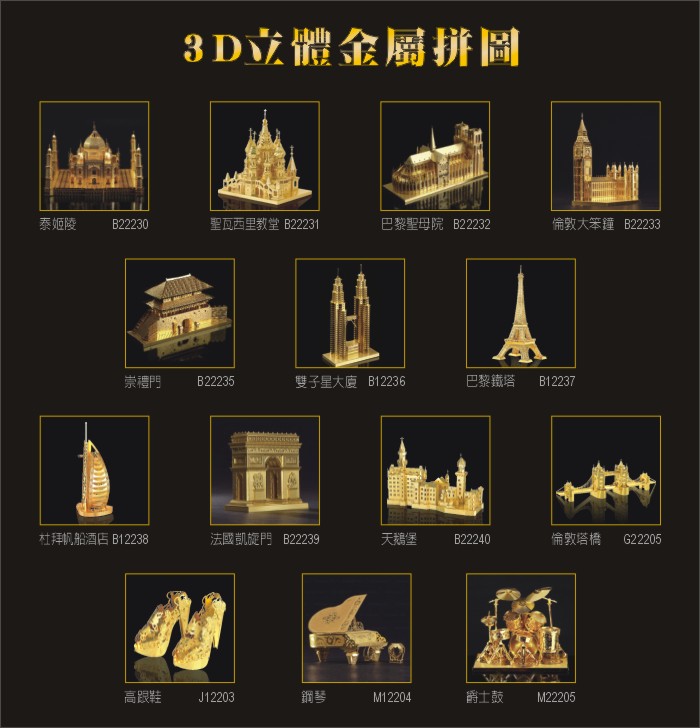 本商品規格

產品材質:不鏽鋼、黃銅合金(非黃金材質) 產品尺寸:120 x 38 x 65mm 操作方式:卡扣相接、無需膠水 製作工具:剪刀、鑷子(隨貨附贈) 拼裝難度:★★★☆☆
備註

●3D立體金屬拼圖是金屬工藝品,精密而且脆弱,組裝時間因產品難度分別從10幾分鐘 到3個小時才能完成,組裝時請小心施力,請善用剪刀、鑷子,避免直接用手去折, 否則容易造成零件斷裂或刮傷手指。 ●本產品為小金屬片構成,邊緣處較銳利,拼裝前請修剪卡扣處,以避免刮傷手指, 正確拼裝步驟請參考產品說明書進行操作。14歲以下兒童請在家人陪同下操作, 培養動手能力及增加親子互動。
Shipping Information
| Zone | Order Total (RM) | Delivery Fee (RM) |
| --- | --- | --- |
| MY | Below 88.00 | 19.00 |
| | From 88.00 | FREE |
Shipping Info
Order process take 4~7 days, and international shipping will take about 10~14 days

Important Notification:
1. PChomeSEA acts as a buying agent and does not provide product warranty.
2. Please check whether product specs (including voltage, plug type, frequency, etc.,) applys in your country.