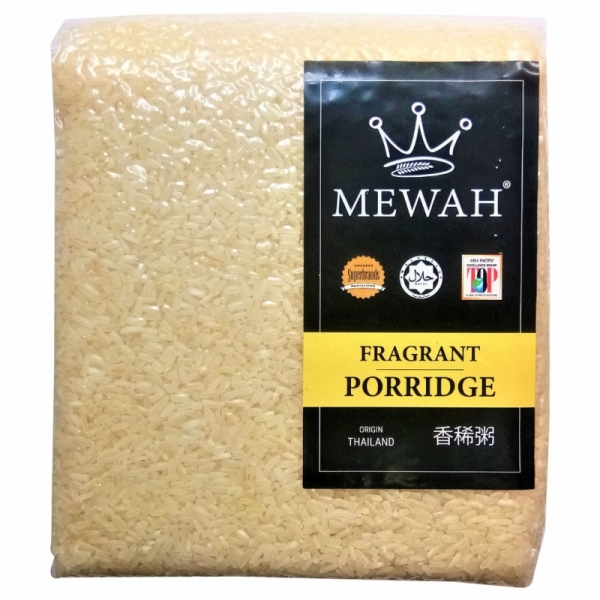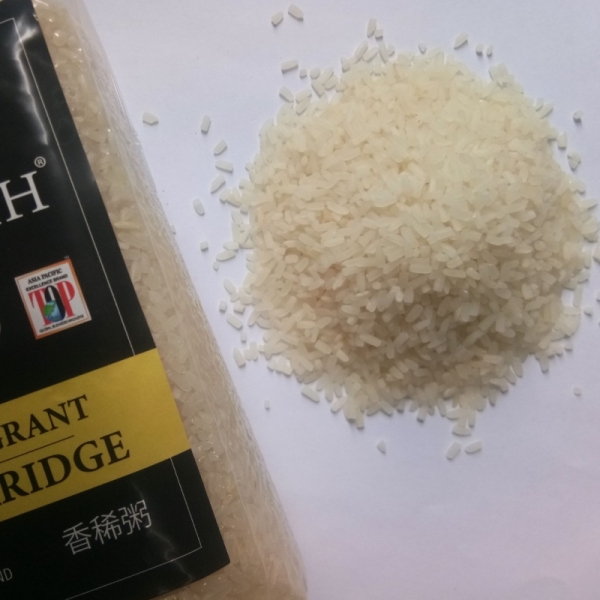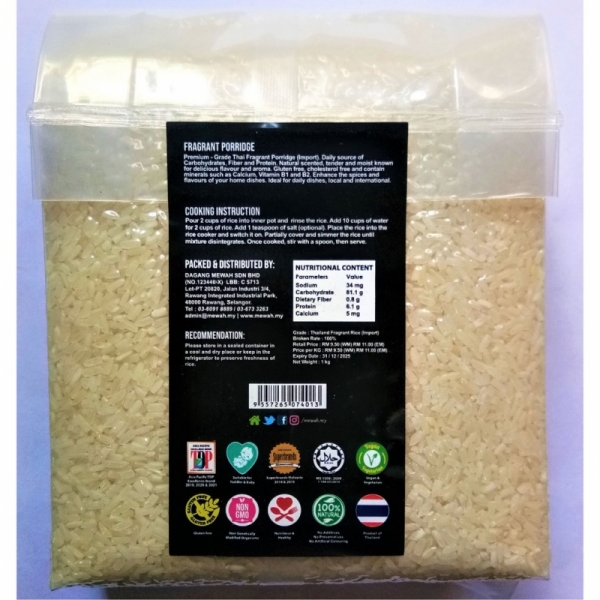 1/3
Mall

Mewah Fragrant Porridge 1Kg
Product Information
Expiry Date: More than 15 months
Certifications: Halal Certified
Mewah Fragrant Porridge is the perfect premium grains. It provides comprehensive nutrients to meet your body's daily requirements. Natural scented, tender and moist known for delicious flavour and aroma, it is perfect for your family especially toddlers and babies. Mewah Thailand Fragrant Porridge is well known to be a natural superfood with various health benefits.
- Premium-Grade Thai Fragrant Rice (Import)
- Natural scented, tender and moist known for delicious flavour and aroma
- Daily source of Carbohydrates, Fiber and Protein
- Gluten free, cholesterol free and contain minerals such as Calcium, Vitamin B1 and B2
- Enchance the spices and flavours of your home dishes
- Ideal for daily dishes, local and international
- Suitable for Toddler & Baby
Awards by:
> Asia Pacific Top Excellence Brand 2019, 2020 & 2021
> Superbrands Malaysia 2018 & 2019
> Halal Certified
MEWAH is a heritage FMCG company established since 1984 to promote healthy eating and lifestyle through our premium quality 'Grains of Goodness' in Malaysia. We supply our products to Wholesalers, Distributors, Retailers, Hotel, Restaurants and Individual customers.
The MEWAH Brand Name is Symbolic of Family, Celebration of a Healthy Lifestyle and Products Fit for Royalty!
MEWAH stands for "wealth" in Bahasa Malaysia, our national language. The name encapsulates the brand's origin and core value: good health is the ultimate "wealth" we all aim to achieve for ourselves and our loved ones. Without health, abundance isn't possible. Hence MEWAH aim to elevate the love and appreciation of premium health grains by all, far and wide. For superheroes are not born, but grown with every new lesson, experience, and serving of pure-to-goodness grains they consume!
Shipping Information
| Zone | Weight | Delivery Fee (RM) |
| --- | --- | --- |
| West Malaysia | First 3.00 kg | 6.00 |
| | Extra 1.00 kg | 2.00 |
| East Malaysia | First 0.50 kg | 14.30 |
| | Extra 0.50 kg | 5.10 |