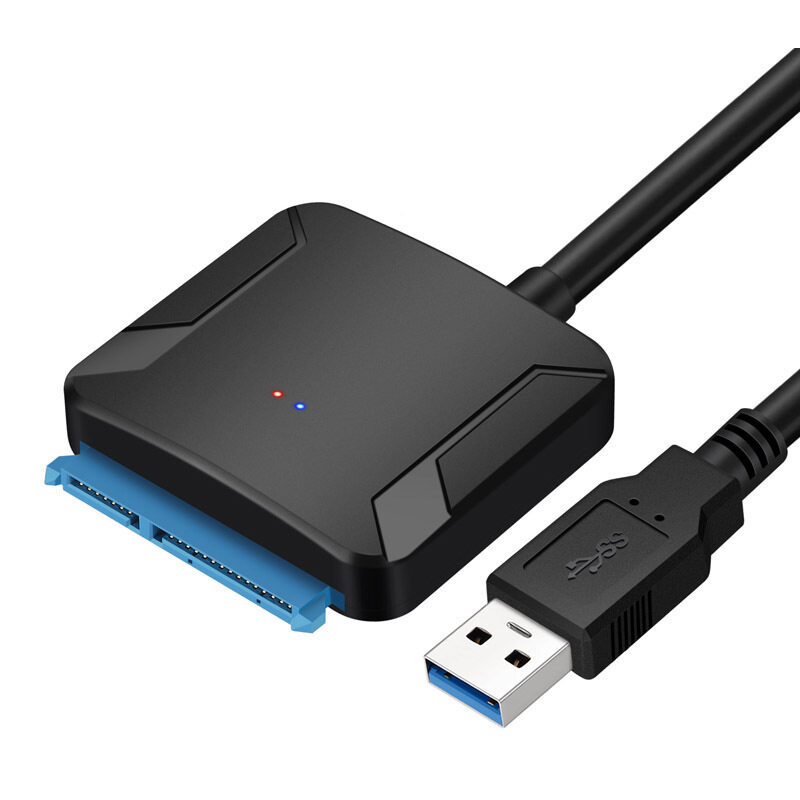 What's in the box:
Default
Ready stock in Malaysia !
Description:
Item type:USB 3.0 to Sata 3 Cable
Size: 445*50*10mm/17.51*1.96*0.39"
Color: Black
Compatible with for Win 98/ME/2000/XP/VISTA /win7/for M@C 0S 9.X/10.X /Linux.
Support 3.5 inch hard disk.
USB 3.0 high-speed transmission, compatible with 2.0 interface, can be directly connected to the SATA interface of the 2.5 inch notebook hard disk (can not be used on the desktop hard disk), so that your notebook hard disk immediately become a high-speed USB 3.0 mobile hard disk, ordinary applications only connect to the USB 3.0 interface can be, if some individual high-power hard disk does not work, and then Please connect to the independent power supply line and you will be able to work.
Package Include:
1 x USB 3.0 to Sata 3 Cable
Note:
The colors deviation might differ due to different monitor settings.
| Zone | Weight | Delivery Fee (RM) |
| --- | --- | --- |
| West Malaysia | First 2.00 kg | 7.00 |
| | Extra 1.00 kg | 1.00 |
| East Malaysia | First 1.00 kg | 12.00 |
| | Extra 1.00 kg | 2.00 |
| Australia, New Zealand | First 0.50 kg | 56.56 |
| | Extra 1.00 kg | 48.10 |
| Austria, Denmark, Finland,Mexico,Ireland, Switzerland | First 0.50 kg | 58.82 |
| | Extra 1.00 kg | 40.91 |
| Brunei, Cambodia, Laos | First 0.50 kg | 51.01 |
| | Extra 1.00 kg | 51.98 |
| Belgium,France, Germany, Netherlands, Spain, U.K | First 0.50 kg | 64.19 |
| | Extra 1.00 kg | 36.71 |
| China | First 0.50 kg | 42.18 |
| | Extra 1.00 kg | 33.78 |
| Bangladesh,Brazil,Iraq, Pakistan,Qatar, Russia, S.Arabia, UAE | First 0.50 kg | 59.32 |
| | Extra 1.00 kg | 43.21 |
| Ghana, Mongolia,South Africa | First 0.50 kg | 70.68 |
| | Extra 1.00 kg | 61.37 |
| Philippines | First 0.50 kg | 44.79 |
| | Extra 1.00 kg | 33.86 |
| Canada, United States | First 0.50 kg | 60.55 |
| | Extra 1.00 kg | 43.09 |
| Hong Kong | First 0.50 kg | 31.95 |
| | Extra 1.00 kg | 28.42 |
| India | First 0.50 kg | 51.01 |
| | Extra 1.00 kg | 40.15 |
| Indonesia | First 0.50 kg | 51.38 |
| | Extra 1.00 kg | 42.37 |
| Japan | First 0.50 kg | 45.74 |
| | Extra 1.00 kg | 39.48 |
| Macau | First 0.50 kg | 55.46 |
| | Extra 1.00 kg | 38.50 |
| Singapore | First 0.50 kg | 32.83 |
| | Extra 1.00 kg | 26.99 |
| Taiwan | First 0.50 kg | 36.17 |
| | Extra 1.00 kg | 33.20 |
| Thailand | First 0.50 kg | 39.41 |
| | Extra 1.00 kg | 31.73 |
| Vietnam | First 0.50 kg | 60.55 |
| | Extra 1.00 kg | 39.82 |