What's in the box:
1 x Twin-Cylinder Heavy Duty Car Air Compressor
1 x Carry Bag
3 x Bike Tyre/Ball/Inflatable Adaptors
1 x 5 Meter Long Expandable PU Coil Air Hose
1 x Manual Book
Features:
The compressor is suitable for all 12V tires,such as 4*4,buses,trucks less than 2 tons,car,etc.
Strong air flow,fast air inflation.
Also perfect for motorcycles,bikes,balls,boats,toys,etc.
It is good for the emergency needs when you are on highway and countryside road or rush for office on the morning while the tire is low pressure.Get back on the road with faster inflation time.
Convenience to put it trunk of car and not occupy any space.

The appropriate tire pressure not only save gas but also ensure the safety of driving.
Specifications:
Maximum airflow : 85 liters per minute
Maximum voltage : 13.8 volt
Maximum ampere : 25 A
Maximum working pressure : 150 psi
Maximum restore pressure : 200 psi
Maximum ambient temp : 60C
Maximum duty cycle time : 40mins @ 40 psi @ 24C
Maximum flow rate 85 litres per minute
Rated Voltage: 12V
Rated Ampere: 30A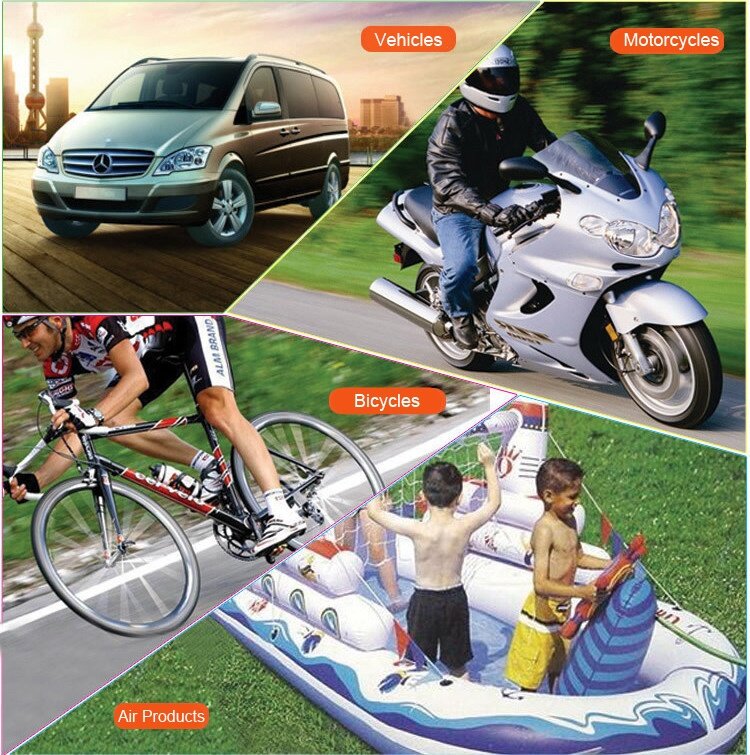 | Zone | Weight | Delivery Fee (RM) |
| --- | --- | --- |
| West Malaysia | First 1.00 kg | 4.99 |
| | Extra 1.00 kg | 2.00 |
| East Malaysia | First 0.50 kg | 14.30 |
| | Extra 0.50 kg | 5.10 |
| Australia, New Zealand | First 1.00 kg | 159.77 |
| | Extra 0.50 kg | 52.65 |
| Austria, Denmark, Finland, Ireland, Switzerland, Russia | First 1.00 kg | 157.78 |
| | Extra 0.50 kg | 34.31 |
| Brunei, Cambodia, Laos, Mongolia | First 1.00 kg | 175.10 |
| | Extra 0.50 kg | 81.95 |
| Belgium,France, Germany, Netherlands, Spain, U.K | First 1.00 kg | 150.94 |
| | Extra 0.50 kg | 30.46 |
| China | First 1.00 kg | 96.44 |
| | Extra 0.50 kg | 25.35 |
| Bangladesh, Brazil, Iraq, Pakistan, Qatar, S.Arabia, UAE, Sri Lanka | First 1.00 kg | 118.52 |
| | Extra 0.50 kg | 24.96 |
| South Africa | First 1.00 kg | 118.52 |
| | Extra 0.50 kg | 24.96 |
| Philippines | First 1.00 kg | 91.42 |
| | Extra 0.50 kg | 15.29 |
| Canada, United States, Mexico | First 1.00 kg | 162.58 |
| | Extra 0.50 kg | 35.90 |
| Hong Kong | First 1.00 kg | 80.63 |
| | Extra 0.50 kg | 29.06 |
| India | First 1.00 kg | 113.30 |
| | Extra 0.50 kg | 22.28 |
| Indonesia | First 1.00 kg | 107.35 |
| | Extra 0.50 kg | 24.87 |
| Japan | First 1.00 kg | 112.97 |
| | Extra 0.50 kg | 35.03 |
| Macau | First 1.00 kg | 92.93 |
| | Extra 0.50 kg | 13.82 |
| Singapore | First 1.00 kg | 74.75 |
| | Extra 0.50 kg | 21.49 |
| Taiwan | First 1.00 kg | 94.42 |
| | Extra 0.50 kg | 34.76 |
| Thailand | First 1.00 kg | 94.10 |
| | Extra 0.50 kg | 28.25 |
| Vietnam | First 1.00 kg | 98.94 |
| | Extra 0.50 kg | 14.34 |