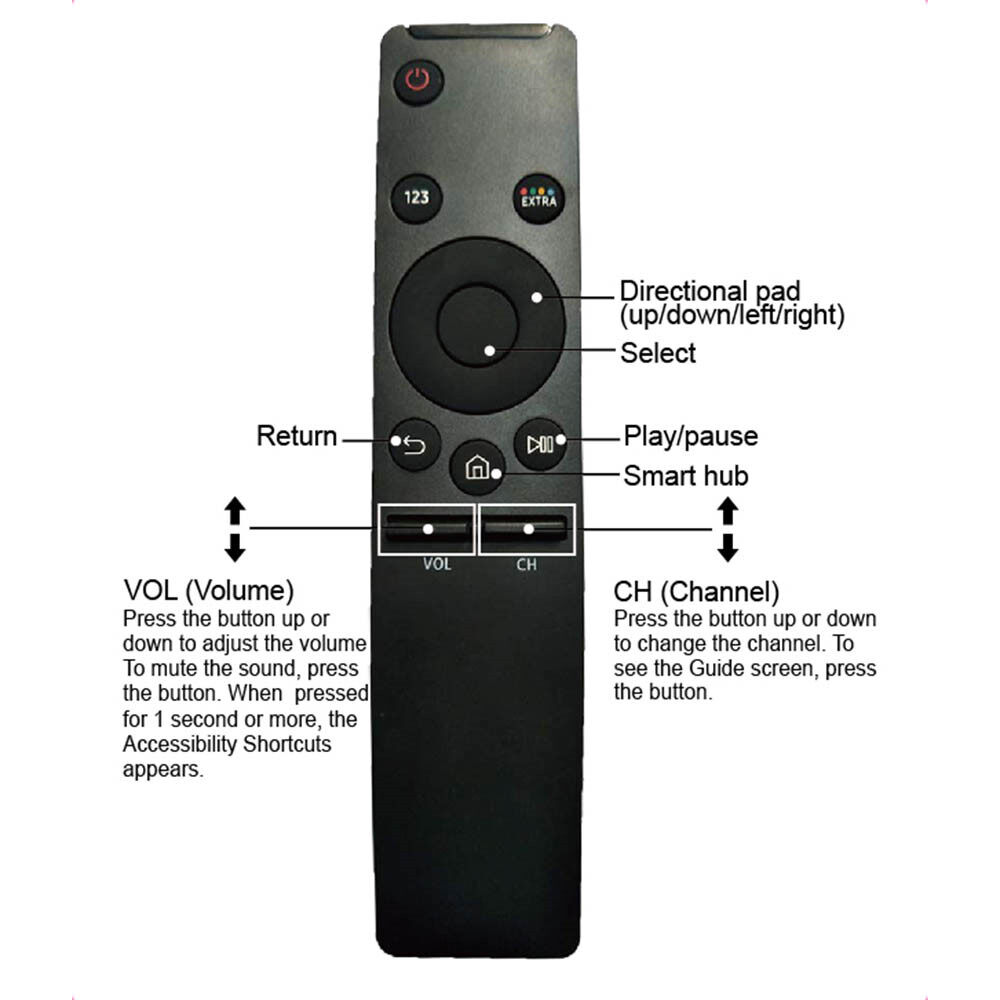 What's in the box:
Default
Specification
Product Name: TV Remote Control
Material: Silicone
Size: 16.50*4.0 cm / 6.50*1.57 inches
Net weight: 60.0g / 2.1 oz
Application area: Controller cover is suitable for Samsung BN59-01241A, BN59-01242A, BN59-01259B, BN59-01259A, BN59-01260A, BN59-01266A, BN59-01274A, BN59-01292A, smart TV remote control
Packing list
1 x Product,1 x Manual,1 x Packaging Box
Notice:
All images and descriptions are for illustrative purposes only. Product specification, functions and appearance may vary by actual usage. The color deviation is subject to actual system configuration and slight dimension difference is allowed due to manual measurement. We recommend you could check with sales for exact offers if need.
| Zone | Weight | Delivery Fee (RM) |
| --- | --- | --- |
| West Malaysia | First 2.00 kg | 7.00 |
| | Extra 1.00 kg | 1.00 |
| East Malaysia | First 1.00 kg | 12.00 |
| | Extra 1.00 kg | 2.00 |
| Australia, New Zealand | First 1.00 kg | 142.27 |
| | Extra 0.50 kg | 45.38 |
| Austria, Denmark, Finland, Ireland, Switzerland, Russia | First 1.00 kg | 145.44 |
| | Extra 0.50 kg | 19.75 |
| Brunei, Cambodia, Laos, Mongolia | First 1.00 kg | 162.64 |
| | Extra 0.50 kg | 80.93 |
| Belgium,France, Germany, Netherlands, Spain, U.K | First 1.00 kg | 139.08 |
| | Extra 0.50 kg | 22.41 |
| China | First 1.00 kg | 89.58 |
| | Extra 0.50 kg | 23.55 |
| Bangladesh, Brazil, Iraq, Pakistan, Qatar, S.Arabia, UAE, Sri Lanka | First 1.00 kg | 108.97 |
| | Extra 0.50 kg | 15.79 |
| South Africa | First 1.00 kg | 108.97 |
| | Extra 0.50 kg | 15.79 |
| Philippines | First 1.00 kg | 84.92 |
| | Extra 0.50 kg | 14.20 |
| Canada, United States, Mexico | First 1.00 kg | 151.01 |
| | Extra 0.50 kg | 33.34 |
| Hong Kong | First 1.00 kg | 74.90 |
| | Extra 0.50 kg | 26.99 |
| India | First 1.00 kg | 105.24 |
| | Extra 0.50 kg | 17.68 |
| Indonesia | First 1.00 kg | 99.71 |
| | Extra 0.50 kg | 23.10 |
| Japan | First 1.00 kg | 104.93 |
| | Extra 0.50 kg | 32.54 |
| Macau | First 1.00 kg | 86.32 |
| | Extra 0.50 kg | 12.83 |
| Singapore | First 1.00 kg | 69.43 |
| | Extra 0.50 kg | 19.96 |
| Taiwan | First 1.00 kg | 87.71 |
| | Extra 0.50 kg | 32.29 |
| Thailand | First 1.00 kg | 87.41 |
| | Extra 0.50 kg | 26.24 |
| Vietnam | First 1.00 kg | 91.90 |
| | Extra 0.50 kg | 2.59 |