What's in the box:
1 x Turtle Wax Power Out Upholstery Cleaner
THE SIMPLEST WAY TO GET RID OF DEEP STAINS AND ODORS
Incredible Odor-Xaction eliminates odors and leaves your car feeling fresh! Formulated with oxygenated cleaners for professional strength cleaning. Deep cleans, deodorizes and protects carpeting. Encapsulates and removes odors caused by smoke, pets, and food! Powerful stain removal for ground-in stains, coffee, grease, food, oil, ink, and more! Safe for use on all carpets in the car, on the boat, or in the home
General Cleaning: Vacuum loose dirt from surface. Shake well and spray evenly onto upholstery. Rub foam into upholstery with bristle cap until foam disappears. Wipe area with a clean cloth and vacuum when dry.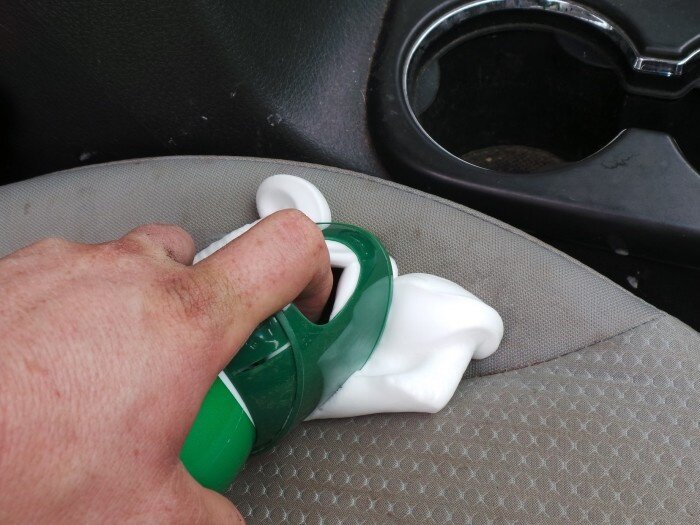 Spot Removal: Remove surface dirt. Shake well and cover spot with foam. Rub cleaner with bristle brush cap until spot is gone. Reapply if necessary. Blot area with a clean, dry towel.
| Zone | Weight | Delivery Fee (RM) |
| --- | --- | --- |
| West Malaysia | First 1.00 kg | 4.99 |
| | Extra 1.00 kg | 2.00 |
| East Malaysia | First 0.50 kg | 14.30 |
| | Extra 0.50 kg | 5.10 |
| Australia, New Zealand | First 1.00 kg | 159.77 |
| | Extra 0.50 kg | 52.65 |
| Austria, Denmark, Finland, Ireland, Switzerland, Russia | First 1.00 kg | 157.78 |
| | Extra 0.50 kg | 34.31 |
| Brunei, Cambodia, Laos, Mongolia | First 1.00 kg | 175.10 |
| | Extra 0.50 kg | 81.95 |
| Belgium,France, Germany, Netherlands, Spain, U.K | First 1.00 kg | 150.94 |
| | Extra 0.50 kg | 30.46 |
| China | First 1.00 kg | 96.44 |
| | Extra 0.50 kg | 25.35 |
| Bangladesh, Brazil, Iraq, Pakistan, Qatar, S.Arabia, UAE, Sri Lanka | First 1.00 kg | 118.52 |
| | Extra 0.50 kg | 24.96 |
| South Africa | First 1.00 kg | 118.52 |
| | Extra 0.50 kg | 24.96 |
| Philippines | First 1.00 kg | 91.42 |
| | Extra 0.50 kg | 15.29 |
| Canada, United States, Mexico | First 1.00 kg | 162.58 |
| | Extra 0.50 kg | 35.90 |
| Hong Kong | First 1.00 kg | 80.63 |
| | Extra 0.50 kg | 29.06 |
| India | First 1.00 kg | 113.30 |
| | Extra 0.50 kg | 22.28 |
| Indonesia | First 1.00 kg | 107.35 |
| | Extra 0.50 kg | 24.87 |
| Japan | First 1.00 kg | 112.97 |
| | Extra 0.50 kg | 35.03 |
| Macau | First 1.00 kg | 92.93 |
| | Extra 0.50 kg | 13.82 |
| Singapore | First 1.00 kg | 74.75 |
| | Extra 0.50 kg | 21.49 |
| Taiwan | First 1.00 kg | 94.42 |
| | Extra 0.50 kg | 34.76 |
| Thailand | First 1.00 kg | 94.10 |
| | Extra 0.50 kg | 28.25 |
| Vietnam | First 1.00 kg | 98.94 |
| | Extra 0.50 kg | 14.34 |