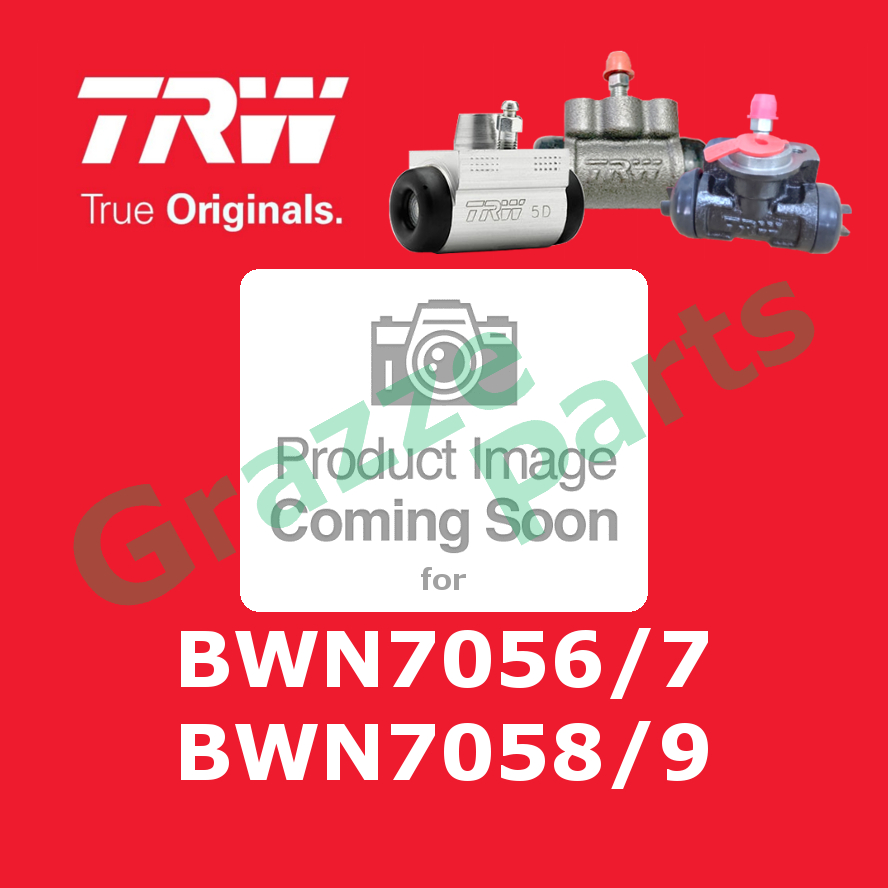 Size (length*width*height): 10cm x 10cm x 10cm
Warranty Type: No Warranty
Warranty Period: No Warranty
What's in the Box: Wheel Cylinder x 1pc
Vehicle Model: Multiple Models
Product details of TRW Hydraulic Brake Pump Wheel Cylinder Front & Rear BWN7056 / BWN7057 / BWN7058 / BWN7059 Inokom Lorimas HD5000 AD3 3.9
Picture are straightly take from product.
Price quoted is for 1pc, 1 car uses 4pcs (Front Rear Left Right Variants)
Rear : 28.58mm , 1' 1/8"
Front : 31.75mm , 1' 1/4"
1 car uses :
BWN7056 (Rear Right) x 1 pc
BWN7057 (Rear Left) x 1pc
BWN7058 (Front Right) x 1pc
BWN7059 (Front Left) x 1pc
TRW Aftermarket Wheel Cylinders are the number one in Europe when it comes to vehicle parc coverage. And with the biggest range of wheel cylinders on the market to help you serve almost any vehicle, well continue to lead the market with a range that provides excellent vehicle coverage and exceptional part quality.
Original equipment spec rubber seals and dust caps to resist ageing
Robust manufacture in cast iron
Option to specify lightweight aluminium bodies
Anodized pistons to improve strength and durability
PCRVi (Pressure Conscious Reducing Valve Integrated) to reduce pressure build up at the rear brake
| Zone | Weight | Delivery Fee (RM) |
| --- | --- | --- |
| West Malaysia | First 1.00 kg | 4.80 |
| | Extra 1.00 kg | 2.00 |
| East Malaysia | First 1.00 kg | 13.00 |
| | Extra 1.00 kg | 9.00 |
| Australia, New Zealand | First 0.50 kg | 56.56 |
| | Extra 1.00 kg | 48.10 |
| Austria, Denmark, Finland,Mexico,Ireland, Switzerland | First 0.50 kg | 58.82 |
| | Extra 1.00 kg | 40.91 |
| Brunei, Cambodia, Laos | First 0.50 kg | 51.01 |
| | Extra 1.00 kg | 51.98 |
| Belgium,France, Germany, Netherlands, Spain, U.K | First 0.50 kg | 64.19 |
| | Extra 1.00 kg | 36.71 |
| China | First 0.50 kg | 42.18 |
| | Extra 1.00 kg | 33.78 |
| Bangladesh,Brazil,Iraq, Pakistan,Qatar, Russia, S.Arabia, UAE | First 0.50 kg | 59.32 |
| | Extra 1.00 kg | 43.21 |
| Ghana, Mongolia,South Africa | First 0.50 kg | 70.68 |
| | Extra 1.00 kg | 61.37 |
| Philippines | First 0.50 kg | 44.79 |
| | Extra 1.00 kg | 33.86 |
| Canada, United States | First 0.50 kg | 60.55 |
| | Extra 1.00 kg | 43.09 |
| Hong Kong | First 0.50 kg | 31.95 |
| | Extra 1.00 kg | 28.42 |
| India | First 0.50 kg | 51.01 |
| | Extra 1.00 kg | 40.15 |
| Indonesia | First 0.50 kg | 51.38 |
| | Extra 1.00 kg | 42.37 |
| Japan | First 0.50 kg | 45.74 |
| | Extra 1.00 kg | 39.48 |
| Macau | First 0.50 kg | 55.46 |
| | Extra 1.00 kg | 38.50 |
| Singapore | First 0.50 kg | 32.83 |
| | Extra 1.00 kg | 26.99 |
| Taiwan | First 0.50 kg | 36.17 |
| | Extra 1.00 kg | 33.20 |
| Thailand | First 0.50 kg | 39.41 |
| | Extra 1.00 kg | 31.73 |
| Vietnam | First 0.50 kg | 60.55 |
| | Extra 1.00 kg | 39.82 |