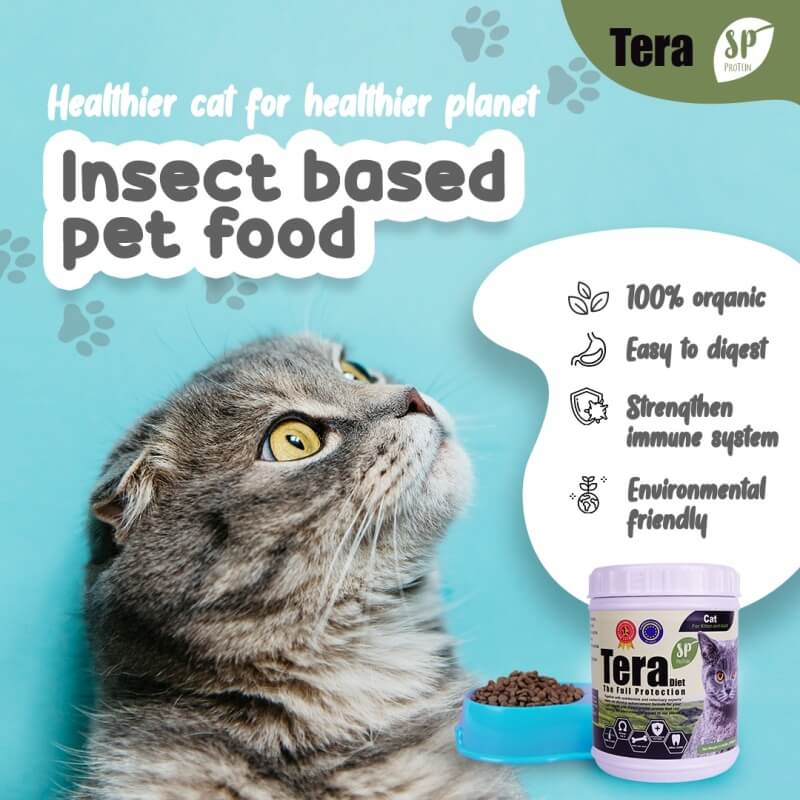 Tera formulated by a team of nutritionists and veterinary experts. We develop Eco-Friendly Tera diet with insert protein.
Prevents and treats fungal, bacterial and viral infections.
Boosts the immune system and increases energy levels.
Specifically formulated for indoor and outdoor cats for healthy growth, reduces hairball and hair loss problems.
Insect protein to provide essential amino acids and fatty acids.
Natural probiotics to improve digestive health, promote easy digestion and maximize absorption of nutrients.
Hypoallergenic.
Reduces odour of urine & faeces.
10 REASONS WHY YOU NEED TO CHOOSE TERA AS YOUR CAT'S SUPPLEMENT DIET
1. 100% organic based – No chemical, NO artificial.
2. High natural protein from insect – good for your cat's healthy growth
3. High amino acid- essential for the digestive process, critical for maintaining a healthy heart, vision and the healthy development of kittens
4. Contains natural antimicrobial peptides - prevents and treats fungal, bacterial and viral infections.
5. Rich in Omega 3 & 6 fatty acids - reducing inflammation in the body.
6. Rich in calcium – strengthen the cat's bones
7. Easy to digest - reduces odour of urine & faeces.
8. Minimize allergic reactions
9. High quality local production - follow EU formulation standard
10. Protect the environment –Eco-friendly product and reduces carbon footprint to our planet
Tera diet is formulated with insect protein
contains antimicrobial peptides- prevents inflammation in pets
rich in Omega 3 & 6 fatty acids
no use of antibiotics
production at the highest level of sustainability and more environmentally friendly
Ingredients:
Insect protein premix, salmon paste, brewer's yeast, mineral premix, vitamin premix, vitamin C, chicory root, grapeseed extract, citric acid, taurine, choline chloride (vitamin B4), niacin supplements (vitamin B3), biotin, tapioca, riboflavin supplement, D-calcium pantothenate, pyridoxine acetate, thiamine mononitrate (vitamin B1), Vitamin B12, folic acid, vitamin D3, glycine.
Guarantee Analysis:
| | |
| --- | --- |
| Crude Protein (Min) | 34% |
| Crude Fat (Min) | 18% |
| Crude Fiber (Max) | 2% |
| Moisture (Max) | 5% |
| Omega 3(Min) | 368mg/100g |
| Omega 6 (Min) | 2974mg/100g |
| Vit B2. Riboflavin (Min) | 0.282mg/100g |
| Vit B3. Nicotinic Acid (Min) | 4.81mg/100g |
| Calcium (Min) | 1650mg/100g |
| Lactobacillus (Min) | 50cfu/g |
| Lysine (Min) | 6000mg/kg |
| Leucine (Min) | 14600mg/kg |
| Arginine (Min) | 13700mg/kg |
| Taurine (Min) | 450mg/kg |
| Iron (Min) | 210mg/kg |
| Zinc (Min) | 109mg/kg |
| | |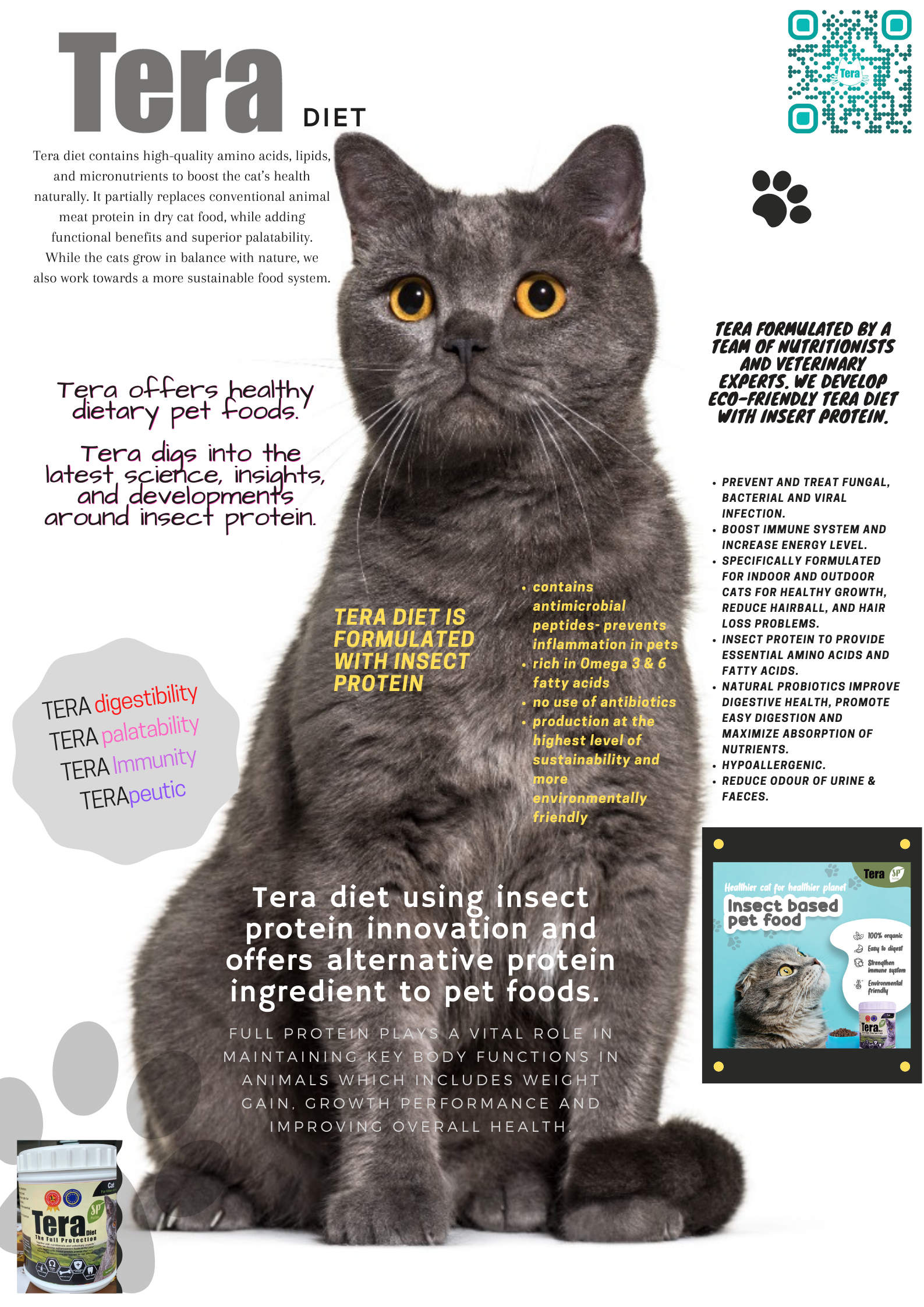 The production of pet food on average emits 106,000,000 tons of CO2 eq. on average per year. This is equivalent to the emission of 27 coal-fired power plants per year.
27% of the environmental impact derived from the meat industry is associated with pets; reflected in greenhouse gas emissions, water and land use.
Today, livestock farming is responsible for 18% of greenhouse gas emissions, more than road transport. Insect cultivation emits 100x less CO2 than livestock and does not emit methane or nitrous oxide.
The British Association of Veterinarians stated that food based on insect protein is better than a premium cut steak.
A Cambridge University study showed that insect protein is highly digestible and beneficial for our pets.
"For the love of your pets and our planet, we commit"
| Zone | Weight | Delivery Fee (RM) |
| --- | --- | --- |
| West Malaysia | First 1.00 kg | 4.80 |
| | Extra 1.00 kg | 2.00 |
| East Malaysia | First 1.00 kg | 13.00 |
| | Extra 1.00 kg | 9.00 |