What's in the box:
1 x Takada ISB-6038A Electric BBQ Cart Grill (Black)

1 x Manual Guide

1 x Warranty Card
Most people love the flavor of grilled food, but not everyone has the space for a large gas grill or the time to grill with charcoal. Enter the Takada ISB-6038A Electric BBQ Cart Grill (Black), a handy, attractive alternative to traditional grilling. Equipped with a stand, the Takada ISB-6038A combines the simplicity of an indoor appliance with the delicious cooking performance of an outdoor grill, making it ideal for people who love cooking outdoors but don't want to deal with the hassle of propane or charcoal.

The Advantage of Electric Grilling
Traditional gas and charcoal grills offer a wide variety of styles and designs--from large multi-burner gas grills with built-in islands to barrel-like charcoal grills--but sometimes prove to be too large, too intimidating, or too inconvenient for would-be outdoor chefs. While gas grills are certainly handy, some people find it discomforting and dangerous to cook with propane. Charcoal grills, while perhaps less intimidating, take considerable time to light and prepare, and can be messy to clean up afterward. Plus, some apartments and condos ban the use of propane or charcoal altogether.
Electric grills minimize all of the above concerns, with instant-on controls, easy-to-clean designs, and no smelly gas or messy charcoal to get in the way of your cooking.
Familiar, Easy-to-Use Controls
The grilling process begins with the easiest fuel source you can find--a simple cord and outlet--along with a removable electric probe with a control knob that functions just like the knobs on most kitchen stoves. To get started, just plug the probe into the front of the grill and turn the knob to "Max." Within five minutes, the heating element will be glowing a toasty red and the grill will be ready for cooking. When you're finished grilling, the knob turns off just as easily. And cleanup couldn't be easier, as the porcelain-enameled grill grate cleans with a standard grill brush or removes for washing in an indoor or outdoor sink.
Powerful Grilling Performance
The Takada ISB-6038A cooks up juicy steaks, burgers, and fish just like a gas grill thanks to the powerful 1,500-watt, 5,120 BTU burner, which spreads heat quickly and evenly through the 145-square-inch grill grate. The compact design produces a greater watt-to-square-inch ratio, leading to higher temperatures on the grate and better, more uniform cooking for your food. In addition, the grill includes a stainless-steel heat reflector in the lid. This extra layer not only acts as an insulator for trapping heat inside the grill, but actually reflects rising heat inside the grill back onto the top surfaces of your food, reducing cooking times and saving electricity. All of this translates into searing hot temperatures and prefect grill lines on everything you cook.
Despite the compact size, the grilling surface is large enough to grill eight burgers, eight stakes, six to 10 chicken breasts, or up to 4 pounds of fish.
Safety Lock
The Takada ISB-6038A has a safety lock that ensures operation only when the element is placed correctly. The temperature control knob with indicator light is easy to understand, and during the aftermath, you can easily clean the grill without kicking up much fuss.
Quick, Efficient Setup
The electric grill not only shines when it's loaded with food, but also when you're on the move, as the grill is a breeze to transport, set up, and store. The grill includes the thoughtfully designed stand, an easy-to-use, easy-to-set-up grill stand that keeps the grill at a comfortable cooking height. The Takada ISB-6038A stand sets up and packs away in seconds, giving you more time to enjoy the event and less time worrying about the hassles of putting your barbecue together. In fact, the grill and stand are so convenient to transport, carry, and set up, you won't think twice about tossing it in the trunk of your car.
The Takada ISB-6038A stand have a sturdy grill that stands at an ideal grilling height. No more breaking your back bending over a grill that sits mere inches off the ground. And when you're finished grilling, the stand collapses as easily as it sets up, making it easy to pack up your stuff.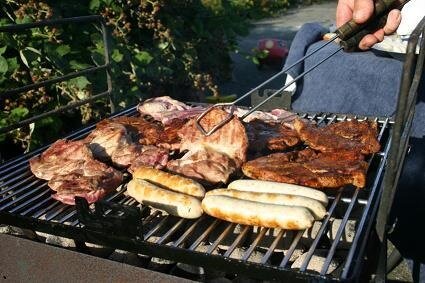 Key Features:
Portable electric grill with wide grilling area and stand
Plugs into standard electric outlet; stand sets up and packs away in seconds
Lightweight and portable that weighs 4.5kg
It has anti-smoke water tank to minimize smoke emission and air pollution
Can be use for both indoor or outdoor
| | | |
| --- | --- | --- |
| Zone | Weight | Delivery Fee (RM) |
| West Malaysia | First 1.00 kg | 8.00 |
| | Additional 1.00 kg | 2.00 |
| East Malaysia | First 1.00 kg | 17.00 |
| | Additional 1.00 kg | 16.00 |
| India | First 1.50 kg | 120.00 |
| | Additional 0.50 kg | 25.00 |