What's in the box:
1 x TACSYSTEM KOREA waterbase polishing premium compound Refinish 3 Finishing Cut Finest Cut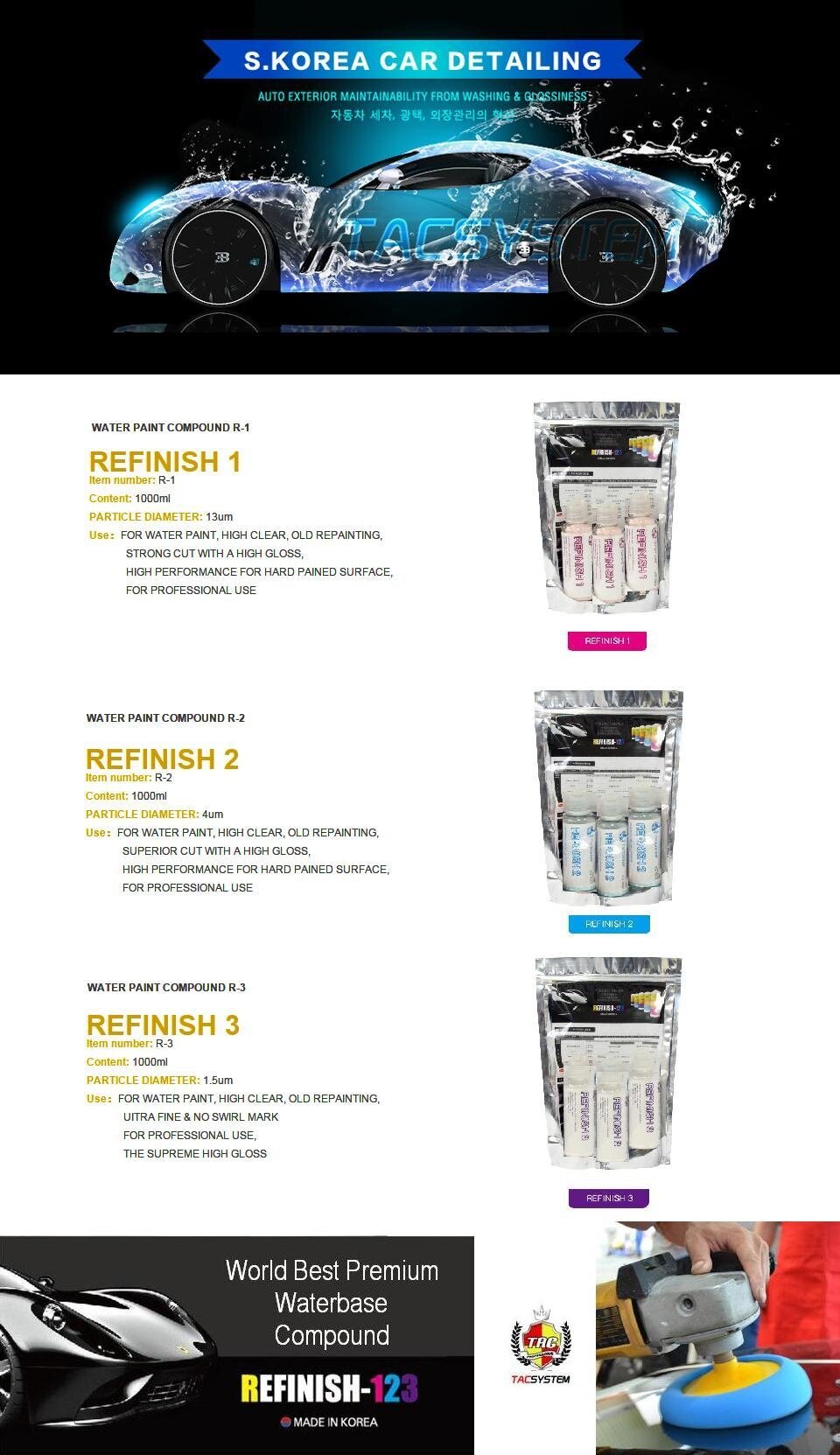 Product features
:
1. SUITABLE FOR WATER PAINT SURFACE.
2. THIS COMPOUND WILL OFFER HIGH CLEAR REFLECTION AFTER USED AS POLISHING WORK .
3. WORK WELL AS OLD REPAINTING AS WELL.
4. THIS PRODUCT SERVES AS FINISHING CUT AND ULTRA FINEST CUTTING COMPOUND. ALSO CAN ACHIEVE REMOVE OF FINAL SWIRL MARKS AS WELL AS MARRING/WEB.
5. REFINISH 3 IS THE ULTRA FINE CUTTING WHICH OFFER WITH A HIGH GLOSS OF FINISHING.
6. WORLD CLASS HIGH PERFORMANCE FOR HARD PAINTED SURFACE CARS/BOAT/BIKE AND ETC.
7. THIS IS A PROFESSIONAL RANGE PRODUCT FOR PROFESSIONAL USE.
8. THIS PRODUCT IS PREMIUM RANGE WORLD CLASS AND WIDELY USED BY WORLDWIDE DETAILERS.


Why choose TACsystem korea as your polishing compound?
TAC Waterbase polishing compound achieved the highest sanding mark of grade product in car detailing industry compare to others brand.
Waterbase technology compound is the new and future generation product feature compare to other conventional brand of oil base compound.
TAC waterbase compound offers innovative polishing feature which can prevent hidden swirl left over by conventional oil base compound.
TACSYSTEM KOREA waterbase polishing premium compound Refinish 3 Finishing Cut Finest Cut.
This is the most budget economic packing for world famous quality range product.
Fix sanding from 3500 TO 12000 sanding grit. Which covers the most effective range of polishing segment.
User are recommend to use along with Refinish 1, Refinish 3 for better finishing quality or better initial cut.
User can achieve the highest quality of compounding and polishing with TACsystem korea up to 12000 sanding grade. The most grade ever in car detailing industry.

*****Professional detailing guide*****
1. Do not rely on one finishing product but try the best to use along with Refinish2,3.
2. Achieving highest quality of polishing in detailing might not require too much of investment in compound, TACsystem here offers the best budget choice.
3. User are advise to use along with Menz polishing pad/ Oem Menz polishing sponge for best match in polishing compounding work.

*****Professional detailing guides that made correction to wrong and invalid detailing concept among the detaling industry*****
1. Waterbase is difficult to use?
Ans: Waterbase compound never the difficult compound for detaling use but actually more simpler application for car polishing and compounding work.

2. Only biggest brand can deliver best polishing result?
Ans: Only with a person with practice more for polishing work can deliver great result. TACsystem compound can deliver wonderful polishing result at the first day in doing polishing if user didi it well.

3. Why there are detailer scare of waterbase compound?
Ans: Waterbase compound if the future of polishing compound chemical and they are still detailers yet to try out the feature of the products.

Free: The pricesless manual guide/Instruction of best sponge/plate matching with compound in solving different detailing scenario.
| | | |
| --- | --- | --- |
| Zone | Weight | Delivery Fee (RM) |
| West Malaysia | First 1.00 kg | 8.00 |
| | Additional 1.00 kg | 1.50 |
| East Malaysia | First 1.00 kg | 15.00 |
| | Additional 1.00 kg | 1.50 |