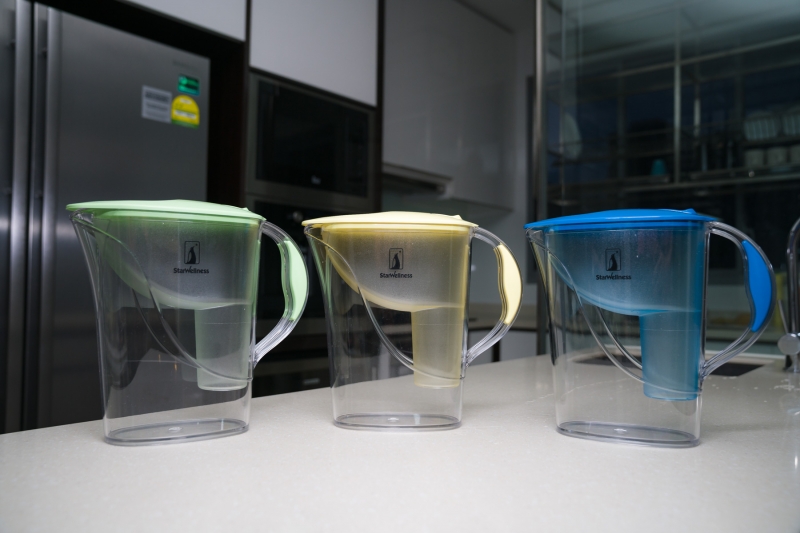 Description:
A simple, easy & economical way to start enjoying freshly filtered alkaline/magnesium/carbon water!
Transform your drinking experience to one full of health goodness today!
Product Features:
This Water Pitcher is the perfect companion for all your drinking needs. It provides quality, filtered water & is BPA free.
Intelligent Filter Change Indicator
Equipped with LED sensor reminder with built-in motion sensor that indicates the status of the filter, informing you when a filter change is due, to ensure that you always enjoy the highest quality of filtered water
No Boiling Required, enjoy the convenience which fits perfectly into the today's busy lifestyleSmart Easy Filling Lid, Designed with a hinged tab that opens automatically upon sensing water flow pressure, which offers the convenient way of filling the water pitcher without having to remove the lid
Easy Cleaning & Maintenance
Designed for hassle-free cleaning & safe to be clean in dishwasherIdeal Capacity
Good ideal total capacity of 2L & 1L of filtered water
Cost Efficient A superb economical way to enjoy healthy, safe & clean filtered water
Compact & Sleek Design
Fits perfectly in the modern kitchen
Non-Slip BasePrevents pitcher from slipping on a wet kitchen top
Ergonomic Easy Grip Handle
A solid grip handle that offers ease of usage
At A Glance:
Discover the healthy & true taste of pure water with StarWellness Celestine Water Pitcher, a functional & ergonomically designed pitcher for serving freshly filtered water. Works best with StarWellness Balance pH+ Alkaline Filter / Magnesium Filter and Caron Filter, which removes heavy metals (lead & copper), chlorine & lime
Celestine Water Pitcher Benefits:
- Alkalizing the body
- Antioxidating properties
- Great filtering capabilities
- Better absorption by the body
- Mineralizing
- Improved taste
Package:
- Celestine Pitcher x 1pc
- PH+ Filer x 1pc
*Filter recommended to replace every 4 weeks.
| Zone | Order Total (RM) | Delivery Fee (RM) |
| --- | --- | --- |
| West Malaysia | Below 100.01 | 7.00 |
| | Above 100.01 | 5.00 |
| | Above 200.01 | FREE Shipping |
| East Malaysia | Below 100.01 | 10.00 |
| | Above 100.01 | 7.00 |
| | Above 200.01 | FREE Shipping |