Size (length*width*height): 50cm x 40cm x 45cm
What's in the box:
Spectra Dual Compact Double Electric Breast Pump
Spectra UV Sterilizer Classy White
UVMed Hailey Handheld Pocket UVC LED Sterilizer
Spectra Handsfree Milk Collection Cup Set 28mm
Spectra Milk Storage PP Bottle 150ml Pack Of 5
Nano Silver Reusable Ice Pack 2pcs
Bubbly Joy Dual Compartment Cooler Bag Assorted Colour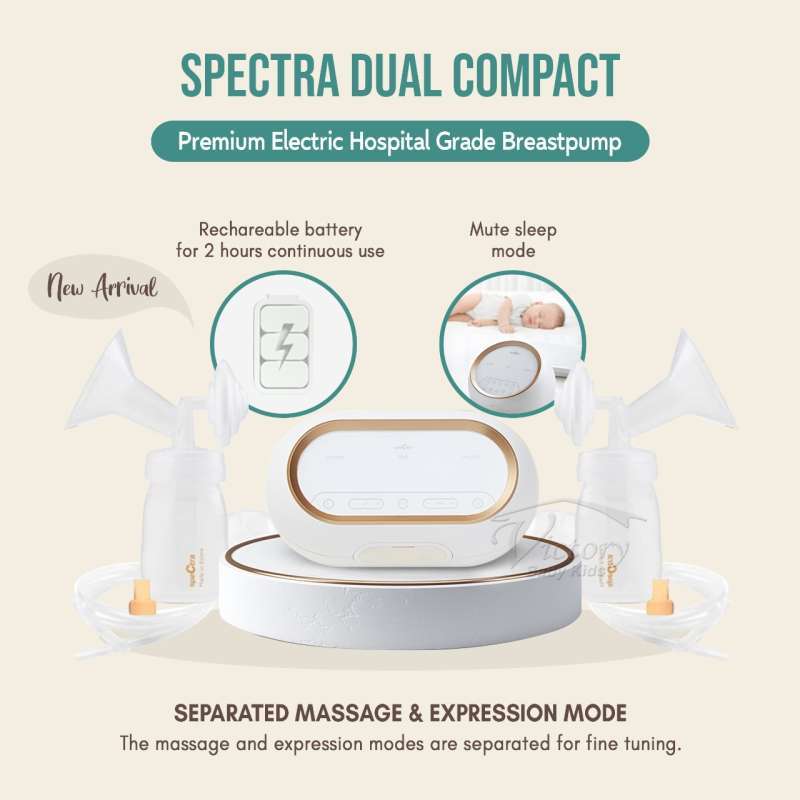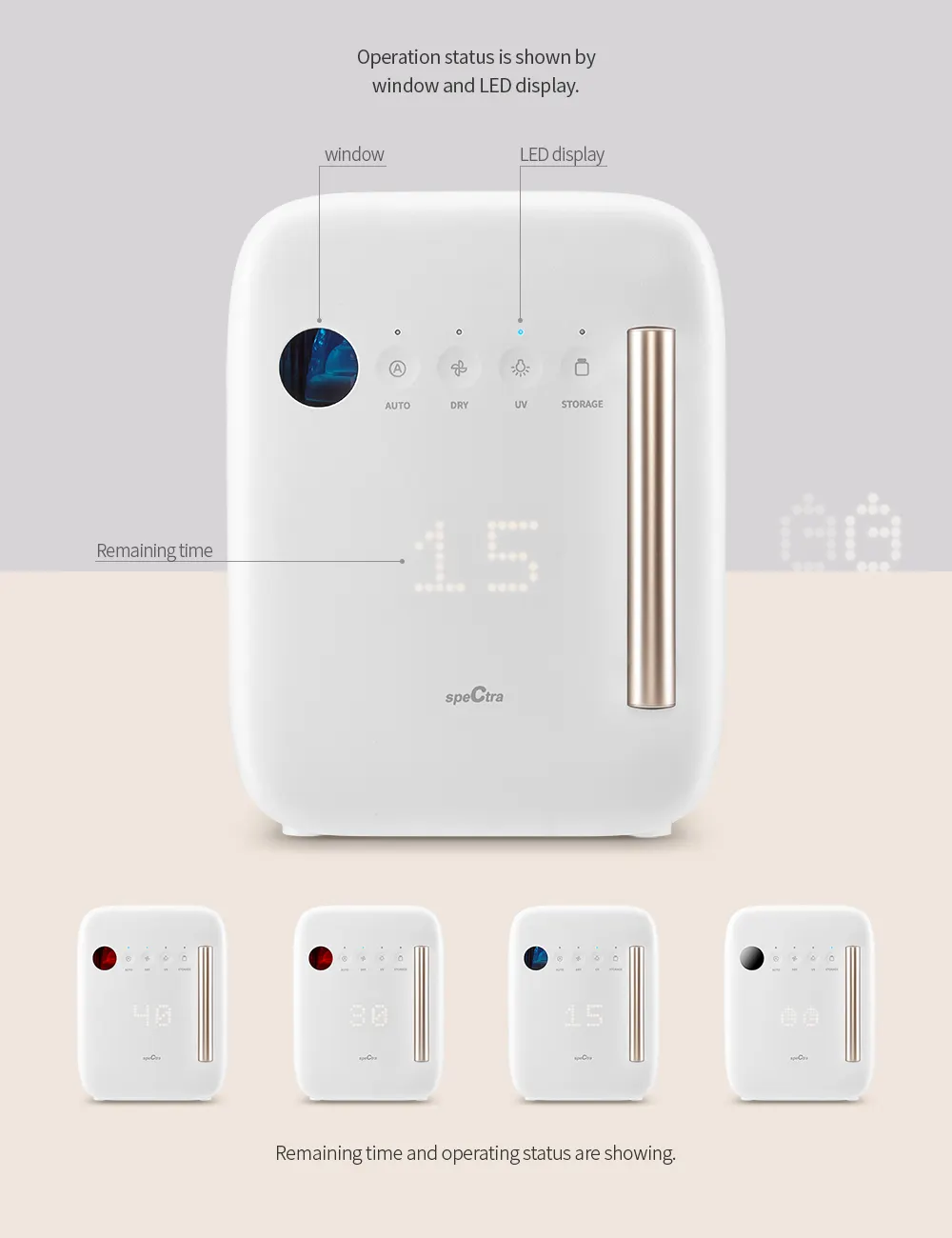 Spectra Dual Compact Double Electric Breast Pump + Spectra UV Sterilizer Classy White Bundle
Rechargeable battery (can be used for up to 2 hours when fully charged)
LED display light (makes it easy to see the display even using in dark places)
Separated Letdown/Massage mode (5 suction levels) & Expression mode (12 suction levels)
Adjustable suction strength; as you increase the suction, the speed will slow down.
Closed system (backflow preventer prevents backflow of liquid which causes mold)
Mute function (for buttons sound only)
- Press the wavy button over 3 seconds to activate the mute mode
- To cancel the buttons sound mute function, press the massage mode button for 3 seconds
Suction Strength
- Left 270 mmHg max
- Right 270 mmHg max
Charging Information
Charging time: initial charging time of 4 hours while the pump is turned off.
Subsequent charging charge only until the battery is full and while the pump motor is off. Do not overcharge or this will drain the battery.
Fully charged battery life lasts 2 hours worth of pumping time
Spectra UV sterilizer NEW Spectra 2020 Touch Panel Baby Bottle UV Sterilizer
Mummy 1st Choice! The hottest in the market now!
Spectra UV Sterilizer is a sterilizer for all babys equipment, milk bottles, accessories, and babys toys. You can also store your babys accessories even though they have been sterilized so that they stay awake for 10 hours In the AUTO system, Spectra UV runs the Fan Feature (drying) before the irradiation process, this aims to reduce bacterial recontamination during the drying process.
There is an Auto-Off safety feature on UV lights when the Spectra UV is opened. Using 2 Osram UV lamps made in Italy that can kill germs up to 99.9%
Product Specifications:
Product Size : 290mm(W) X 395mm(D) X 379(H) mm
Product Material : Interior - Stainless / exterior - ABS
Product Color Option - Classy White
Rated Voltage : AC220V / 60HZ/ Power Consumption : 180W
Drying system / Sterilization System : Built-in PTC/ Heater / UV Lamp
What's included:
Spectra Dual Compact Double Electric Breast Pump
Spectra UV Sterilizer Classy White
UVMed Hailey Handheld Pocket UVC LED Sterilizer
Spectra Handsfree Milk Collection Cup Set 28mm
Spectra Milk Storage PP Bottle 150ml Pack Of 5
Nano Silver Reusable Ice Pack 2pcs
Bubbly Joy Dual Compartment Cooler Bag Assorted Color
Product Warranty: 2 Years Warranty by Spectra Malaysia
| Zone | Weight | Delivery Fee (RM) |
| --- | --- | --- |
| West Malaysia | First 2.00 kg | 7.00 |
| | Extra 5.00 kg | 9.00 |
| | Extra 5.50 kg | 14.50 |
| | Extra 6.00 kg | 15.30 |
| | Extra 6.50 kg | 16.10 |
| | Extra 7.00 kg | 16.90 |
| | Extra 7.50 kg | 17.70 |
| | Extra 8.00 kg | 18.50 |
| | Extra 8.50 kg | 19.30 |
| | Extra 9.00 kg | 20.10 |
| | Extra 9.50 kg | 20.90 |
| | Extra 10.00 kg | 21.70 |
| | Extra 20.00 kg | 0.90 |
| | Extra 30.00 kg | 0.90 |
| East Malaysia | First 1.00 kg | 9.91 |
| | Extra 2.00 kg | 17.96 |
| | Extra 3.00 kg | 26.01 |
| | Extra 4.00 kg | 34.06 |
| | Extra 5.00 kg | 42.11 |
| | Extra 5.50 kg | 60.00 |
| | Extra 6.00 kg | 65.50 |
| | Extra 6.50 kg | 71.00 |
| | Extra 7.00 kg | 76.50 |
| | Extra 7.50 kg | 82.00 |
| | Extra 8.00 kg | 87.50 |
| | Extra 8.50 kg | 93.00 |
| | Extra 9.00 kg | 98.50 |
| | Extra 9.50 kg | 104.00 |
| | Extra 10.00 kg | 109.50 |
| | Extra 20.00 kg | 5.75 |
| | Extra 30.00 kg | 5.75 |
| Philippines | First 1.00 kg | 132.80 |
| | Extra 1.50 kg | 147.20 |
| | Extra 2.00 kg | 156.80 |
| | Extra 2.50 kg | 166.40 |
| | Extra 3.00 kg | 176.00 |
| | Extra 3.50 kg | 185.50 |
| | Extra 4.00 kg | 195.10 |
| | Extra 4.50 kg | 204.70 |
| | Extra 5.00 kg | 214.30 |
| | Extra 5.50 kg | 223.90 |
| | Extra 6.00 kg | 233.50 |
| | Extra 6.50 kg | 243.10 |
| | Extra 7.00 kg | 252.70 |
| | Extra 7.50 kg | 262.30 |
| | Extra 8.00 kg | 271.90 |
| | Extra 8.50 kg | 281.50 |
| | Extra 9.00 kg | 291.10 |
| | Extra 9.50 kg | 300.70 |
| | Extra 10.00 kg | 310.30 |
| | Extra 11.00 kg | 329.50 |
| | Extra 15.00 kg | 19.10 |