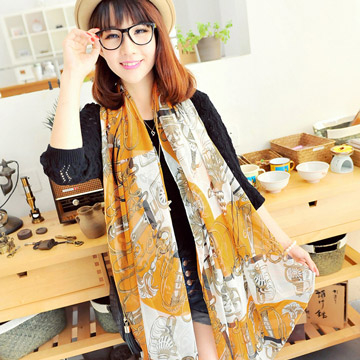 Brand: L & A South show silk language models: 634BL Material: Chiffon new length: 200cm width: 145cm Product size may vary due to the measurement error of the start and end points (error value of about 3-5 cm or less), the actual size of the actual commodity Main application: travel / travel clothing with sun shade air-conditioned room features warm: Europe Specifications green dye / washable and quick drying and more hygienic cleaning methods: hand wash in cold water (water temperature does not exceed 30 degrees suspect C)) do not bleach / not wring / not hot iron / ventilation can be dried in the shade. Note: 1. Do not touch the flame / oil / House food, to avoid hurting chiffon scarf 2. equipped with sharp objects and pay attention in order to avoid breaking the hook, pay attention to moisture during storage to prevent insects and mildew 3. faded clothes need to be washed separately to avoid blending contaminated. product colors due to computer monitor settings slightly different color of the actual commodity based. Product size mining manual measurement, a slight error value less than 3 cm, the actual size of the actual commodity based.
南秀絲語 圍巾/批肩/沙灘巾兩用加長(大)款 義大利之夢634BL
絲巾款式設計結合生活與美感,時尚輕潮流
採用通過歐美規格環保染劑 不含AZO
雪紡材質柔軟舒適,吸溼、透氣佳不悶熱
易洗快乾更衛生!
騎車開車時防曬遮陽、戶外服裝小搭配、冷氣房保暖
是絕對必備的搭配單品喔!
本商品規格

品牌:L&A南秀絲語 型號:634BL 材質:新式雪紡 長度:200cm 寬度:145cm ※商品尺寸會因測量起點與終點有所誤差(誤差值約3-5公分以內),實際尺寸以實際商品為主 適用:出遊/旅行時防曬遮陽 服裝搭配 冷氣房保暖 特色:歐美規格環保染劑/易洗快乾更衛生 清洗方式: 涼水手洗(水溫不疑超過30度C)) 不可漂白/不可擰乾/不可高溫熨燙/通風陰涼處曬乾即可。 注意事項: 1.勿接觸火苗/油汙/府食品,以免傷害雪紡絲巾 2.配帶與留意銳利物以免勾破,收納時留意防潮以防蟲蛀發霉 3.需與退色衣物分開洗滌以免沾染混色。 ※商品顏色會因電腦螢幕設定而略有不同,顏色以實際商品為主。 ※商品尺寸採人工測量,略有誤差值3公分以內,實際尺寸以實際商品為主。
| Zone | Order Total (RM) | Delivery Fee (RM) |
| --- | --- | --- |
| MY | Below 88.00 | 19.00 |
| | Above 88.00 | FREE |
Shipping Info
Order process take 4~7 days, and international shipping will take about 10~14 days

Important Notification:
1. PChomeSEA acts as a buying agent and does not provide product warranty.
2. Please check whether product specs (including voltage, plug type, frequency, etc.,) applys in your country.