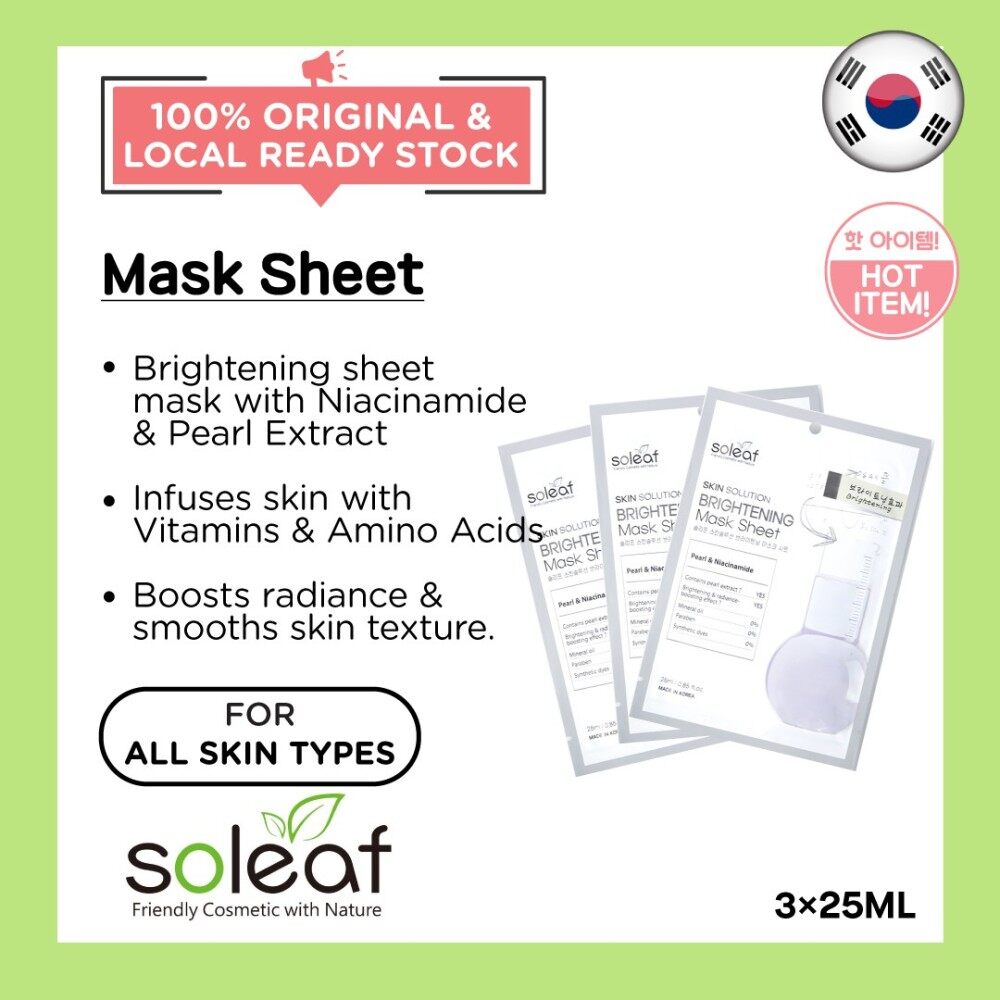 What's in the box:
SOLEAF 3x25ml Skin Solution Brightening Mask Sheet Gentle Mild Moisturizing Vitamin C Niacinamide Amino Acids Brightening Face Mask Korean Skincare Beauty Local Warehouse Ready Stock Original
Please check stocks/availability with us before placing order.
Sila check stok dengan kami sebelum membuat pesanan.
Bright, moisturized skin is a sheet mask away with SOLEAF Skin Solution Brightening Mask Sheet. Its Niacinamide and Pearl Extract essence instantly infuses the skin with vitamins and amino acids that boost radiance and smooth skin texture.Features -Brightening sheet mask with Niacinamide & Pearl Extract -Infuses skin with Vitamins & Amino Acids -Boosts radiance & smooths skin texture.Specifications: Brand: SOLEAF Size: 3x25mlIngredients: Water, Butylene Glycol, Glycerin, Niacinamide, 1,2-Hexanediol, Water, 1,2-Hexanediol, Ethylhexylglycerin, Sodium Hyaluronate, Sodium Hyaluronate Crosspolymer, Hydrolyzed Sodium Hyaluronate, Hyaluronic Acid, Hydrolyzed Hyaluronic Acid, Pentylene Glycol, Water, 1,2-Hexanediol, Pearl Extract, Water, 1,2-Hexanediol, Ecklonia Cava Extract, Trehalose, Carbomer, Xanthan Gum, Arginine, Disodium EDTA, PEG-60 Hydrogenated Castor Oil, Water, Alcohol Denat., Ethylhexylglycerin, Phenoxyethanol, Fragrance.
Package content:
3 xSOLEAF Skin Solution Brightening Mask Sheet (25ml)
| Zone | Weight | Delivery Fee (RM) |
| --- | --- | --- |
| West Malaysia | First 2.00 kg | 7.00 |
| | Extra 1.00 kg | 1.00 |
| East Malaysia | First 1.00 kg | 12.00 |
| | Extra 1.00 kg | 2.00 |
| Australia, New Zealand | First 0.50 kg | 56.56 |
| | Extra 1.00 kg | 48.10 |
| Austria, Denmark, Finland,Mexico,Ireland, Switzerland | First 0.50 kg | 58.82 |
| | Extra 1.00 kg | 40.91 |
| Brunei, Cambodia, Laos | First 0.50 kg | 51.01 |
| | Extra 1.00 kg | 51.98 |
| Belgium,France, Germany, Netherlands, Spain, U.K | First 0.50 kg | 64.19 |
| | Extra 1.00 kg | 36.71 |
| China | First 0.50 kg | 42.18 |
| | Extra 1.00 kg | 33.78 |
| Bangladesh,Brazil,Iraq, Pakistan,Qatar, Russia, S.Arabia, UAE | First 0.50 kg | 59.32 |
| | Extra 1.00 kg | 43.21 |
| Ghana, Mongolia,South Africa | First 0.50 kg | 70.68 |
| | Extra 1.00 kg | 61.37 |
| Philippines | First 0.50 kg | 44.79 |
| | Extra 1.00 kg | 33.86 |
| Canada, United States | First 0.50 kg | 60.55 |
| | Extra 1.00 kg | 43.09 |
| Hong Kong | First 0.50 kg | 31.95 |
| | Extra 1.00 kg | 28.42 |
| India | First 0.50 kg | 51.01 |
| | Extra 1.00 kg | 40.15 |
| Indonesia | First 0.50 kg | 51.38 |
| | Extra 1.00 kg | 42.37 |
| Japan | First 0.50 kg | 45.74 |
| | Extra 1.00 kg | 39.48 |
| Macau | First 0.50 kg | 55.46 |
| | Extra 1.00 kg | 38.50 |
| Singapore | First 0.50 kg | 32.83 |
| | Extra 1.00 kg | 26.99 |
| Taiwan | First 0.50 kg | 36.17 |
| | Extra 1.00 kg | 33.20 |
| Thailand | First 0.50 kg | 39.41 |
| | Extra 1.00 kg | 31.73 |
| Vietnam | First 0.50 kg | 60.55 |
| | Extra 1.00 kg | 39.82 |