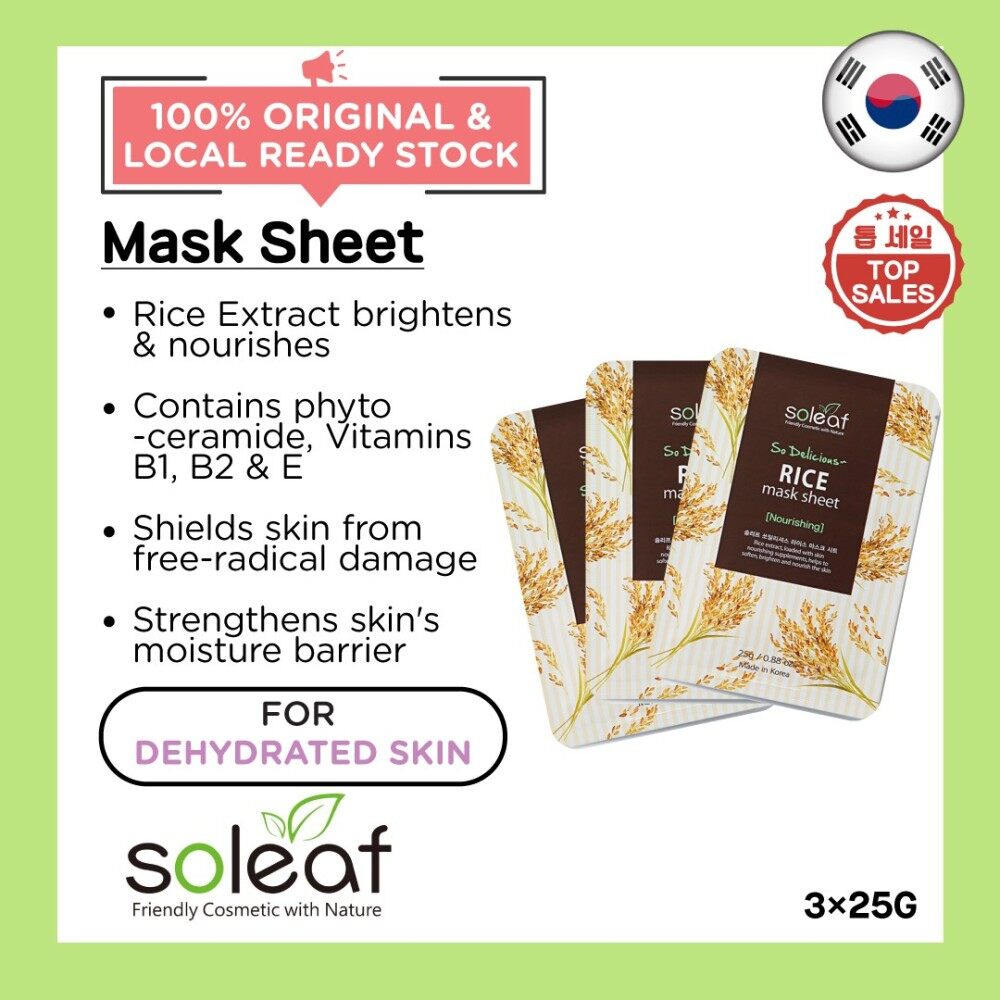 What's in the box:
SOLEAF 3x25g So Delicious Rice Mask Sheet Gentle Mild Moisturizing Brightening Conditioning Nourishing Face Mask Korean Skincare Beauty Local Warehouse Ready Stock Original
Please check stocks/availability with us before placing order.
Sila check stok dengan kami sebelum membuat pesanan.
Brighten and nourish the skin with this ultra-conditioning sheet mask with Rice Extract. More than just a staple food, rice provides skincare benefits through its stores of phyto-ceramide, vitamins B1, B2 and E, a remarkable combination of protective agents that softens, increases luminosity and strengthens the skin's moisture barrier.Features -Ultra-conditioning sheet mask -Rice Extract brightens & nourishes -Contains Phyto-ceramide, Vitamins B1, B2 & E -Strengthens skin's moisture barrierSpecifications: Brand: SOLEAF Size: 3x25gIngredients: Water, Glycerin, Dipropylene Glycol, Cetyl Ethylhexanoate, Xanthan Gum, Butylene Glycol, Chlorphenesin, Phenoxyethanol, PEG-60 Hydrogenated Castor Oil, Panthenol, Allantoin, Niacinamide, Ethylhexyl Palmitate, Oryza Sativa (Rice) Extract, Disodium EDTA, Portulaca Oleracea Extract, Cetearyl Alcohol, Ceteareth-20, Ceteareth-12, Fragrance, Tocopheryl Acetate, Boswellia Serrata Extract, Hamamelis Virginiana (Witch Hazel) Extract, Dipotassium Glycyrrhizate, Glyceryl Stearate, Cetyl Palmitate, Sodium Hyaluronate, Hydrolyzed Collagen.
Package content:
3 X SOLEAF So Delicious Rice Mask Sheet (25g)
| Zone | Weight | Delivery Fee (RM) |
| --- | --- | --- |
| West Malaysia | First 2.00 kg | 7.00 |
| | Extra 1.00 kg | 1.00 |
| East Malaysia | First 1.00 kg | 12.00 |
| | Extra 1.00 kg | 2.00 |
| Australia, New Zealand | First 0.50 kg | 56.56 |
| | Extra 1.00 kg | 48.10 |
| Austria, Denmark, Finland,Mexico,Ireland, Switzerland | First 0.50 kg | 58.82 |
| | Extra 1.00 kg | 40.91 |
| Brunei, Cambodia, Laos | First 0.50 kg | 51.01 |
| | Extra 1.00 kg | 51.98 |
| Belgium,France, Germany, Netherlands, Spain, U.K | First 0.50 kg | 64.19 |
| | Extra 1.00 kg | 36.71 |
| China | First 0.50 kg | 42.18 |
| | Extra 1.00 kg | 33.78 |
| Bangladesh,Brazil,Iraq, Pakistan,Qatar, Russia, S.Arabia, UAE | First 0.50 kg | 59.32 |
| | Extra 1.00 kg | 43.21 |
| Ghana, Mongolia,South Africa | First 0.50 kg | 70.68 |
| | Extra 1.00 kg | 61.37 |
| Philippines | First 0.50 kg | 44.79 |
| | Extra 1.00 kg | 33.86 |
| Canada, United States | First 0.50 kg | 60.55 |
| | Extra 1.00 kg | 43.09 |
| Hong Kong | First 0.50 kg | 31.95 |
| | Extra 1.00 kg | 28.42 |
| India | First 0.50 kg | 51.01 |
| | Extra 1.00 kg | 40.15 |
| Indonesia | First 0.50 kg | 51.38 |
| | Extra 1.00 kg | 42.37 |
| Japan | First 0.50 kg | 45.74 |
| | Extra 1.00 kg | 39.48 |
| Macau | First 0.50 kg | 55.46 |
| | Extra 1.00 kg | 38.50 |
| Singapore | First 0.50 kg | 32.83 |
| | Extra 1.00 kg | 26.99 |
| Taiwan | First 0.50 kg | 36.17 |
| | Extra 1.00 kg | 33.20 |
| Thailand | First 0.50 kg | 39.41 |
| | Extra 1.00 kg | 31.73 |
| Vietnam | First 0.50 kg | 60.55 |
| | Extra 1.00 kg | 39.82 |