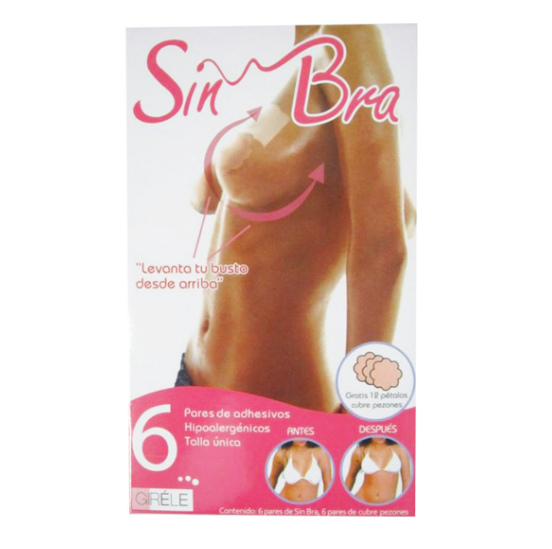 Sinbra bra sticker are the completely strapless solution to lifting your breasts while ensuring a naturally perky look in virtually ANY outfit. With Sinbra bra sticker, you can lift each breast and realign your nipple to a higher position, even if you are larger than a D cup. Sinbra bra stickerwill reduce pulling and slipping of the straps when worn with a bra and are also a simple solution to the"back bulge." You can even wear them under a bathing suit since they are completely waterproof. They can even be worn for up to 24 hours!
(Same product as Brastick or Bra stick)
Sinbra bra sticker are the perfect solution for 24-hour breast support that is virtually invisible. Simply place, peel and gently lift to get the shape, support and confidence that every woman desires. Best of all, Sinbra bra sticker utilize a pain-free adhesive so they are comfortable to wear, yet easy and painless to remove! !
-Lifts and supports your breasts, even without a bra.
-Unbelievable firm breast support
-Lets your breast have a natural smooth perky shape
-Fits unnoticeably under any clothing
-Look beautiful while wearing backless or strapless tops
-Soft and extra gentle on skin. Easy to apply & remove
I would recommend this product for those who have Cup C and above only. Or this can also work well for those who have been married and have had kids, as breasts would naturally sag mildly or moderately after motherhood, depending on individuals. Personally I'm an A cup, and still unmarried/no kids, therefore I do not have any sagging problems as yet. I have tried it and it did not for work me as logically speaking, there is nothing to lift. For my customers with cup C and above it works to lift breasts to a a naturally perky state.
There was an ad in facebook of a similar product of a different brand and many customers have requested us to bring this in, and hence we did. It worked for some, and did not work for those in the similar situation as me. Hope this helps you make a proper purchase decision babes~ cheers~
| Zone | Order Total (RM) | Delivery Fee (RM) |
| --- | --- | --- |
| MY | Flat Rate | FREE |