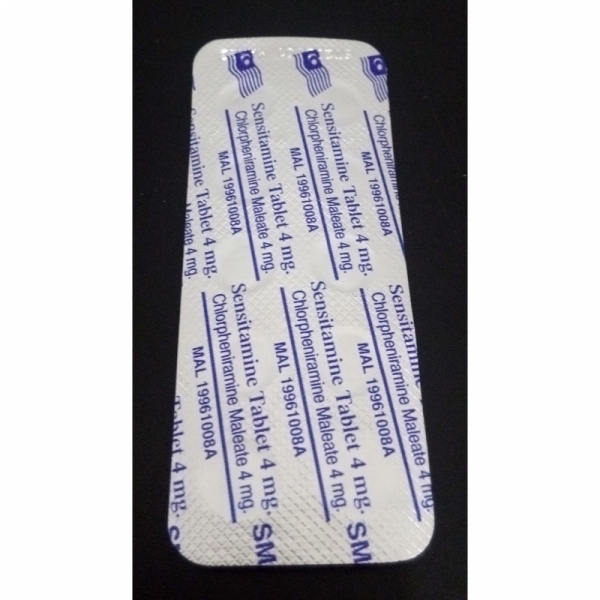 Size (length*width*height): 10cm x 18cm x 2cm
Expiry Date: Normal Expiry
Function: Anti-Histamine
Pack Type: Single Item
Sensitamine Tablet, Chlorpheniramine Maleate 4mg 10pcs
- SKU: SENSITAMINE-4MG-010
- Specification:
(01) Color: Pink
(02) Dimension: 78mm(W) 31mm(D) x 3mm(H)
(03) Its active ingredient, i.e. chlorpheniramine maleate is anti-histamine with anti-cholinergic properties, capable of producing a slight to moderate sedative effect, works by blocking a certain natural substance i.e. histamine that your body makes during an allergic reaction.
(04) An anti-histamines appear to compete with histamine for cell receptor sites on effector cells.
(05) Treat as shown below: The symptoms of perennial (throughout the year).
(06) Seasonal allergic rhinitis (inflammation of the mucous membrane inside the nose).
(07) Vasomotor (non-allergic) rhinitis.
(08) Allergic conjunctivitis (inflammation of the outer membrane of the eyeball and the inner eye-lid).
(09) Pruritus (desire or reflex to skin scratch).
(10) Skin allergy (mild allergy).
(11) Mild, uncomplicated allergic skin manifestations of urticaria (a red, raised, itchy rash).
(12) Angioedema (swelling of the deeper layers of the skin).
(13) Combination of decongestant (Pseudoephedrine).
(14) Improvement of allergic reactions to blood or plasma.
(15) Dermatographism (skin becoming raised and inflamed when pressure is applied).
(16) Add-on therapy to epinephrine for anaphylactic reactions (severe allergic reaction).
(17) 1 tablet 3 times a day (4 - 6 hours), after meal or food, swallow the tablets with some water.
(18) Apply oral when needed only.
(19) Stop if no allergy sign occur.
(20) Do not use it if you are allergic to chlorpheniramine.
(21) Do not use if you have lower respiratory tract symptoms.
(22) Do not use if you have acute episode of asthma.
(23) Do not use if you have urinary retention.
(24) Having this medicine will let you feel sleepy, prevent driving vehicle and machine handling after having it.
(25) Mungkn ada kesan mengantuk, terbaik untuk masalah hidung , alahan, kegatalan, gigitan serangga dan lain-lain.
#sensitamine #chlorpheniraminemaleate #chlorpheniramine #anti-histamine #drugs #runningnose #allergy #oral
| Zone | Weight | Delivery Fee (RM) |
| --- | --- | --- |
| West Malaysia | First 1.00 kg | 4.80 |
| | Extra 1.00 kg | 2.00 |
| East Malaysia | First 1.00 kg | 13.00 |
| | Extra 1.00 kg | 9.00 |