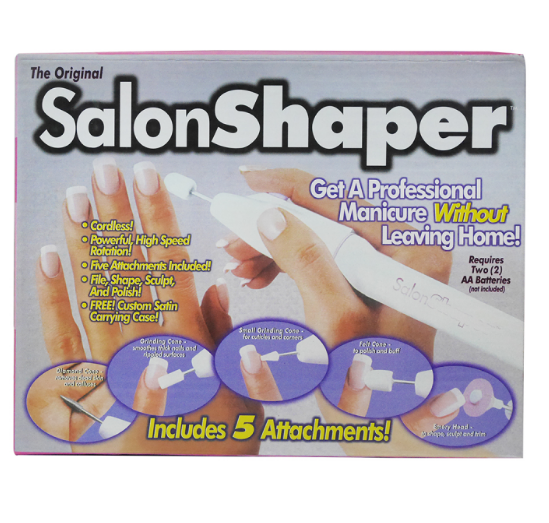 Professional Manicure without Leaving Home!
Professional Home Manicure Kit
Are You tired for spending RM50 or extra for a manicure or pedicure. The Salon Shaper is the machine for you to Skip those weekly visits to the beauty salons and save money by doing your own manicure right at your home. Say bye-bye to embarrassing looking hands forever with just a some simple steps. Choose one of the 5 attachments and insert into the top of the machine. Salon Shaper will shape, grind, smooth out, manipulate your nails to give you the look you wish. Salon Shaper has great features like high - speed rotation and is powerful enough to trim and shape tough acrylics and toenails.
The Salon Shaper manicure set can make you look like you've had a professional manicure. All it takes is a few simple steps from the comfort of your own home.

• Professional Results...
The Salon Shaper features a high speed rotation powerful enough to trim and shape tough acrylics and toenails, yet is gentle enough to work on cuticles and weak or splitting nails. These powerful rotations combined with each precision crafted nail head lets you sculpt, shape, smooth, and shine your nails quickly and easily. With Salon Shaper, it has never been easier to get a professional looking manicure at home.
Don't spend one more day with chipped, cracked or embarrassing looking nails. Try Salon Shaper for yourself!
Salon Shaper makes a terrific gift too!
• Files, Shapes, Sculpts & Polishes!
• Quick and easy to use
• Salon Shaper have 5 attachments
• High Speed Rotation and powerful enough to trim
• Free custom satin carrying case
• Cordless Unit
• The Diamond Cone- for removing dead skin and calluses
• Grinding Cone- smoothes thick nails and rippled surfaces
• Small Grinding Cone- for cuticles and corners
• Felt Cones- to polish and buff
• Emery Head- to shape, sculpt, and trim
• 1 x Salon Shaper
• 5 x Attachments
• 1 x Satin Carrying Pouch
• 1 x Instruction Manual
| Zone | Order Total (RM) | Delivery Fee (RM) |
| --- | --- | --- |
| MY | Flat Rate | FREE |