Size (length*width*height): 25cm x 13cm x 13cm
What's in the box:
2BTLx RED LINE 85 PLUS DIESEL ENHANCER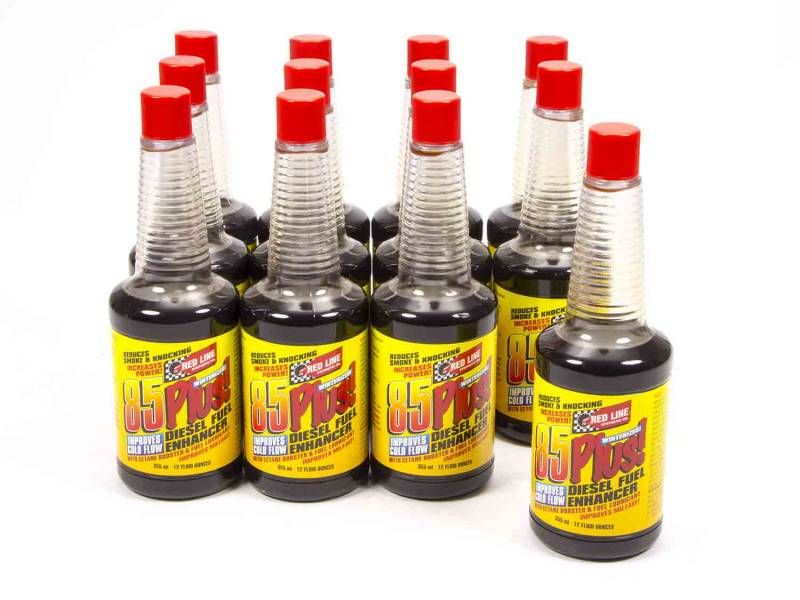 | | |
| --- | --- |
| ITEMS: | RED LINE WATERWETTER COOLANT |
| OIL TYPE: | COOLANT ADDITIVE |
| PACKAGING: | 355ml / BOTTLE |
| CONTAINER TYPE: | PLASTIC BOTTLE |
ABOUT RED LINE85 PLUS DIESEL ENHANCER:
Redline 85 Plus Diesel Fuel Additive - 12 oz. Designed for use in all diesel engines. Contains extremely powerful lubricants, detergents, seal conditioners, fuel stabilizers and rust preventatives, but without smoke suppressant. Red Line 85 Plus contains additional cetane improvers which boost the fuel 5-9 cetane numbers and additional lubricants which reduce wear in low sulfur fuel by 75%. This improvement in lubricity and cetane will reduce detonation, assist starting, help reduce smoking, help prevent fuel system wear and leakage and can provide 5% additional power and efficiency.This diesel fuel additive complies with the federal low sulfur content requirements for use in diesel motor vehicles and non-road engines.
PRODUCTSFEATURES & BENEFITS:
Designed for use in all diesel engines - compensates for latest low-sulfur fuels
Provides faster ignition, improved efficiency, reduced detonation and smoke
All Red Line Diesel additives comply with federal low-sulfur content requirements
Rather than creating new products in the diesel category, Red Line reformulates these products often to ensure that they meet the changing demands of the latest diesel fuels
Winter formulas use pour-point reducers to keep wax in suspension and reduce wax crystals to pass through filters and injectors
LUCAS ENGINE OIL LUBRICANTS FILLING:
| | | |
| --- | --- | --- |
| Zone | Weight | Delivery Fee (RM) |
| West Malaysia | First 1.00 kg | 9.50 |
| | Additional 0.50 kg | 3.00 |
| East Malaysia | First 1.00 kg | 15.00 |
| | Additional 0.50 kg | 6.00 |