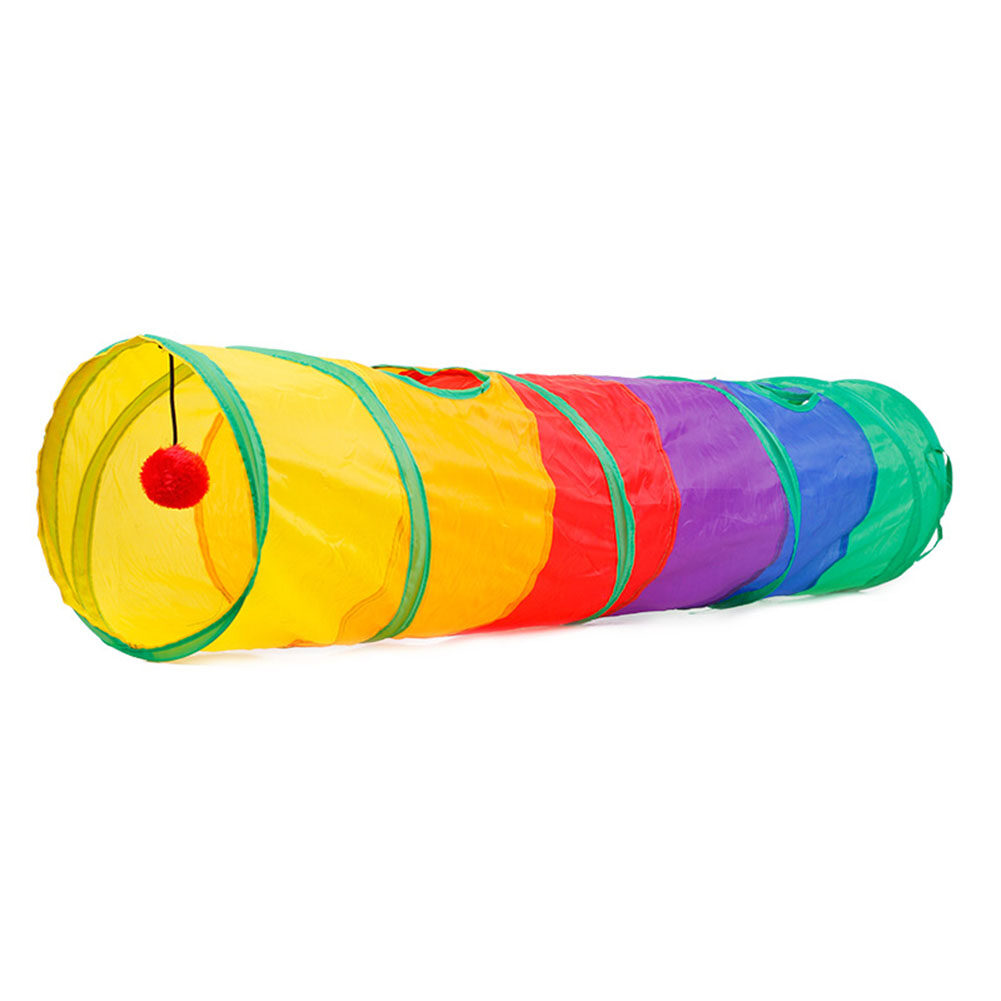 What's in the box:
Default
Ready stock in Malaysia !
Description:
Item type: Cat Tunnel
Weight: 200g
Size: 115X25cm
Colour: Rainbow color
Features:
-- Top-ranking material
-- Funny to play
-- Portable and compact design
Material: Polyester cloth
Package includes:
1 *Cat Tunnel (ball is included)
Note:
1-2cm error might exist due to manual measurements, please kindly understand. The colors deviation might differ due to different monitor settings.
We provide you with the best product and service. If you have any problem, please let us know, and we will solve the problem ASAP. Thank you so much.
| Zone | Weight | Delivery Fee (RM) |
| --- | --- | --- |
| West Malaysia | First 2.00 kg | 7.00 |
| | Extra 1.00 kg | 1.00 |
| East Malaysia | First 1.00 kg | 12.00 |
| | Extra 1.00 kg | 2.00 |
| Australia, New Zealand | First 0.50 kg | 56.56 |
| | Extra 1.00 kg | 48.10 |
| Austria, Denmark, Finland,Mexico,Ireland, Switzerland | First 0.50 kg | 58.82 |
| | Extra 1.00 kg | 40.91 |
| Brunei, Cambodia, Laos | First 0.50 kg | 51.01 |
| | Extra 1.00 kg | 51.98 |
| Belgium,France, Germany, Netherlands, Spain, U.K | First 0.50 kg | 64.19 |
| | Extra 1.00 kg | 36.71 |
| China | First 0.50 kg | 42.18 |
| | Extra 1.00 kg | 33.78 |
| Bangladesh,Brazil,Iraq, Pakistan,Qatar, Russia, S.Arabia, UAE | First 0.50 kg | 59.32 |
| | Extra 1.00 kg | 43.21 |
| Ghana, Mongolia,South Africa | First 0.50 kg | 70.68 |
| | Extra 1.00 kg | 61.37 |
| Philippines | First 0.50 kg | 44.79 |
| | Extra 1.00 kg | 33.86 |
| Canada, United States | First 0.50 kg | 60.55 |
| | Extra 1.00 kg | 43.09 |
| Hong Kong | First 0.50 kg | 31.95 |
| | Extra 1.00 kg | 28.42 |
| India | First 0.50 kg | 51.01 |
| | Extra 1.00 kg | 40.15 |
| Indonesia | First 0.50 kg | 51.38 |
| | Extra 1.00 kg | 42.37 |
| Japan | First 0.50 kg | 45.74 |
| | Extra 1.00 kg | 39.48 |
| Macau | First 0.50 kg | 55.46 |
| | Extra 1.00 kg | 38.50 |
| Singapore | First 0.50 kg | 32.83 |
| | Extra 1.00 kg | 26.99 |
| Taiwan | First 0.50 kg | 36.17 |
| | Extra 1.00 kg | 33.20 |
| Thailand | First 0.50 kg | 39.41 |
| | Extra 1.00 kg | 31.73 |
| Vietnam | First 0.50 kg | 60.55 |
| | Extra 1.00 kg | 39.82 |