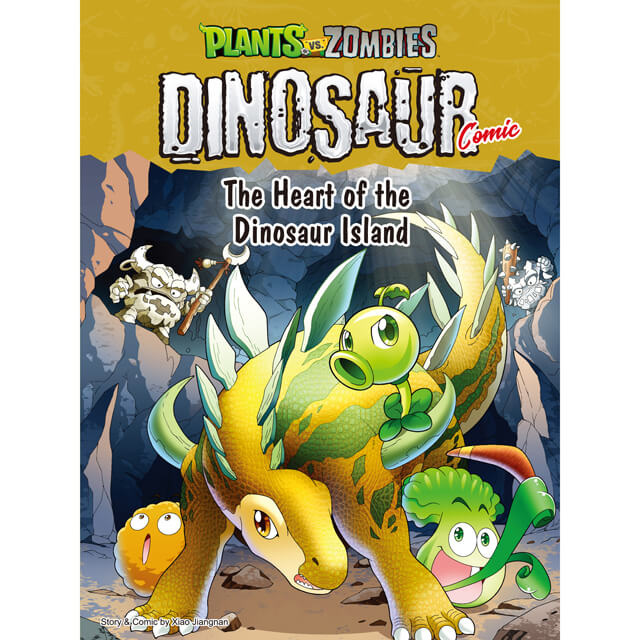 ISBN:9789672296409
Book Title:Plants vs Zombies ● Dinosaur Comic: The Heart of the Dinosaur Island
Series:Dinosaur Comic
Author:Xiao Jiangnan
Binding Type:

Soft Cover,Coloured Printed,176 pages



Synopsis:
An uninvited guest comes to Plant Town. Jake the Ornitholestes falls from the sky and befriends the Plants. Unfortunately, he is from the Mesozoic and cannot adapt to the current environment. So, Peashooter and Bonk Choy decide to send him home, which is a small island floating in the sky.
While searching for the dinosaur island, the aircraft that the Plants and Jake are boarding is hit by missiles fired by the Zombies and falls from the sky. When they wake up, they discover that the aircraft has crashed on the dinosaur island! In order to repair the aircraft, Jake turns a deaf ear to the patriarch's objection and leads the Plants into the forest to search for the Heart of the Island, a legendary stone that possesses mysterious powers.
Why can Camptosaurus float in the sky? What is this thing that Kentrosaurus has been guarding for generations? And what secret is hidden in the Heart of the Island?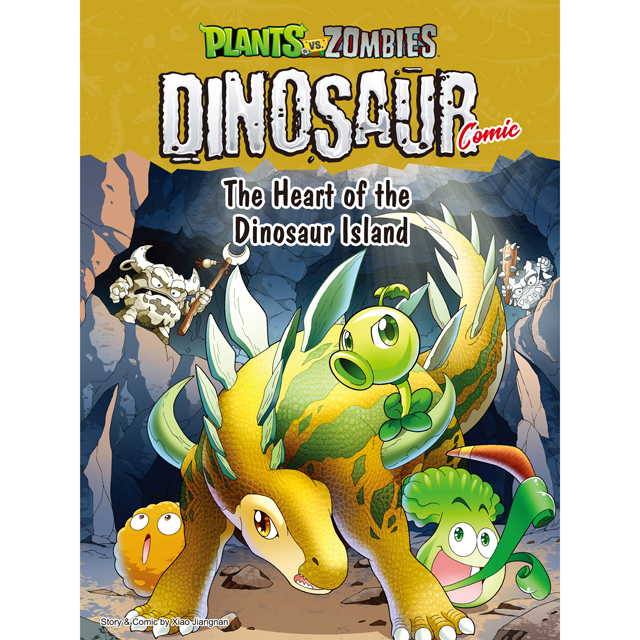 | Zone | Weight | Delivery Fee (RM) |
| --- | --- | --- |
| West Malaysia | First 1.00 kg | 4.80 |
| | Extra 1.00 kg | 2.00 |
| East Malaysia | First 1.00 kg | 13.00 |
| | Extra 1.00 kg | 9.00 |
| Australia, New Zealand | First 0.50 kg | 56.56 |
| | Extra 1.00 kg | 48.10 |
| Austria, Denmark, Finland,Mexico,Ireland, Switzerland | First 0.50 kg | 58.82 |
| | Extra 1.00 kg | 40.91 |
| Brunei, Cambodia, Laos | First 0.50 kg | 51.01 |
| | Extra 1.00 kg | 51.98 |
| Belgium,France, Germany, Netherlands, Spain, U.K | First 0.50 kg | 64.19 |
| | Extra 1.00 kg | 36.71 |
| China | First 0.50 kg | 42.18 |
| | Extra 1.00 kg | 33.78 |
| Bangladesh,Brazil,Iraq, Pakistan,Qatar, Russia, S.Arabia, UAE | First 0.50 kg | 59.32 |
| | Extra 1.00 kg | 43.21 |
| Ghana, Mongolia,South Africa | First 0.50 kg | 70.68 |
| | Extra 1.00 kg | 61.37 |
| Philippines | First 0.50 kg | 44.79 |
| | Extra 1.00 kg | 33.86 |
| Canada, United States | First 0.50 kg | 52.55 |
| | Extra 1.00 kg | 43.09 |
| Hong Kong | First 0.50 kg | 31.95 |
| | Extra 1.00 kg | 28.42 |
| India | First 0.50 kg | 51.01 |
| | Extra 1.00 kg | 40.15 |
| Indonesia | First 0.50 kg | 51.38 |
| | Extra 1.00 kg | 42.37 |
| Japan | First 0.50 kg | 45.74 |
| | Extra 1.00 kg | 39.48 |
| Macau | First 0.50 kg | 55.46 |
| | Extra 1.00 kg | 38.50 |
| Singapore | First 0.50 kg | 32.83 |
| | Extra 1.00 kg | 26.99 |
| Taiwan | First 0.50 kg | 36.17 |
| | Extra 1.00 kg | 33.20 |
| Thailand | First 0.50 kg | 39.41 |
| | Extra 1.00 kg | 31.73 |
| Vietnam | First 0.50 kg | 60.55 |
| | Extra 1.00 kg | 39.82 |
Self Pickup Point
Description (RM)
Delivery Fee (RM)
Self Pickup Point
United Publishing House (M) Sdn. Bhd.
Lot 3-055, 3rd Floor, Endah Parade Shopping Mall
1, Jalan 1/149E, Taman Sri Endah,
57000 Bandar Baru Sri Petaling, Kuala Lumpur.
Monday~Friday 9am~6pm
0.00