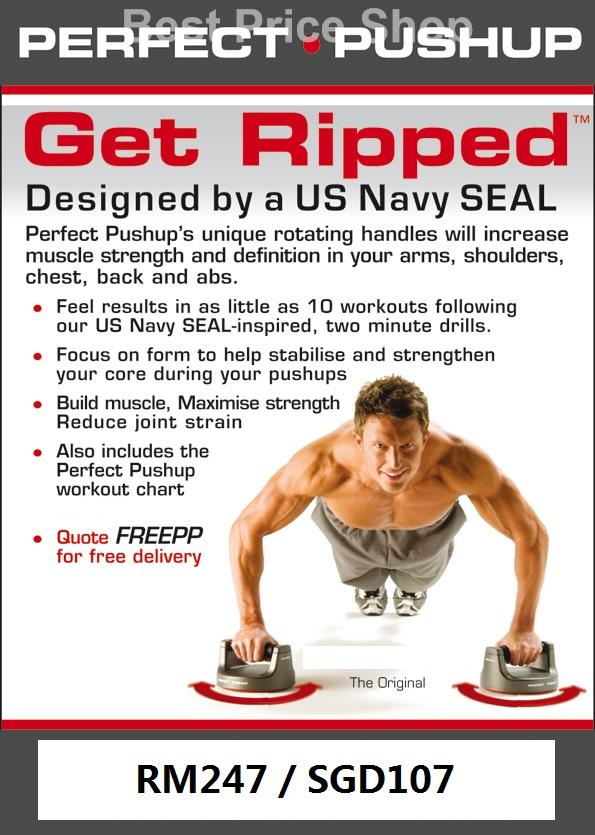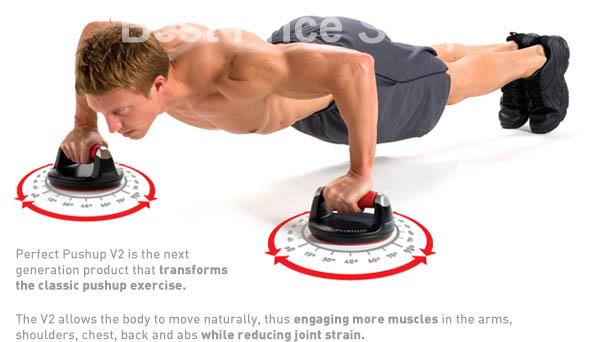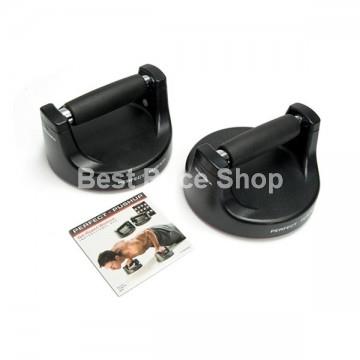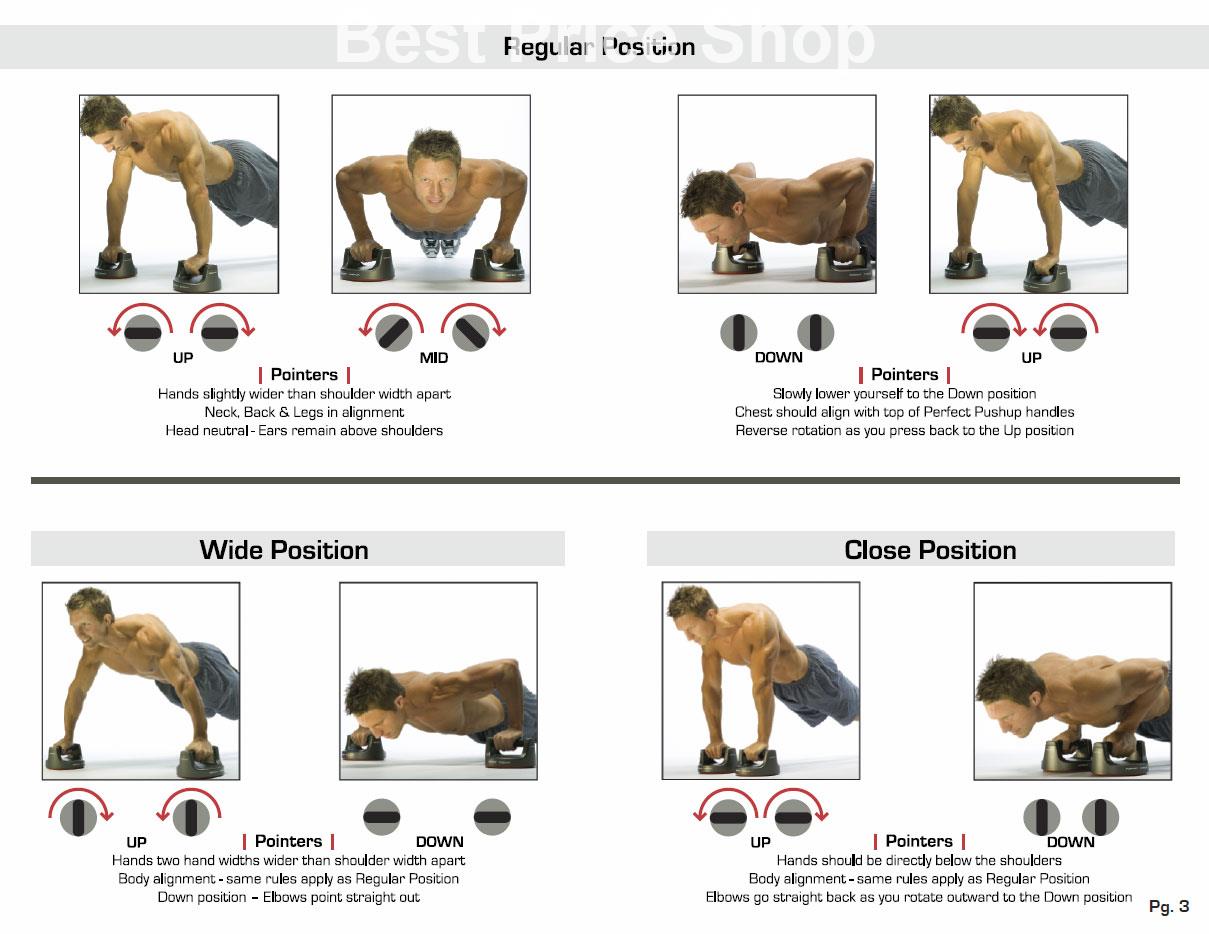 The BEST Pushup Exerciser in America
The next generation product that takes the classic pushup to the next level
Perfect Pushup patented rotating handles allow your arms to move naturally, the same way they do when you throw a punch or press up a dumbbell. This helps engage more muscles in the arms, shoulders, chest, back and abs. Perfect Pushup maximizes strength building while helping to reduce joint strain. Made with built-to-last construction and padded grips for extra comfort.
How The Perfect Pushup Works

The Perfect Pushup was invented by Alden Mills, a former US Navy SEAL and professional trainer.
The Perfect Pushup basically takes a standard pushup bar — which keeps your wrists in a neutral, non-bent position — and attaches the pushup bar to a rotating base. This base allows you to maintain neutral wrist position while simultaneously rotating your arms (primarily at the wrist.) This ability to rotate is intended to allow you to compensate for your own bio-mechanics — taking stress off from the wrists and shoulders.


It also allows you to simulate the compound motion of certain dumbbell chest press motions by allowing rotation at wrists, elbows and shoulders — something that is impossible with standard pushups. So if you've ever performed dumbbell chest presses with your palms facing forward and then rotated them to face each other at the top of the movement, you'll know the motion I'm talking about.

Perfect Pushup allows you to work your muscles more completely, more comfortably and more safely.
Highlight:
The pair patent-pending rotating pushup handles with comfortable rubberized grips

Stable bases with rubber bottoms that grip well on carpet and all

hard floor

surfaces

Smooth, long lasting steel ball-bearing rotational systems

Navy SEAL inspired exercise chart

that shows proper pushup form and includes a workout planner based on SEAL 2 minute drills

The unique rotating handles helps speed up results by engaging more muscles in the arms, chest, shoulders, and back

SPECS
- Weight Limit : 400 lb / 136 kg
- Length: 8"
- Height: 4.5"
- Width: 8"
- Weight: 2 lb
Come with:
Perfect Pushup Power 12 Workout Videos
- Designed to take your Perfect Pushup workout to another level
- 12 challenging pushup styles derived from Navy SEALs, Yoga, and other techniques
- Pushup calisthenics that add variety and a powerful aerobic element to your workout
- Get ripped and develop greater strength and definition
The Perfect Pushup Benefits:
- Ergonomics protect against wrist strain associated with flexion at wrist during standard pushups
- Well-constructed, sturdy; foam hand grips are comfortable
- Rotation may protect against shoulder strain
- More challenging from a stabilization standpoint than fixed-position pushups
- Novel and fun; breaks up the monotony of the usual pushup
Add 1 set of Latest Rip 60 at RM155 Only
*All PWP Offer are Shipping together to the same delivery address!
| | | |
| --- | --- | --- |
| Zone | Weight | Delivery Fee (RM) |
| WM | First 2.00 kg | 7.50 |
| WM | Additional 1.00 kg | 1.50 |
| EM | First 2.10 kg | 9.80 |
| EM | Additional 1.00 kg | 4.50 |