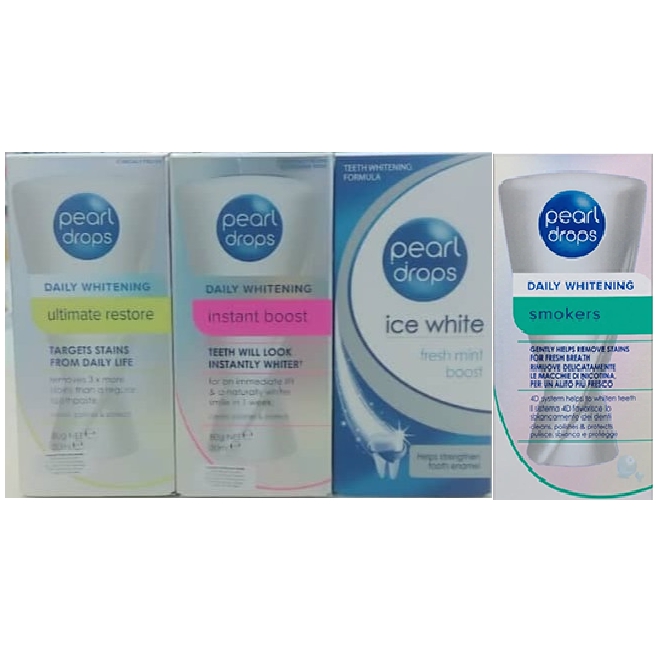 ice white
Helps brush teeth their whitest, brightest, smoothest and shiniest, to give you that 'just from the dentist' polished feeling.
Developed by a dentist, Pearl Drops contains no harsh abrasives or bleaches, and is gentle on tooth enamel and gums. Recommended for everyday use.
With fluoride to strengthen tooth enamel and protect against decay, Pearl Drops is dental effective and is recommended for everyday use.
Directions: Apply a large drop of Pearl Drops to your toothbrush, brush your teeth thoroughly and rinse. Recommended for everyday use. Not suitable for children under 7.
ultimate restore
et instantly whiter looking teeth after one brush and a brighter, whiter smile in just a week!
Stain Removal: By combining our most efficient cleaning agents with our stain prevention technology, now you can target daily stains like tea, coffee & red wine and helps prevent new stains from forming from daily life.
Cleans: Our clinically proven 4D Whitening System accelerates whiteness and lifts stains for a naturally whiter smile.
Polishes: Our low abrasion polishing agents and plaque removers helps remove surface plaque to polish the tooth surface, for a glossy and bright finish
Protects: Essential Fluoride helps to strengthen enamel and protect against tooth decay.
Removes 3x more stains than a regular toothpaste: Cleans, polishes & protects
Clinically proven and safe for every day use
somkers
Pearl Drops Smokers stain removing whitening gel is a dental health formula specially developed for smokers. It contains micro-polishers which effectively but gently help remove nicotine, food and drink stains, and plaque, and help restore teeth to their natural whiteness and shine. Plus it contains fluoride and tartar-control agents for healthier teeth and gums when used everyday.
Smokers extra fresh strongmint flavour will give you the confidence of really fresh breath for longer.
Effectively helps remove stains & plaque.
Helps restore natural teeth whiteness.
Reduces tartar build-up.
Protects against decay.
Freshens breath.
No harsh abrasives.
Gentle & safe for everyday use.
Whiter brighter teeth for a more confident smile.
instant boost
Pearl Drops Instant Boost contains a powerful pink formula, featuring Pro-Shine complex for an instant optical whitening effect and added gloss. Use daily for an instant whitening effect as well as boosting the whiteness of your teeth by up to 2 shades in 1 week.
Teeth will look instantly whiter*
DAILY WHITENING INSTANT BOOST PRO-SHINE COMPLEX
>> Specialist White
<
>
Teeth will look instantly whiter*
Adds gloss for instant impact
Get fast results when you want to make an instant impact and a high gloss shine to perfect your look
With illuminating agents to highlight the whiteness of your teeth and Pro-shine complex to finish your look.
Contains essential fluoride and plaque removers for cleaning and enamel care & strengthening with everyday brushing.
| Zone | Weight | Delivery Fee (RM) |
| --- | --- | --- |
| West Malaysia | First 1.00 kg | 4.80 |
| | Extra 1.00 kg | 2.00 |
| | Extra 99999.00 kg | FREE |
| East Malaysia | First 1.00 kg | 13.00 |
| | Extra 1.00 kg | 9.00 |