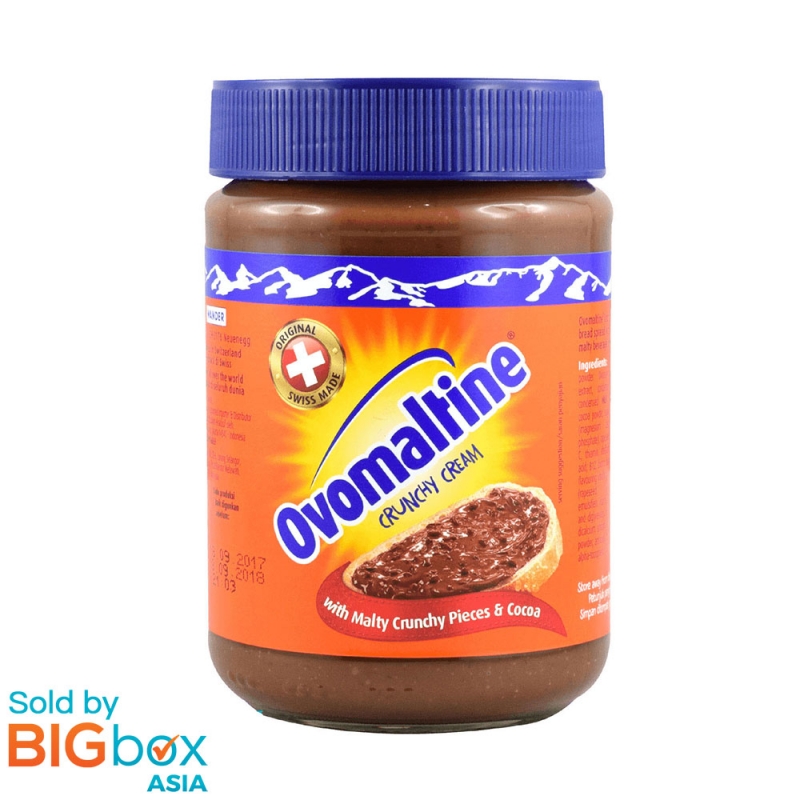 Ovomaltine is British Retail Consortium (BRC) and ISO certified, meaning that it is labeled as a trusted product by retailers worldwide as it adheres to the high quality control of food safety regulations set by the BRC. Their cocoa comes from a sustainable cocoa farm which has a traceability system, resulting into a high quality of product that is also UTZ certified. Unsure about the food you eat? Ask the experts at www.ricebowlasia.com
The only bread spread that combines crunchy malty pieces and cocoa. Formulated in Switzerland. Produced in Belgium. Enjoyed all over the world.
The best way to describe this delight would be that is creamy smooth with an added crispy crunch to go along with its delectable taste of fine cocoa and malt.
Smile in delight as every scoop instantly melts in your mouth. It also contains 11 types of vitamins, calcium and magnesium.
Best had as a spread on biscuits, cookies, toast bread in fact just go nuts and spread it on anything you like!
Ovomaltine was developed more than 100 years ago in Switzerland by Dr. Albert Wander. The first Ovomaltine powder was launched in 1904 and was originally sold for medicinal purposes. But soon even healthy, active people discovered the restorative effect of the revolutionary drink. Today, Ovomaltine powder is still produced in Switzerland, where our delicious spread, the Ovomaltine Crunchy Cream, was launched in 2005. By the way, did you know that in many countries Ovomaltine is called Ovaltine?
*Contains: Hazelnuts, gluten and lactose.
*May contain: Cashews, macadamias, almonds and soybeans.
*This product is imported from Belgium
Ingredients:
33% malty beverage powder Ovomaltine (barley malt extract, skimmedmilk concentrate, milk serum concentrate, fat-reduced cocoa, sugar, fructose, magnesium carbonate, calcium phosphate, rapeseed oil, vitamins [A, E, B1, B2, pantothenic acid, B6, folic acid, B12, C, biotine, niacin], salt, flavouring vanillin), sugar, vegetable oil (rapeseed, palm), 2.6% hazelnut, emulsifiers (sunflower lecithin, mono- and diglycerides of fatty acids), calcium phosphate, fat-reduced cocoa,antioxidant (sunfloweroil, sunflower lecithin, ascorbyl palmitate, alpha-tocopherol), flavouring vanillin
Nutritional Value:
NUTRIENTS
PER 100G
Caloric value
2275 kJ (545 kcal)
Fat
32.0 g
of which saturates
7.1 g
Carbohydrates
59.5 g
of which sugar
54.5 g
Dietary fiber
1.9 g
Protein
3.8 g
Salt
0.3 g
11 Vitamines
A
200 g/25*
E
5.2 mg/43*
C
26.4 mg/33*
B1
0.4 mg/36*
B2
0.5 mg/36*
Niacin
5.3 mg/33*
B6
0.5 mg/36*
Folic acid
66 g/33*
B12
0.8 g/32*
Biotin
16.5 g/33*
Pantothenic acid
2.0 mg/33*
3 Mineral Substances
Calcium
267 mg/33*
Phosphor
267 mg/38*
Magnesium
120 mg/32*
*% RDA = Recommended daily allowance
| Zone | Weight | Delivery Fee (RM) |
| --- | --- | --- |
| West Malaysia | First 1.00 kg | 5.50 |
| | Extra 1.00 kg | 1.00 |
| East Malaysia | First 1.00 kg | 18.00 |
| | Extra 1.00 kg | 12.00 |