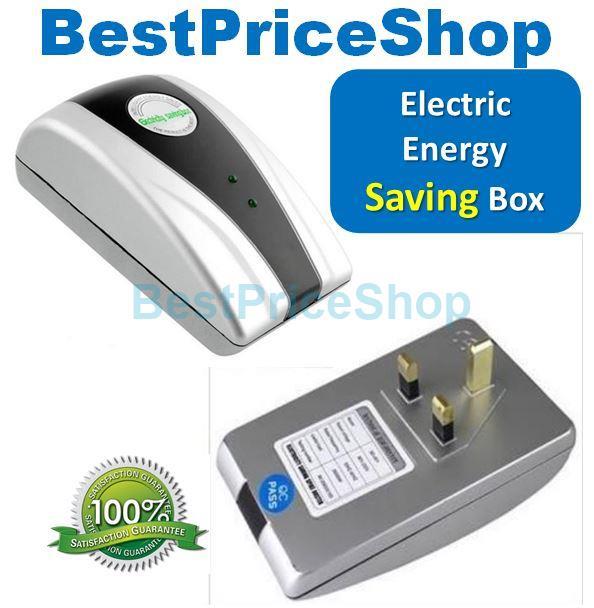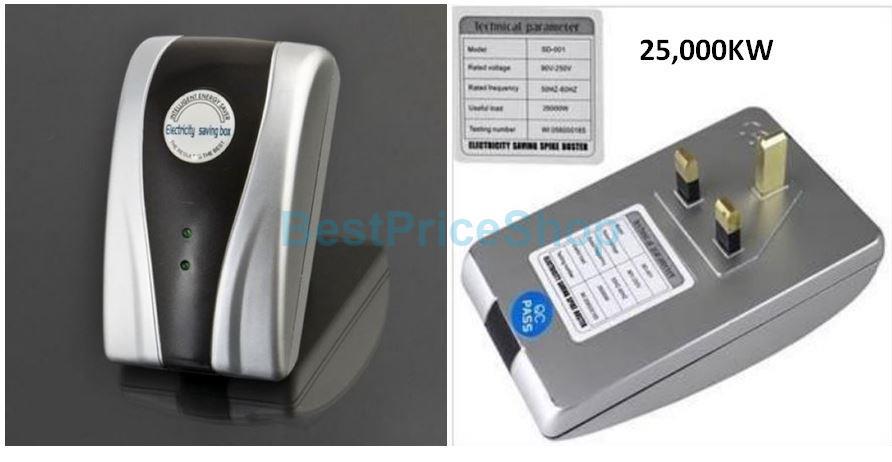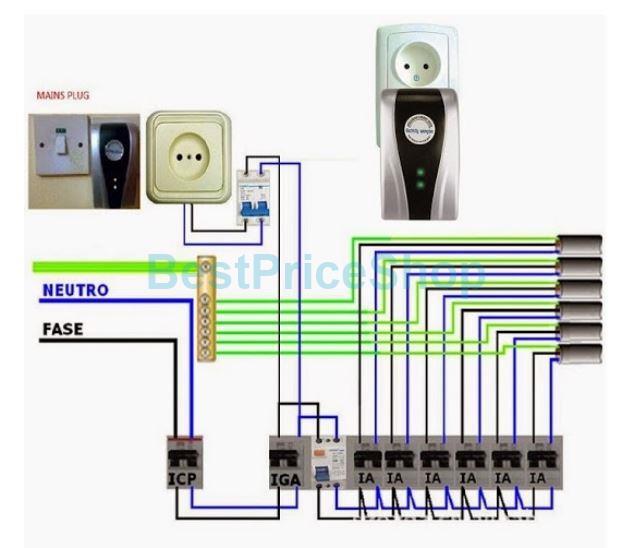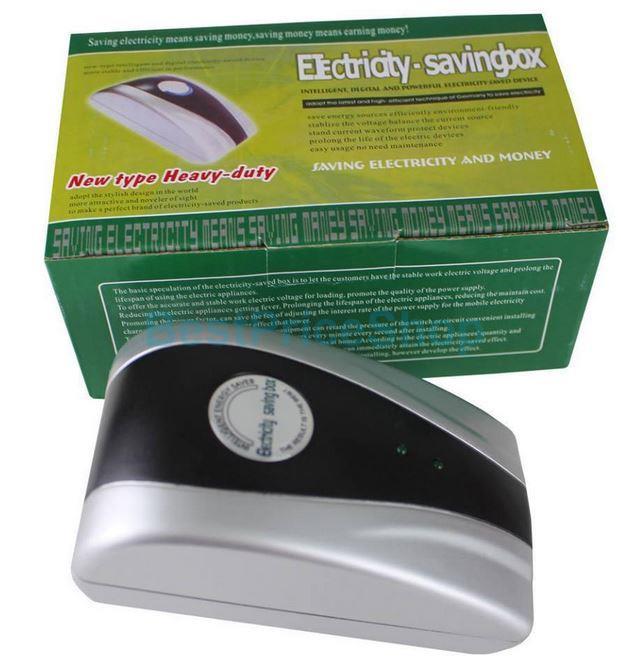 Original Electricity Power Energy Saving Box Electric Saver 25KW & 36KW (3Pins)

Product Detail:
Start saving your hard earned dollars now. Simply plug in your Power Saver and forget about it while it works to reduce all your future power bills by up to 30%-45%. Plug your Power Saver into any power point in your home/office. When plugged in, it becomes part of the wiring for your power points and automatically stabilizes all incoming power voltage. Your appliances then receive only the amount of power they need to operate, preventing any wastage. Not only will you save money on electricity bills, you will alsoprolong the lifespan of your appliances.
Appliances regularly break down or blow elements. This is due to excess power and power surges traveling into their system that they can't handle. Your Power Saverprotects your appliance by preventing excess power and/or power surges.
**For use within Domestic, Commercial and Industrial environments.
The power saver will earn you money from the second you plug it in and turn it on, paying for itself before your next bill comes in.
In single phase household monthly consumption of 800kwh, you will only need one Power Saver; if it is over 800kwh, you will need two Power Savers for better result. For three phase household, it is recommended that you apply one Power Saver on each phase.Please consult your technician for the location to install the Power Saver.
Hurry and save! Get one for yourself now!
Looking for More Saving???
Go for Latest Enhance Design Circuit Models:
Energy Saver uses Germany technology, the latest in the market,with the most modern system for electricity management. It has many functions :
To stabilize use of electricity.

To prevent damage resulting from lightning strike.

To reduce the electrical resistance to avoid overheating.

Made in China Original Germany Technology Circuit

Guarantee electricity saving.
Please choose from 15,000W, 25,000W and 36,000W
Tips!!
If you have a Double Storey House, Suggest to have 2 units:
36,000W for Ground Floor
25,000W for 1st Floor
Product Description:

With the combination of latest advanced electric power saving technology of Germany and Taiwan, Electricity Saving box can stabilize the working voltage,balance the current source, so that to save the power consumption and prolong the lifespan of electrical appliances for the end users effectively,It can be used for almost all common appliances such as air condition-ing,washing machine,icebox, electronic fan,Tv Sets, pump, audio-video,and fluorescent lamp,etc,it's applicable for house,office, firms,shops and mini-sized factories.

Product Features:

1.Applying manostat to stabilize the voltage,save the power consumption and prolong the life-span of the appliances.
2.Adding installation of the absorber to keep current surge away and protect the appliances.
3.Electronic controlled capacitances ballance current, improve the using power of the appliances roundly and avoid invalid power consumption.
4.Can be used all day every day continuously under any climate.
Specifications:

Rated voltage: 90V – 250V
Rated frequency: 50Hz – 60Hz
Dimensions: 7 x 12 x 3.5cm / 2.8 x 4.9 x 1.5" (W x H x D)
Color: Silver grey and black
Model: 15kW / 25KW

Reduce electricity bills by up to 30% - 60%

New -type Intelligent, Digital And Powerful Electricity Saving Device

save energy sources efficiently

Environmentally friendly – do something beneficial for the environment as well as your finances!

stabilize the voltage

balance the current source

protect devices

Smart, sleek design with LED lights to indicate operation

prolong the life of electrical devices

easy to use-no maintenance

Saving electricity means saving money, saving money means earning money

Please note that the efficiency of the electric appliances in your house or office also a key factor of the saving. Thus we are unable to guarantee the saving % due to this.

* Please Note that this model is OEM version copy the original circuit from German Technology
How does it Work:

The electricity saving device saves and reduces energy by stabilizing the voltage which in turn results in reductions in peak power demand and less waste of low efficient power. The low efficient power is consequently stored and recycled by the unit.
In the box:
100% Brand New!

1x Instruction Book

1x Electricity Saving Box

Please choose from 15,000W, 25,000W and 36,000W
User Guide:
1. Plug the electricity-saved box into any socket at home.
2. Indicate light is on after plugging into the socket.
3. Use one or more products according to the quantity of appliances.
4. Simple operation, no need maintenance, no need pay attention.
5. Suitable for: houses, condominiums, apartments, shop lots, restaurants, offices, small factories, etc..
FAQ
Is it Legal?
It is a common appliance you can plug into any outlet of your home. It is absolutely legal and approved & certified. Since 1998 the United Nations Foundation itself has committed nearly 50 million towards promoting renewable energy and energy efficiency.
Looking for More Saving???
Go for Latest Enhance Design Circuit Models:
| | | |
| --- | --- | --- |
| Zone | Weight | Delivery Fee (RM) |
| West Malaysia | First 2.00 kg | 7.50 |
| | Additional 1.00 kg | 1.50 |
| East Malaysia | First 2.10 kg | 9.80 |
| | Additional 1.00 kg | 4.50 |