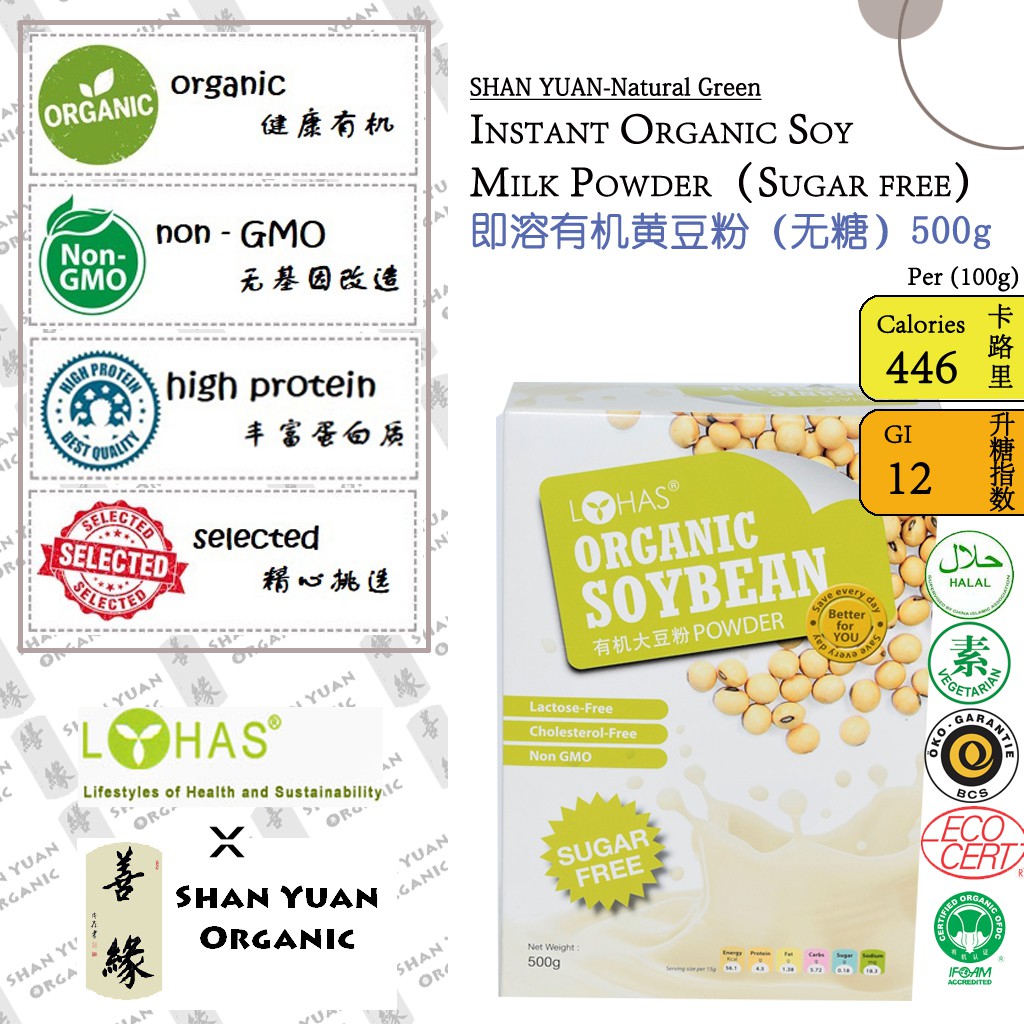 Size (length*width*height): 9cm x 21cm x 24cm
Origin: Imported
Expiry Date: Between 9 to 15 months
Certifications: Organic Certified
=Product Specifications / 产品规格=
Product name/產品名字:LOHAS Organic Soybean (sugar free) 有机黄豆粉[无糖] 500g
Brand 牌子:LOHAS
Ingredient/成份: Organic (non-dairy) soy milk powder (non – GMO)
Net weight/內容量:500g
Application/用途:Add recommended amount of Organic Soy Milk Powder
Into your drink and stir briskly
将有机黄豆粉加入饮料/温水中,轻快的搅拌
Country of Origin/產地:taiwan
Precautions/注意事項:Store in cool dry place/請放置陰涼處
Calories 卡路里(per每100g):446
Glycemic Index (GI)/ 升糖指数:12
Glycemic index level:
When the glycemic index is below 55, it can be considered as a low-GI food.
When the glycemic index is between 55 and 70, the food is a medium GI food.
Foods with a glycemic index above 70 are considered high GI foods.
升糖指数等级:
当血糖生成指数在55以下时, 可认为该食物为低GI食物;
当血糖生成指数在55~70之间时,该食物为中等GI食物;
当血糖生成指数在70以上时,该食物为高GI食物。
Soybean is rich in is flavones, which can cut off the nutritional supply of cancer cells. It contains 8 essential amino acids, multiple vitamins and various trace elements, which can reduce blood cholesterol, prevent hypertension, coronary heart disease, arteriosclerosis, and can be cosmetic.
Soybean contains linoleic acid, which can promote children's neurodevelopment.
黄豆富含异黄酮,可断绝癌细胞营养供应,含人体必需的8种氨基酸,多种维生素及多种微量元素,可降低血中胆固醇,预防高血压、冠心病、动脉硬化、可以美容等。
黄豆内含亚油酸,能促进儿童神经发育。
= benefit /益处=
-Glycemic and lipid-lowering
-Whitening skin care
-Improve immunity
-Improve energy
-降糖、降脂
-美白护肤
-提升免疫
-提高精力
=Suitable for people/适宜人群=
suitable for majority of the people.
Note: People with poor digestive function and chronic gastrointestinal diseases should eat with caution; those with severe liver disease, kidney disease, gout, peptic ulcer, and low iodine should not eat; soy beans and their products should not be eaten during the period of acne.
一般人群均可食用。
注意:消化功能不良、有慢性消化道疾病的人慎食;患有严重肝病、肾病、痛风、消化性溃疡、低碘者忌食;患疮痘期间不宜吃黄豆及其制品。
| Zone | Weight | Delivery Fee (RM) |
| --- | --- | --- |
| West Malaysia | First 1.00 kg | 4.80 |
| | Extra 1.00 kg | 2.00 |
| East Malaysia | First 1.00 kg | 13.00 |
| | Extra 1.00 kg | 9.00 |