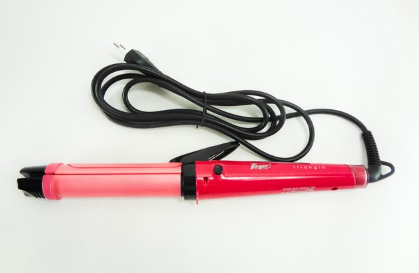 Curl & straighten your hair in a jiffy!
Transform your look from flirty to intensely alluring in no time with just one cool clamp tool.
2 functions in one tool: hair curler & straightening iron.
Aluminum plate with nano ceramic coating.
5 temperature levels for you to control how hot your hair can manage to take.
Infrared heat for gentle styling.
Sleek & compact for you to carry & use anywhere.
Convenient and affordable.
Regulates temperature at 120⁰ to 200⁰ Celcius.
Straightens and curls hair in a jiffy.
2 in 1 Ceramic CURLING &
STRAIGHTENING Iron
Supermodels Secrets Review/ Demo Video by Michelle C:
• Convenient and affordable
• Diameter 2.6CM
• 120 140 160 180 200 degrees can be adjusted
• Straightens and curls hair in a jiffy
here's something charming about the sea - the way the alluring waves wash in and out the sandy shore - captivating hearts and tranquilising souls. Let waves of beautiful mane cascade down that slender neck.
From fabulously straight hair to luxurious curls, have the freedom to transform your hairstyle just as your mood takes you even as you travel. Sport elegantly straight hair during the day & transform your hair into flirty curls for a night of fun in no time.
The Nova Nano 2-in-1 Hair Curler & Straightener Iron is made of aluminum plate with a nano ceramic coating to make it effective. It has 5 temperature levels that you can adjust accordingly to avoid damaging your hair. The cables can rotate 360 degrees so you don't have to worry about having just the right angle.
Uncooperative locks get in line (or wave) when you use a Nova 2-in-1 Hair Curler & Straightener. Its plates heat up enough to curl or straighten hair without turning your head into a ball of flames. Plug it into a standard 110V or 220V socket and control the hair curler's temperature and get it anywhere from 120⁰ to 200⁰ Celcius. Find out when it reaches the proper heat with the five LED light indicators on the handle.
---
TESTIMONIAL
| Zone | Order Total (RM) | Delivery Fee (RM) |
| --- | --- | --- |
| MY | Flat Rate | FREE |