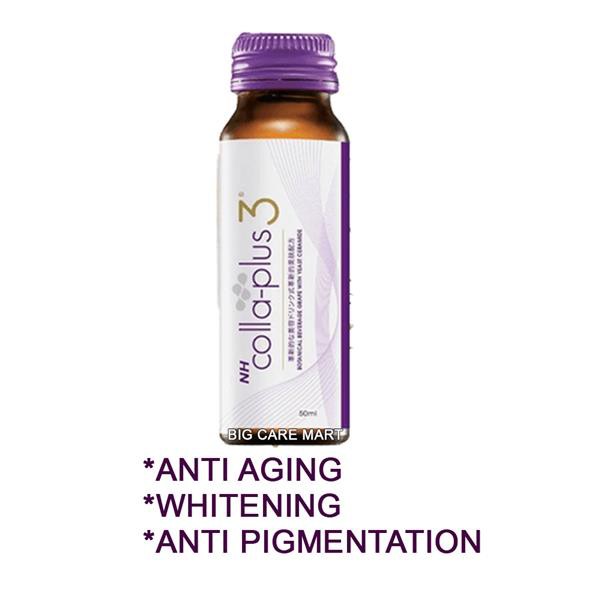 Size (length*width*height): 20cm x 22cm x 18cm
Expiry Date: Normal Expiry
Attain healthy and beautiful skin that you desire most. Good results can be seen within the first pack.
*Results may vary among individuals
Suitable for All
• Age 18 and above who want healthy and beautiful skin.
• Suitable for both genders.
• For all skin types, with or without skin problems.
NH Colla Plus 3 beauty drink is a breakthrough in skin formulation that works far beyond a collagen drink.
Its' potent combination of advanced ingredients such as Tea Polyphenols, Yeast Ceramide and Olive Extract (Hydroxytyrosol), elevates your skin to its most beautiful state naturally.
Yeast Ceramide
Helps replenish lost ceramide due to harsh environment factors and ageing.
• Enhances collagen production in the skin.
• Restores and retains moisture.
• Helps inhibit melanin production and promote pigment lightening effect.
• Supports skin structure to prevent wrinkles and lines.
What is ceramide?
Ceramide is lipid molecules found abundantly in the outermost skin layer. They hold skin cells together, protect against moisture loss and act as a barrier against bacteria and environmental pollutants.
Olive Extract
15% Hydroxytyrosol)The Distinctive Taste of NH Colla Plus 3
Hydroxytyrosol is a world-class antioxidant found in olives. It has 15x the antioxidant activity of green tea and 3x the antioxidant activity of CoQ10.
• It stimulates the body's own glutathione system, to help reduce skin pigmentation and promote brighter skin tone.
Taste :
Compared to other collagen drinks, NH Colla Plus 3 is LESS SWEET . The unique formulation of NH Colla Plus 3 has a slight bitter taste that comes from its' all-natural ingredients.
Made from 100% all-natural ingredients and devoid of any preservatives, synthetic flavoring, coloring and chemical additives
Recommended Consumption
Day 1 to 6: Consume one bottle daily on an empty stomach in the morning or before bedtime.
Day 7 and onwards: Consume one bottle every alternate day.
| Zone | Weight | Delivery Fee (RM) |
| --- | --- | --- |
| West Malaysia | First 3.00 kg | 6.00 |
| | Extra 1.00 kg | 1.50 |
| East Malaysia | First 1.00 kg | 16.00 |
| | Extra 1.00 kg | 10.00 |
| Thailand | First 0.50 kg | 70.00 |
| | Extra 0.50 kg | 10.00 |
| Singapore | First 0.50 kg | 50.00 |
| | Extra 0.50 kg | 10.00 |
| Vietnam | First 0.50 kg | 70.00 |
| | Extra 0.50 kg | 10.00 |
| Australia | First 0.50 kg | 85.00 |
| | Extra 0.50 kg | 10.00 |
| USA | First 0.50 kg | 85.00 |
| | Extra 0.50 kg | 10.00 |
| Hong Kong | First 0.50 kg | 75.00 |
| | Extra 0.50 kg | 10.00 |
| Japan | First 0.50 kg | 75.00 |
| | Extra 0.50 kg | 10.00 |