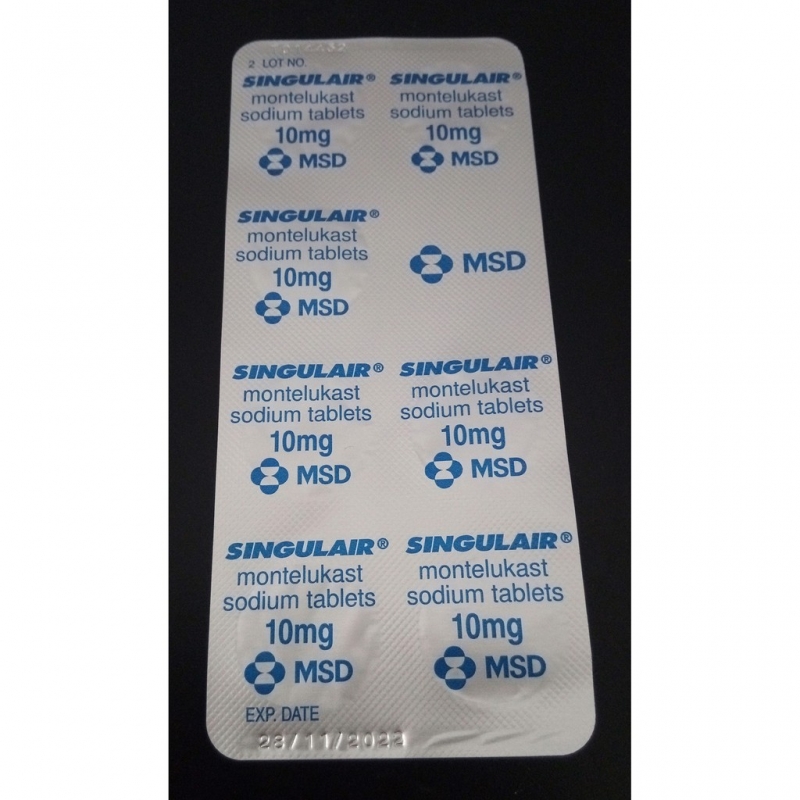 Size (length*width*height): 10cm x 18cm x 2cm
Expiry Date: Normal Expiry
Function: Antipyretic
Pack Type: Single Item
MSD Singulair Montelukast Sodium Tablet 10mg, 7pcs, Ubat Anti-Alahan Peparu, Menguatkan Fungsi Peparu
- SKU: SINGULAIR-MSD-MONTELUKASTSODIUM-10MG-007
- Specification:
(01) Color: Beige
(02) Dimension: 117mm(W) x 51mm(D) x 4mm(H)
(03) MSD Singulair tablet is 10mg/tablet.
(04) 1 Strip, 7pcs only.
(05) Manufacturer: Merck Sharp & Dohme Ltd. from U.K.
(06) Distributor: Merck Sharp & Dohme (Malaysia) Sdn. Bhd.
(07) MAL number: MAL19990957ARZ
(08) SINGULAIR, its active ingredient i.e. montelukast sodium (C35H35ClNNaO3S), is a selective and orally active leukotriene receptor antagonist that inhibits / blocks the cysteinyl leukotriene CysLT1 receptor.
(09) Each 10-mg film-coated SINGULAIR tablet contains 10.4 mg montelukast sodium, which is equivalent to 10 mg of montelukast, and the following inactive ingredients: microcrystalline cellulose, lactose monohydrate, croscarmellose sodium, hydroxypropyl cellulose, and magnesium stearate. The film coating consists of: hydroxypropyl methylcellulose, hydroxypropyl cellulose, titanium dioxide, red ferric oxide, yellow ferric oxide, and carnauba wax.
(10) It is indicated for the prophylaxis and chronic treatment of asthma in adults and pediatric patients 12 months of age and older.
(11) It is indicated for prevention of exercise-induced bronchoconstriction (EIB) / asthma in patients 6 years of age and older.
(12) It is indicated for the relief of symptoms of seasonal allergic rhinitisand perennial allergic rhinitis in patients 6 months of age and older. Because the benefits of SINGULAIR may not outweigh the risk of neuropsychiatric symptoms in patients with allergic rhinitis, reserve use for patients who have an inadequate response or intolerance to alternative therapies.
(13) It help control the symptoms of allergic rhinitis such as sneezing, stuffy nose, runny nose, and itching of the nose. (14) It is used to treat the following in people who have already taken other medicines that did not work well enough or in people who could not tolerate other medicines:
(a) outdoor allergies that happen part of the year (seasonal allergic rhinitis)
(b) indoor allergies that happen all year.
(15) Not for acute asthma treatment.
(16) 1 Tablet once daily in the evening, after meal or food, swallow the tablets with some water.
(17) Apply 7pcs for 7 days a week per strip for completed cycles of treatment for asthma and EIB.
(17) For single occur case, stop if no allergy sign occur.
(16) Do not use it if you have systemic vasculitis.
(16) Do not use it if you have hypersensitivity with MSD.
(17) Having this medicine will let you feel sleepy, prevent driving vehicle and machine handling after having it.
(18) Mungkn ada kesan mengantuk, terbaik untuk masalah hidung , alahan, kegatalan, gigitan serangga dan lain-lain.
#msdsingulairmontelukastsodiumtablet #singulairtablet #montelukastsodiumtablet #montelukastsodium #singulair #msd #anti-histamine #genericdrugs #drugs #runningnose #allergy #oral
| Zone | Weight | Delivery Fee (RM) |
| --- | --- | --- |
| West Malaysia | First 1.00 kg | 4.80 |
| | Extra 1.00 kg | 2.00 |
| East Malaysia | First 1.00 kg | 13.00 |
| | Extra 1.00 kg | 9.00 |